Talent Acquisition
Hiring Success Glossary
Talent Acquisition is more than Recruitment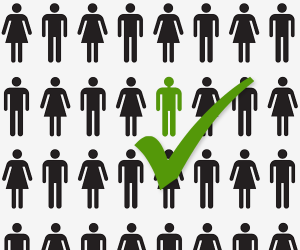 Recruitment is the process of finding and hiring skilled candidates to meet the needs of a job requirement. Talent acquisition encompasses the entire process of hiring, from sourcing candidates through screening and skills assessments, interview management, and ultimately offer management., but also involves employment branding, talent forecasting, assessment and pipelining.
Attracting the most qualified candidates can be compared to a marketing function, while qualifying and hiring candidates can be compared to a sales function. Applied to the hiring lifecycle, this approach distinguishes talent acquisition from traditional recruitment.
When optimized, this process ensures the hired candidates are the best fit for the position as well as the organization.
3 major pillars of talent acquisition are:
Recruitment Marketing and Recruitment Sourcing
A company must align on planning and strategy to identify, target, and attract the most qualified candidates for the role.
Employer branding must be made clear to potential candidates. This involves awareness of organizational culture, reputation, key differentiators, products and services. An informative and relevant career website is a critical asset as it may be the first impression an employer makes on a potential candidate. Ensuring a great candidate experience is a critical step in attracting the most qualified candidates.
The hiring team must optimize recruitment sourcing channels. This involves posting job ads to popular job boards, building an employee referral engine, integrating relevant third-party sourcing services, and tapping into existing talent pools.
Candidate Management and Collaborative Hiring
This involves managing the candidate lifecycle from initial application through final job offer. Hiring manager engagement is key to collaboration and seamless communication, both amongst hiring teams and with the potential candidates.
Interview scheduling and management takes place at this stage and job offers must also be built and approved. Applicant tracking with an audit trail and history throughout this entire process is important for compliance purposes.
Talent Acquisition Software
In order to run a scalable and efficient talent acquisition process, it is important to work on a unified platform that supports all of the organization's hiring processes, partners, and integrations. This recruiting software allows the hiring team to customize the hiring process, manage hiring roles and permissions, integrate with existing vendors, and access metrics to report on souring and operational analytics.