chapter five
Assess Your Current State
The first step of the Hiring Success Journey is evaluating your current state and identifying opportunities for improvement. This starts with an assessment of your current TA function.
Evaluating your TA function's ability to achieve Hiring Success requires you to assess your capabilities in each of these three pillars. There are many ways of doing this—and we've experimented with quite a few over the years—but our proven and preferred method offers the right amount of depth as well as provides our customers with the ability to "mature" their TA function at their own pace, tailored to their businesses demands. Typically, SmartRecruiters' Hiring Success team works with our customers to help them on this journey, but we're sharing our method with everyone so it will help you deliver outcomes for your business.
Now that we're ready to begin, our first action item is to evaluate your current TA function with a thorough business assessment.
Hiring Success Business Assessment
The SmartRecruiters' Business Assessment deconstructs each pillar of Hiring Success across seven sub-categories. Below is an example of the sub-categories under the Talent Attraction & Engagement pillar.

The Hiring Success Business Assessment scores organizations across 20 different areas of evaluation, making it an in-depth, credible, and holistic examination of company health and performance. The output identifies whether or not there are critical improvements needed in order to achieve your TA goals. For instance, if your organization needs to hire more knowledge workers, then you can identify specific capabilities under each pillar that will help attract these scarce, high-impact roles.
How It Works
The Hiring Success Business Assessment is conducted through a comprehensive questionnaire. We recommend that this survey be completed by someone who has an in-depth knowledge of your TA function and organization. TA leaders are our typical candidates for this; alternatively, a combination of people from different functions (e.g., recruiters, HR Ops, hiring managers, sourcers, etc.) can also work.
The questionnaire examines the people, processes, and technology in place for each sub-category under each pillar. For example, questions about "Sourcing & CRM" under "Talent Attraction & Engagement" will probe on the following topics (high-level summary): People
Who is responsible for sourcing?
Who reaches out to sourced candidates? Process
How do you currently source candidates?
How does the organization engage passive candidates? Technology
Do you leverage specific technologies to support sourcing efforts today?
What best describes the primary sourcing tools you're currently using?
How It's Scored: Hiring Success Maturity Model
SmartRecruiters' Business Assessment evaluates your business' capabilities using the Hiring Success Maturity Model. This rubric assigns a score corresponding to the level of sophistication and rigor the organization has invested starting with level 1 (simple & transactional) to level 4 (customized & predictive).

This score is assigned to the people, process, and technology in place for each sub-category under each pillar of Hiring Success.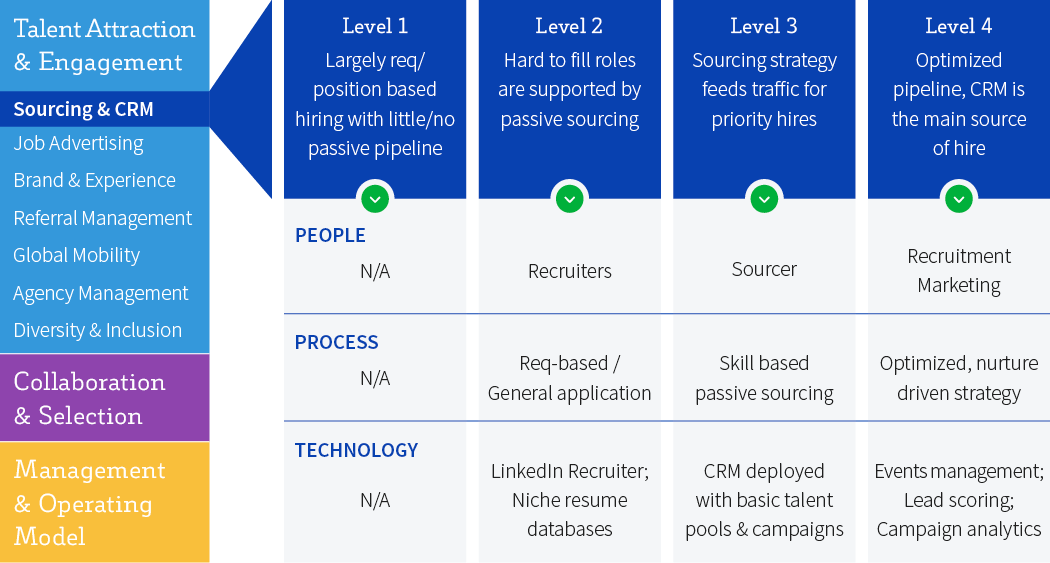 The output report consists of a final score (1-4), broken down by detailed scores across each pillar (see figure below). With this framework, you can now think more strategically about where your business should deepen its investments in order to grow.
Interpreting Your Results and Taking Action
Once you have reviewed where your organization lies along the Hiring Success Maturity Model, it is time to ideate potential solutions and recommendations to level up in each sub-category. The outcome will vary by business and team type, as well as goals. Building a plan that will help you reach your desired future state is a critical step. Many of our customers work with our Hiring Success team to lay out their 1–3 year plans on reaching a higher maturity on all categories that matter to their business.
Hiring Success in Action: Effective Assessments
To illustrate how the Hiring Success process works, we will walk through an example of how one of our customers, Company X, partnered with our Hiring Success Consultants to conduct the Business Assessment. The images below represent their overall results and a closer look at Talent Attraction & Engagement.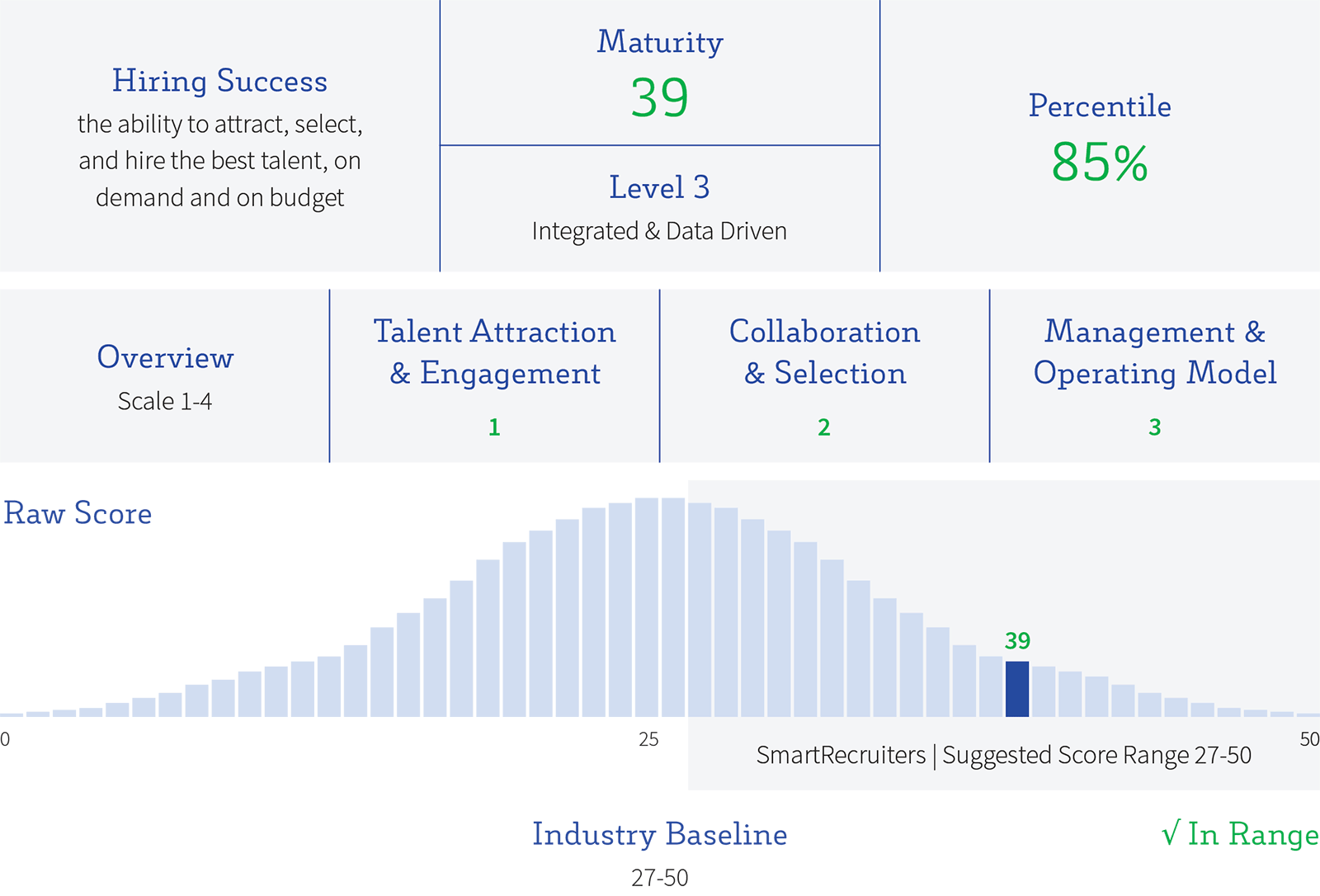 After evaluating where Company X stood on the Maturity Model, our customer worked with the Hiring Success team to develop key metrics that would be used to evaluate their progress.
CRM KPIs
Leads added (per week, month etc.)
Lead conversion funnel (progress along path to applying)
Source mix (of leads being added)
Source mix of hires as it relates to CRM
Campaign activity (clicks, conversions, engagement etc.)
Number of campaigns (per week, per month etc.)
Leads added vs. campaigns (quality vs. quantity)
Average time prospect spends in community before applying or withdrawing from community
Finally, the team built an end-goal framework for what their future success would look like. Over the course of the next chapters, we will see how the team at Company X executed change programs and leveraged its KPIs to grow and track progress towards this end state.
Example: Building University Community with CRM
Target State Process

Future State Framework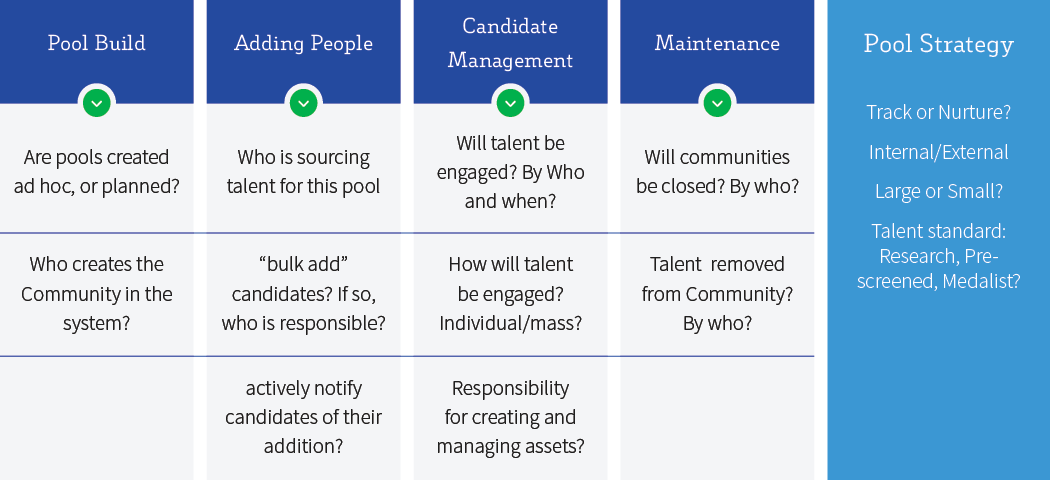 Pro Tips
The results of the Business Assessment should last 2-3 years. However, you can always conduct another assessment if:

A change in leadership has taken place and the new leader requests an update to see how the organization aligns with their vision.
The organization wants to track progress towards the goals identified from the initial assessments, especially if you've made meaningful progress already.
Market or technology disruption compel TA organizations to re-evaluate their current processes and technology.

The output report represents a global, aggregated view of a business. Actual capabilities across offices and functions (e.g. university recruiting vs. recruiting) may differ.
A low score in a particular function does not necessarily imply a poor outcome—it depends on what capabilities are most important for your organization.
The output should serve as a discussion, not the final word. Work with your stakeholders to review the results, discuss any pushback, and prioritize opportunities.