chapter five
Collaboration and Selection
The second pillar of Hiring Success, Collaboration & Selection, focuses on creating a simple and effective hiring workflow, enabling your hiring team to effectively hire the best candidates.
A general rule of thumb, keep things simple in order to scale internally.
Simpler and more unified workflows will drive adoption, as well as make collaboration and analytics much easier to track. For instance, simplified workflows have helped SmartRecruiters customers drive their adoption rate by two fold. Once overall adoption is achieved, you can add in customized workflows when needed.
As recruiting technology helps automate everything from job ad distribution to interview scheduling, hiring teams can spend more time where human interaction matters. Organizations who have matured in this pillar usually have the following processes well structured: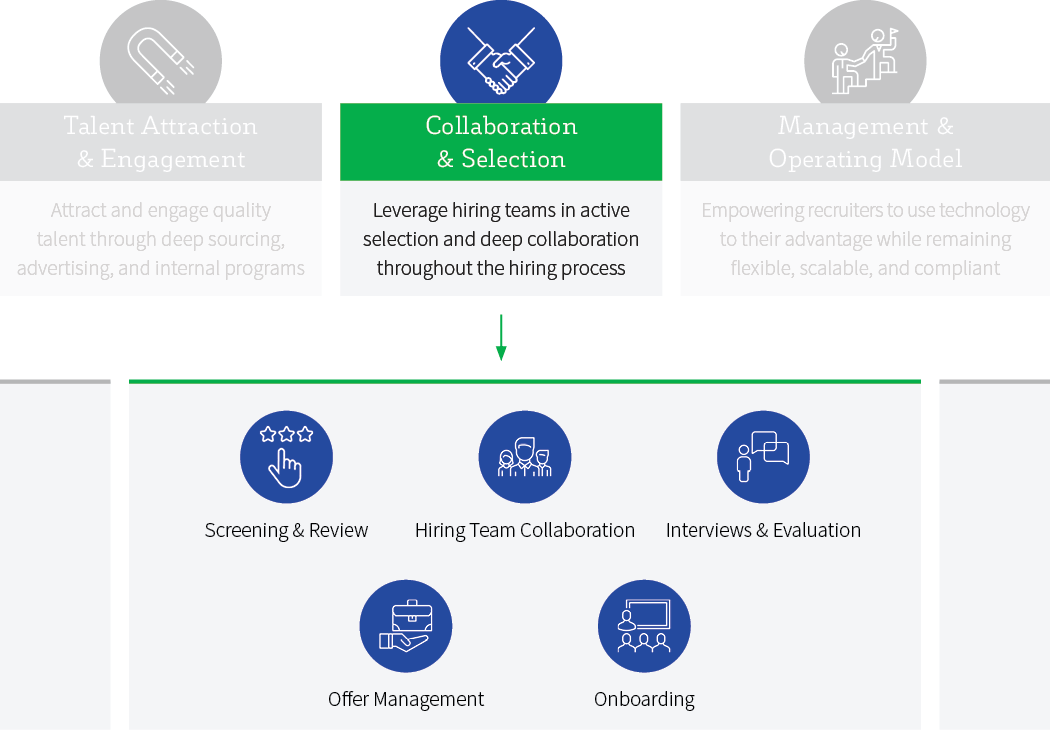 Screening and Review
According to one study, 39% of HR managers spend at least 20 or more hours per week on manual tasks. The same study also found that 41% of HR managers believe that manual processes led to lower productivity, and 35% of HR managers believe not automating led to higher organizational costs.
Today, there are myriad technologies available that automate multiple steps of the candidate selection process. Below are a select few:

Screen Top Candidates from Hundreds of Applications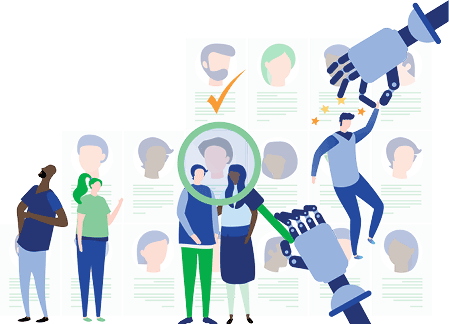 One of the biggest challenges in candidate selection is to quickly process a high volume of applicants so recruiters can contact the most qualified candidates as soon as possible.
Here, retail enters the picture—a sector in which job offers are made quickly due to high volume and a relatively low barrier to entry in terms of required skills. While these candidates may only have to wait 10 days to move through the hiring process, SmartRecruiters found that, for the slowest 10% of companies, a candidate can be sitting in-review for up to 18 days. Not only does this hurt a company's Hiring Velocity, but this is hugely detrimental to candidate experience. Luckily, big data and machine learning has made it easy for us to automate candidate screening.
In fact, candidate screening was one of the first AI use cases that SmartRecruiters applied with SmartAssistant. One Fortune 500 manufacturing company used SmartAssistant to help with early-stage decision making and saw drastic improvements to their time savings. Based on the time in stages, the company's recruiters decreased their time overall by 40%, with time in the New Stage cut almost in half (from 24 days to 13 days).
Reducing the time to first interaction with a recruiter or hiring manager further improves Hiring Velocity and candidate experience. Even better, by automating interview scheduling, companies can see double-digit improvements to interview acceptance and show rates.
Below are two examples that illustrate how automation and AI have delivered improved results for recruiting functions.
Partner Story

Simplifying the Candidate Experience with AI Assistance

About

Paradox's flagship product, AI Assistant Olivia, assists 400+ hiring companies across the globe by automating screening, interview scheduling, candidate questions, and other hiring communications.

Challenge

First Watch Restaurants, a restaurant chain with 380 locations across the U.S., wanted to improve their recruiting process and staffing rates at their outlets.

Approach

First Watch Restaurants made their candidate experience "as easy as bacon" by incorporating Olivia into their hiring process. According to Lou Sposato, Senior Director of Human Resources, "Olivia is everything that hourly job seekers are looking for: immediate engagement and they walk away with an interview in minutes."
Hiring Success in Action

Improving Recruiter Productivity Through AI

Manufacturing

13,000+ Employees
For a global consumer packaged goods manufacturer, operational efficiency and ability to meet deadlines are crucial to business success. The hiring team sought to improve productivity while continuing to offer a delightful candidate experience. Before utilizing AI technology, the hiring team spent an average of 48 days screening and vetting candidates, with multiple bottlenecks in the hiring process negatively affecting the candidate experience.
After deploying SmartAssistant, the company cut its time spent on screening applicants by nearly 35 days (from 48 days to 13 days). This translated to 73% time savings on repetitive processes—time that can now be spent on engaging and building meaningful relationships with candidates.
Candidate Screening: Assessments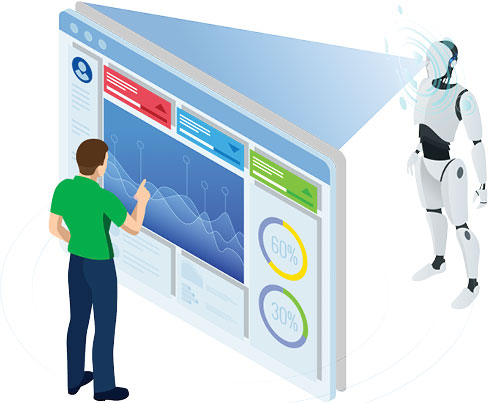 Auto-triggering candidate assessments, either during the initial application or immediately after applying, is extremely useful for organizations dealing with large volumes of candidates. Configuring these actions during the early stages of the hiring process helps recruiting teams scale their efforts, ensuring that only qualified candidates advance to the in-person interview stage.
Having clarity around the ideal candidate profile for each role and putting in place the proper assessment tools has a direct impact on new hire fit and their potential turnover rate. Predictive assessments help organizations achieve better accuracy at candidate selection by collecting hundreds of data points. They provide reliable signals on key skills and behavioral data that is free of bias, unlike resume data or self-report data.
Questions to Answer
How accurate are your assessments at predicting the future success of hires?
Can the assessment tool be leveraged to achieve additional hiring goals?
Would more context as to why the assessment is needed improve completion rates?
What are your time-to-completion and completion rates for your current assessments?
Have you experimented with the length/depth of assessments to see how it affects accuracy and validity?
To illustrate the ROI of candidate assessment solutions, here are two examples of our marketplace partners who helped SmartRecruiters customers make more qualified and loyal hires.
Partner Story

Stronger Candidates, Less Turnover with Infor/Talent Science

About

Infor/Talent Science builds highly predictive profiles with workforce data so you can match any candidate or employee against any position. Talent Science has conducted 200+ million assessments and helped thousands of companies reduce turnover and improve fit.

Challenge

A U.S. retailer specializing in home improvement with 2000+ locations and 300,000 employees sought to lower the turnover rate in their hardware stores by improving the fit between new hires and jobs.

Approach

The retailer used Infor/Talent Science's assessment tool to compare candidates' assessment results against top-performing employees' assessment data to find top matches.

Results

In 18 months, across 25,000+ new hires, those who scored in the "Recommended" category saw 19% less turnover than those in the "Not Recommended" category.
Partner Story

Building Great Engineering Teams with Codility

About

Codility is a skills assessment platform that connects companies of all sizes to top engineering talent by giving hiring teams deeply accurate insights into candidates' real-life skills.

Challenge

Okta was growing rapidly, as was their need for software engineers. Manual code challenge distribution and code reviews couldn't scale fast enough to keep up with the tech company's hiring needs.

Approach

To start, 2,399 applicants took an initial coding test. Only the top-performing 33% of assessed applicants received a technical phone screen, saving 800 screening hours in this step alone. The company then conducted CodeLive interviews (interactive video platform for real-time coding) with 243 of the candidates who performed well during the technical phone screens and invited the top 33% of those for onsite interviews. This saved nearly 500 engineers countless interviewing hours. The company eventually hired 29 candidates who completed onsite interviews.

Results

Ultimately, Codility's skills assessment platform helped the company help companies identify the highest quality candidates while simultaneously increasing recruiter and hiring team productivity. Scoring, reporting and managing candidates are among some of the key areas that went through that shift.

Companies using assessment platforms like Codility see the following average ROI:
$200k of engineering capacity unlocked as teams can focus on product goals rather than recruitment tasks.
2x improvement in Hiring Velocity.
Pro Tips
Collaborative coding sessions work best for senior developers. With their experience, they should have soft skills in persuasion, collaboration, communication, and leadership.
Whiteboard interviews have a bad reputation. They don't accurately reflect the work environment and real-life problems you might face.
Behavioral interviews should be paired with a technical assessment to ensure that candidates are being effectively and accurately screened.
Hiring Team Collaboration
[The best recruiters] don't just sit with the team, they are part of the team.
– Jeff Weiner
CEO
LinkedIn

The importance of collaborative hiring is undeniable, and a good talent acquisition system will standardize the feedback collection process as well as provide a centralized location for record keeping. In-product communication tools allow hiring teams to communicate in real time, driving greater collaboration and more productivity.
To keep hiring managers engaged, it's important to simplify the ways they can share their input and hold them equally accountable. Rather than expecting recruiters to do the work to find the ideal candidate for a role, the hiring manager should work alongside the hiring team to clearly define the role, leverage their business networks to attract talent, and aid in the selection process. Recruiter success can be measured against KPIs while hiring managers can be measured against Hiring Success metrics.
From a technology standpoint, access to candidates via mobile is one way that hiring managers can read resumes, schedule calls and interviews with candidates, and make decisions within minutes at home or while traveling. Integrations through Slack, G Suite, Outlook, or other productivity tools keep hiring managers up-to-date on hiring tasks with push notifications and reminders wherever they are.
Read on to find out how one company radically improved their hiring speed and efficiency by optimizing teamwork.
Hiring Success in Action

Digitalizing hiring team collaboration

Financial Services

2,000+ Employees
A high-growth merchant services aggregator and mobile payment company designed a quantitative interview format called "Hire Bar", in which each interviewer evaluates one area of focus for each candidate. Once combined, these individual evaluations constituted the candidate's final interview score.
In order for the hiring committee to review all feedback and make an informed decision quickly, every interviewer documented and shared candidate feedback in a highly structured and timely manner.
When the company implemented SmartRecruiters' core ATS to create a centralized repository of candidate notes and feedback, the company saw a 4x increase in hiring team collaboration, especially with interview feedback submissions. Additionally, the hiring team's efforts translated into 81% of job openings being filled on time within three months after go-live.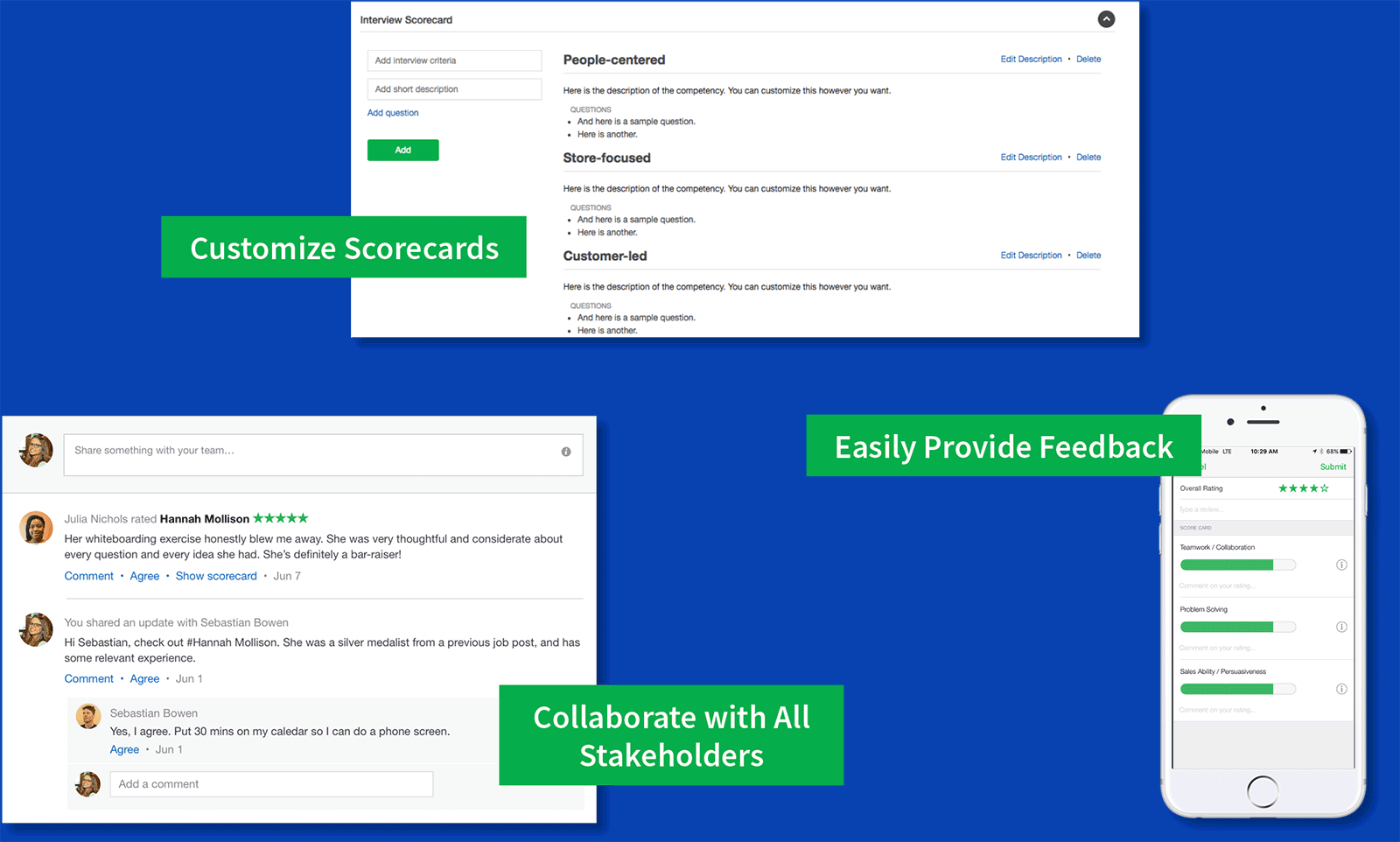 Collaboration Is a Two-Way Street
Recruiters are often excluded from the final hiring decision process. Why? After all, their knowledge of the applicants, their bird's-eye view of all available candidates, and their regular interactions with talent communities make recruiters' opinions highly valuable. Their exclusion likely stems from the fact that TA teams and hiring teams are often viewed as separate entities, where recruiters are tasked with fulfilling the requests of hiring managers before handing over responsibility to the hiring team to complete the process.
In reality, involving recruiters in hiring decision discussions, especially when interviewing candidates, helps all team members align on their understanding of what an ideal candidate should be like.
Interviews and Evaluation
One way to align expectations across hiring teams is to introduce more structured processes around interviews. This organization helps standardize feedback, reduce bias, and improve the candidate experience. Research has found structured interview formats to be one of the strongest predictors of a candidate's future success.
Structured interviews are developed for each role like mini standardized tests—interviewers use the same sets of questions in all interviews and use the same evaluation criteria to assess candidates' responses. Different sets of questions can be developed for different roles.
A structured scoring system and grading rubric can further standardize the selection process. Developing a good scorecard for a job can be challenging.
This is where collaboration between recruiting and hiring managers is essential—the scorecard must be developed jointly.
It serves as an initial brief and aims to answer the question "What do we really need this person to achieve?" This means it's important that all interviewers have a strong understanding of the standards.
Structured interview questions level the playing field for all candidates by evaluating them all on a specific set of criteria, which helps mitigate any friction between interviewer and interviewee. In this format, all candidates are held to the same standards, independent to how they respond to a specific interviewer's style or questions. Lastly, standardized questions make interview feedback from different interviewers more reliable and more comparable.
As you can imagine, implementing a structured interview process and scoring rubric can be challenging, especially at large companies. Organizations can circumvent issues around slow adoption by making it easy for interviewers to access resources on how to conduct interviews. For example, you could configure your recruiting system to automatically send interviewers a guide that outlines the question set and areas of focus before the interview.
Interview scorecards like the ones in SmartRecruiters (see below) are a great way to help your hiring team make consistent hiring decisions. Each scorecard is attached to a specific job and consists of up to 20 high-level core competencies that are critical for the job. Interviewers can view the criterion's definition, rate the candidate against each area of assessment, and provide additional comments.
Sample Scorecard
Rating | 1 = Strong No, 3 = Maybe, 5 = Strong Yes
CTO Scorecard Criteria
1
2
3
4
5
Smartian Fit
Will demonstrate our values consistently. (This is our standard culture fit. Exists in every scorecard.)
Exceptional Team Builder, Mentor and Coach
Will hire, develop and retain amazing talent and foster a culture of innovation.
Exceptional Engineering Org & Process
Will build a highly effective product and engineering organization with state of the art processes, clear ownership to achieve max velocity.
Exceptional Product & UX Instincts
Will synthesize complex problems into simple solutions resulting in elegant product requirements and consumer class usability.
Visionary Architect and Tech Leader
Will design clean architecture with the right logical granularity and make sustainable technology choices to ensure long term maintainability and velocity.
Deep Expertise in Enterprise Cloud
Will manage the product life cycle in an enterprise cloud business including roadmap management, hosting, SLA, security, communications, etc.
Solid AI & Machine Learning Expertise
Will leverage the power of AI and machine learning and build a data culture to accelerate our matching and conversational abilities.
Pro Tips
Recruiting shouldn't start until the hiring team has developed a scorecard for the role.
Outline a maximum of 6-10 criteria to keep interviews focused.
Hiring managers should regularly refresh questions to avoid candidates comparing notes.
Given enough time and resources, practicing mock interviews with TA professionals can help alleviate anxiety for inexperienced hiring team members and provide a better interview experience for the candidate.
Offer Management
At SmartRecruiters, we have observed a strong correlation between offer acceptance rates and offer turnaround time among our customers. Automating the offer management process with template management and e-signature, as well as giving hiring teams and candidates the ability to approve, view, sign, and accept offers on mobile devices significantly reduces turnaround time as well as increases acceptance rates.
Moreover, digital offer management tools maintain a complete audit trail to track every step of the offer process while keeping your signature secure. Pre-built workflows, new hire check-offs, offer letter templates, configurable forms, and version controls provide consistency, drive workflow efficiency, and ensure compliance.
Hiring Success in Action

Boosting Offer Letter Acceptance via Thoughtful Templates

Health & Fitness

18,000+ Employees
A high-end health and fitness company was on a mission to revamp their company-wide offer management process, both corporate and field. At the time, all offer-related processes were manual and there was no centralized offer tracking. Hiring teams did not have standardized templates, nor did they document the offer process.
The company worked with their recruiting solution vendor to break down offer management into smaller pieces, adopting a phased rollout approach starting with corporate hiring and their most basic offer template. The TA team focused on the concept of "building blocks"—laying a foundation with what is consistent in every offer and building upon that template for each offer type.
The TA team established one offer template document as a source of truth in addition to an audit trail for reference. When the legal team made changes, TA had a reference to help identify which templates needed to be updated. The team also set up offer approval processes for improved tracking, compliance, and transparency.
After this initiative, the company saw the following results:
Greater brand consistency
Reduced legal risks
Faster start dates and faster acceptance (especially with field recruiting)
Increased visibility for management
Verification
It's an unfortunate reality that more than half of all candidates aren't truthful on their resumes. Studies show that 56% of people have been caught lying about their experience, and 80% of recruiters think candidates lie on their LinkedIn profiles. To reduce the chances of this happening among your candidates, we recommend establishing a best-practice referencing process that reinforces the validity of every hiring decision. Reference and identification verification add strategic value to the hiring process—saving time and money for employers—and protecting them from breaches of privacy, discrimination, and reference fraud.
Automating reference checks can increase Hiring Velocity by eliminating time spent chasing reference feedback. It also offers greater convenience for referees to provide feedback whenever and wherever works best for them. Sophisticated reference check solutions collect meaningful and trusted data and leverage detailed analytics to provide insights into candidate suitability. Automated scoring accurately predict a candidate's success and remove bias from the process.
Partner Story

Avoiding a Potentially Disastrous Hire

About

Xref offers a secure, fully automated software that verifies candidates through reference and ID checks. With Xref, you can verify the who, what, and where of every hire. The technology offers detailed insights, secure and real-time ID verification, as well as anti-fraud protection.

Challenge

Sodexo employs over 420,000 people across 34,000 sites in 80 countries. With such a high number of employees in so many diverse regions, having a global verification solution that was automated and compliant was a necessity.

Approach

As the company's National Recruitment Manager explained, "[With Xref] we're kept up to speed on the progress of outstanding references and can manage the whole process via the SmartRecruiters platform. We are quickly informed of any potentially fraudulent activity and able to act on it with ease.

In fact, just two weeks after the system went live, we were alerted of a potentially fraudulent candidate who, as it later emerged, had been trying to complete their own references. The candidate would have been hired for a fairly high-profile role that required trust and integrity. I'm not confident that, without Xref, we would have picked up on their deliberate attempts to deceive us."

Results

Sodexo saw their average reference turnaround time drop to 17 hours, and 60% of references were completed and submitted outside of regular business hours.

Companies that use reference check providers like Xref see the following averages:
Final reference reports within 27 hours of submitting a request
In-depth reports of 300+ words
55% of references returned outside of traditional business hours
Onboarding
Onboarding improves company ROI by more than $79,000/year.
Aberdeen

You've found your perfect candidate and—assuming offer negotiations are out of the way and verbal acceptance is confirmed—you now need them to sign the offer and show up in the office as quickly as possible. The key here is to remove as much friction as possible in the offer management and verification processes. More than 39% of candidates are lost to competitors simply because hiring teams don't move quickly enough. Having a streamlined process supported by user-friendly technology may help you win the most sought-after candidates.
Modern onboarding is a far cry from its distant relative (remember those stacks of paper?). Now, the process is mobile-first and a prime opportunity to drive engagement and boost retention.
Onboarding marks the transition from an awesome recruiting experience to becoming a new employee. This time lays the foundation for the relationship between your company and your new hire, so thoughtful and smooth transitions lead to amazing experiences for your new hire from the start. We recommend this strategy so your new employee feels connected, prepared, and eager to perform their role. According to SHRM, 69% of employees are likely to stay with a company for three years if they experience great onboarding.
Source:
Click Boarding
Structured and Compliant
Onboarding can be stressful for both the employer and new employee. Completing legal tasks before Day One relieves much of the associated risk and stress. Modern onboarding technology puts security and compliance on autopilot by providing a standard library of legal forms and auto-populating them with available information. Templates and customization help expand the scope of onboarding to include a full spectrum of employees, including contractors, freelancers, and temp workers. For different job types, the onboarding solution will automatically kick off different work streams that are customized and compliant.
Pre-Day One Until 90 Days In

The period between accepting an offer and starting a role can be an uncertain length of time for a new hire. Onboarding should start the moment your new hire accepts your offer. This is usually called pre-boarding, which, in some cases, can determine a new hire's likelihood of showing up on their first day. If you are in a high-volume sector with quick turnover, or if you hire large numbers of new grads (where a candidate may accept an offer months before starting), the risk is especially high without a program in place. We recommend that you invest in a pre-boarding program to immediately engage your new hires and make sure they have everything they need to feel prepared on their first day—where to go, what to wear, who to meet with, etc.
It is also wise to design onboarding programs that extend beyond Day One. According to Work Institute, more than 38% of all turnover in 2018 in the U.S. was attributable to employees who quit in their first year, 43% of which occurred within the first 90 days. Many jobs take more than the first day or even first month for a new hire to ramp up. New hires need validation that they have made the right decision and that their new employer will care for and support them. More companies are providing structures and personal resources to help new hires buy into company values and culture, create learning goals and plans, and evaluate the fit between the role and the hire. This effectively increases new hire satisfaction rate and decreases turnover rates. Here are a few onboarding programs to consider:
30/60/90 day plans
Buddy programs
Cross-functional team initial meetings
Onboarding satisfaction surveys
90 day check-in employee satisfaction surveys
Pro Tips
Leverage recruitment marketing practices in your pre-boarding stage.
Continue to engage and impress your new hires by reinforcing a positive and caring employer brand.
Measure the ROI on each hire. SmartRecruiters automatically surveys and measures the new hire's and hiring manager's satisfaction rates 90 days after the start date.
Assimilation-Focused, Not Process-Driven
To make the most of an employee's onboarding, try curating their experience for their specific role and location with a degree of standardization so it can be easily replicated across the organization. It's important to remember that although there are administrative hurdles and paperwork to navigate, new hires want the experience to feel special, so the social element of onboarding is equally significant. Mobilizing a social circle around your new hire helps initiate them into the organization and feel like a valued part of the team. Things like planning a team lunch on their first day and providing a mentor go a long way. Hiring managers should actively clarify expectations and share knowledge of the organization and potential career paths.
Partner Story

6x Decrease in Onboarding Time via Mobile

About

Click Boarding is a modern onboarding platform that combines great employee engagement, new hire forms, and onboarding tasks into a simple, flexible, and compliant solution.

Challenge

A hospitality company with hotels across the U.S. onboards thousands of new employees each year with a manual, paper-driven process with folders for each employee. At the outset, new hires would show up without the required documentation, hours of productivity were lost, and local/state tax compliance was a constant headache with a growing remote workforce.

Approach

The onboarding team sought to rectify the workflow issues by implementing Click Boarding's mobile-first solution. Click Boarding immediately engaged with the company's new hires in a modern way, sharing exciting company information and dynamic content based on role. By implementing an intuitive workflow, new hires are able to complete all documentation before their first day.

Results
Better brand alignment
Decreased onboarding time from 6 hours to 30 minutes
Improved compliance
Summary
Selecting the right candidate for the job doesn't need to be a top-down operation. Rather, companies can make better decisions when hiring managers, recruiters, and interviewers collaborate closely. This is made easier thanks to automation at every step of the hiring process—standardizing workflows, automating manual tasks, and providing data insights. With the time saved through automation, hiring teams can spend more time engaging with applicants to provide a more meaningful and human experience, which ultimately affects a candidate's decision when the time comes to accept or reject an offer.
Hiring Success in Action

Onboarding Programs that Go Above and Beyond

Technology

3,600+ Employees
As part of the offer kit, an enterprise software company with 4,000 employees created a legendary "pre-cation" program. Before new hires start their job, they are given a $750 personal travel fund and asked to take a vacation.
Jeff Diana—the former Chief People Officer—said, "Changing jobs is an important shift, and we wanted to give people time to recharge, spend some time with family, because once you start a new job you jump all in."
The pre-cation policy stemmed from the company's view that memorable and thoughtful touches make new hires and their families excited about their future at the company before they even start working. Nothing signals a company's caring culture more than this.
In response, new hire satisfaction rate and hiring manager feedback—measured 90 days after the candidate's start date—trended upward. Additionally, attrition rates dropped into single digits, and 90% of respondents in an employee survey said they hoped to remain with the company for a long time.
As an added practice, the TA team sends each candidate a kit within 48 hours of extending an offer that includes an inspiring poem from the President (who happens to be a poet), a letter about the company culture, an online coupon for their first piece of company swag, and a toy that tells one of their proudest customer stories. It includes everything the candidate needs to know to make a decision and get excited.
These offer kits were time and resource intensive, but they ultimately generated positive ROI, not least of which because candidates are often so touched and excited that they opt not to negotiate offers as aggressively.