chapter six
Management and Operating Model
Any company looking to adopt new technology should be asking itself: How can we achieve hiring stability and scale in such a diverse and rapidly changing technology landscape? Bersin found that 47% of companies believe they have outdated HR software solutions. What's more, 81% of companies believe their organizations' recruitment processes are standard or below standard.
First-generation applicant tracking systems emerged in the late 90s as a way to transform the filing cabinet into a digital repository for job applications. These were revolutionary at the time, but as is the case with all technology, it must constantly evolve in order to remain relevant.
Building out a recruitment tech stack starts with determining your organization's must-have features and functionality for your hiring process. Given the current state of digitalization and innovation, we recommend that the platform you choose supports the entire hiring process from end-to-end, with a focus on:
Integrated and Connected
Traditionally, recruiting was relegated to a module within a larger human resources information system. For IT, the appeal of integrating recruiting with payroll and other HR admin functions is hard to deny. However, hiring processes don't exist in a vacuum. Most organizations rely on third-party recruiting services to augment their hiring process—background checks providers, assessment tests, drug tests, reference checks, etc.—and your recruiting function needs to integrate with the vendors it uses every day. Depending on the number of systems you need, IT teams might soon be building custom integrations for 10+ services—if the systems integrate at all.
Here's an example of what these integrations might look like: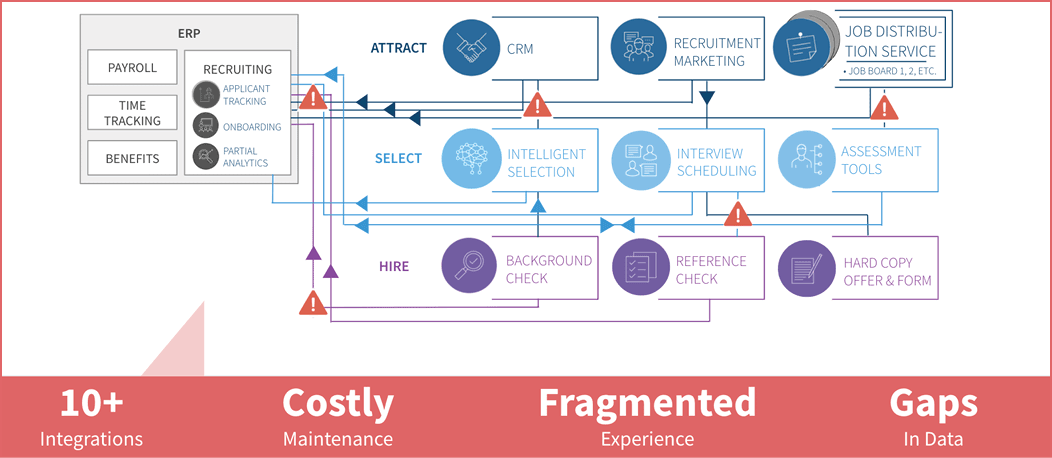 Thankfully, modern talent acquisition suites have identified this entanglement and offer employers—not to mention IT teams—a single-integration solution. With a marketplace of pre-integrated recruiting vendors that work with your TA suite right from the start, you only need to worry about integrating your recruiting system with your core HRIS system. This lowers the total cost of ownership and makes a big impact on streamlining and simplifying your tech stack.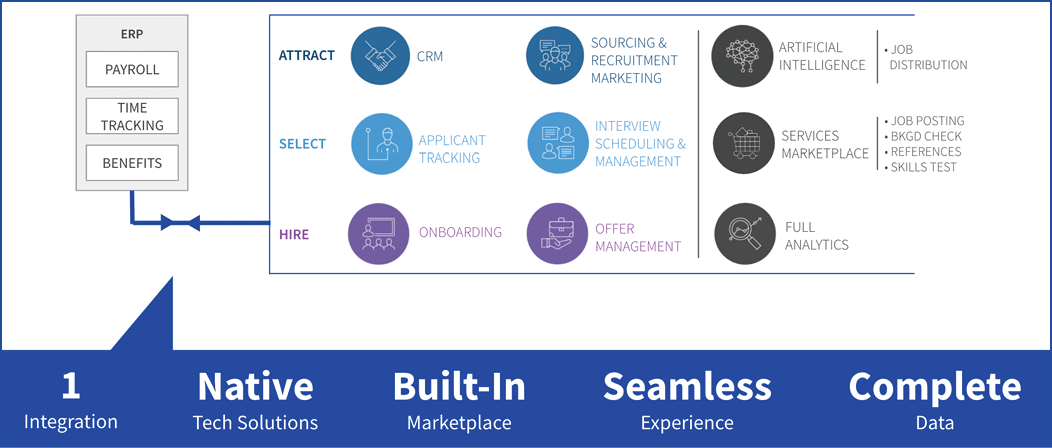 Looking at the above illustrations, which of the two technologies appears easier to manage?
Hiring Success in Action

Greater ROI Through Custom Integrations

Investment Management

8,000+ Employees
With thousands of FTEs and offices across the US and Europe, one of the world's most reputable investment firms hand-selected partners via the SmartRecruiters Marketplace to customize a high-performing candidate pipeline and experience engine.
The company leveraged the SmartRecruiters Marketplace to integrate with over 10 other solutions throughout the talent acquisition workflow. This made it easy for hiring teams to access everything—candidates, third-party tools, and metrics—on a single platform.
Within a few months, the organization saw the following improvements:
Hiring Velocity
63%
above average Job Post to Hire
Candidate Experience
50%
above average Applications per Opening
Recruiter Productivity
43%
above average Openings Filled on Time
Faster, Continuous Innovation Cycles
A well-built tech stack yields value so long as it provides a high level of ROI over time, so continuous innovation is a necessity.
Moreover, today's businesses need faster access to innovation in order to remain competitive, which is why TA suites maintain a regular cadence of product updates and feature releases on a quarterly basis. These shorter innovation cycles allow for quicker performance and user acceptance testing, which translates into faster feedback to product teams on areas of improvement for future iterations.
More than simply moving fast, shorter product release cycles have a direct impact on future state planning. It's mission critical that your technology supports people and process changes, not hinders them.
Mobile
Because Millennials will constitute 75% of the U.S. workforce within the next 10 years, software built on outdated principles won't survive. Users simply won't adopt them. In fact, users will reject them outright.
– Tomasz Tunguz
Venture Capitalist
Redpoint

A major obstacle facing hiring teams when implementing new technologies is a lack of user adoption. What, then, are the new principles we need to evaluate in today's recruiting technologies?
Good user experience stems from simplicity and intuitiveness. Unfortunately, most legacy recruiting systems were created for a narrow range of applications in a time before the multi-channel workflow model we use today. Modern workflow management requires a mixture of SMS messaging, phone calls, reporting analytics, automated email, cross-platform integrations, and more. Recruiting is a fluid process, not a fixed workflow.
Effective recruiting requires recruiters, interviewers, and hiring managers to work in tandem to attract, select, and hire the best talent. However, there's often a disconnect—members on the hiring team can be misaligned on approach or using different systems, with time wasted on relaying information and collecting feedback.
At SmartRecruiters, we think a TA platform should be easy to use and facilitate efficient communications between all team members. The system should maximize engagement through integrated note-taking functionality on candidate profiles and resumes, @ mentions, and # features. Mobile functionality is critical for users on the go, and instant messaging capabilities improve communication and collaboration between hiring teams.
A poor UX or clunky workflows can easily lead to users working outside the system, causing further disorganization and slowing teams' hiring velocity. It's worth thinking about how your system engages users, especially "power users" like recruiters, hiring managers and interviewers who spend the most time working in these platforms.
For example, hiring managers may need to regularly submit reports for hiring team audits, so the ability to quickly and easily generate reports built on clean and complete data is essential. This isn't possible when users find external workarounds to avoid a poorly designed system. Easy-to-use systems, by contrast, see an average of +53% faster hiring manager response times, which drive a more collaborative recruiting experience. This has even greater downstream effects on hiring metrics.
Mobile Optimization
Modern organizations simply cannot afford to ignore mobile optimization as part of their talent attraction strategy. Today, 89% of job seekers think mobile devices play an important role in the job-hunting process, with 45% of all candidates searching for jobs on their mobile devices daily. Research also shows that mobile sourcing is most effective for high-volume roles—core workers in retail, transportation, hospitality—as this demographic more often relies on these devices than desktop computers.
If your organization is considering a mobile strategy or looking for ways to optimize an existing one, here are a few audits that can help assess your current state:
Questions to Answer
Compare the percentage of overall company site traffic via mobile versus career site traffic via mobile—which percentage is higher?
What percentage of career site traffic comes from mobile?
Check conversion rates from visitor to applicant on desktop versus mobile—is there a big gap?
What percentage of jobs are viewed on mobile through career sites like LinkedIn?
Can jobs be easily discovered via mobile search?
How easy is it to share job postings with others?
Pro Tips
When designing the mobile function for your talent attraction strategy, keep in mind:
Choose a mobile design that adapts to screens any size.
Make filtering jobs by function and department easy.
Keep your job descriptions concise and focused.
How information is communicated across teams also matters. Consider that your choice of recruiting platform will be used by employees across a range of functions, skill levels, and locations, and they will gain the most benefit from using a platform with a familiar look and feel. In today's business technology space, this means a stellar desktop as well as mobile experience.
Mobile has now surpassed desktop as the primary driver of internet traffic, with 62% of all online activity in the U.S. stemming from smartphones and tablets. At the same time, the number of people relying on mobile devices as part of their job search process continues to grow. According to a recent Glassdoor study, 58% of today's candidates use their phones to find job opportunities. However, due to formatting issues and unresponsive pages, mobile job seekers—on average—complete 53% fewer applications and take 80% longer to complete each application.
These findings underscore the fact that companies cannot overlook the importance of mobile functionality. When evaluating a recruiting platform's mobile features, think about the following areas of focus:
Mobile Recruiting
The average person creates an opinion about a website within 50 milliseconds (0.05 seconds), which ultimately determines whether they stay or leave. Does your career site correctly display on mobile and offer a stunning presentation of content? Does the application process link with cloud storage technology to make it easy for candidates to apply on the move?
Mobile Apps
Does your system support iOS and Android applications for sourcing and hiring? Do these applications enable hiring managers to work wherever, with functionality to swipe through candidates, interviews, and approvals to be managed? Does it offer a Field Recruiting App to capture walk-ins or event attendees for further engagement (CRM) and follow-up?
Mobile First
Is the browser interface fully responsive, allowing full user experience on all devices?
Hiring Success in Action

Better Collaboration Through Mobile

Health & Fitness

18,000+ Employees
With more than 200 upscale luxury fitness clubs across the US—and rapidly expanding into Canada and Europe—a high-end health and fitness company needed all local managers to acquire specialized talent as they entered new markets.
The talent acquisition team understood that decentralized hiring requires a high level of agility—this is where mobile hiring functionality became a game-changer. The company knew it needed hiring managers to always be on their feet, always on the move. "They need a solution right in their back pocket," said the Director of Field Recruiting, "to connect with peers that may not be in the same location or even on email."
Using SmartRecruiters' field recruiting app, the company achieved rapid expansion. Over the last four years, the company's annual new hires headcount increased 13 times and 88% of all openings were filled before target date.
Compliant and Secure
Nowhere do legal ramifications come to the forefront of HR conversations more than data privacy and compliance. The United Nations recently convened to discuss the internet's role in widening distrust among the public, spurred by a record number of data breach scandals over the past few years.
Now, businesses must forge a new legacy of digital trust by demonstrating responsible data handling and processing. EU legislation like General Data Protection Regulation (GDPR) and US legislation including the California Consumer Privacy Act (CCPA) demonstrate that data privacy law is finally catching up to the Internet. According to a Deloitte report on big data, there were only 20 privacy laws worldwide in the 90s. That number has grown over 5x in recent years.
Candidates offer their private data for the purposes of finding a job, and organizations are responsible for making sure that information remains safe. In fact, as data controllers it's their most important duty, or else they face penalties up to 4% of their company's annual revenue.
The solution to avoiding fines or other legal blowback is to contain all hiring activity in one system where you can enforce proper controls, consent, and retention policies. This includes collecting resumes, EEO survey results, criminal records, feedback notes on candidates—everything. Centralizing actions and information on a secure platform protects candidates as much as it does organizations, allowing you to focus on the task at hand: hiring great talent.
Questions to Answer
Does the system collect candidate consent when accepting applications and sensitive PII?
Are there pre-defined data retention settings that align with local & regulatory requirements?
Where are the data hosting centers located? Some countries (Russia, for example) require all data to be physically stored within country borders.
What is the plan for mitigating and handling events like a cybersecurity incident?
Do candidates have the ability to access their data and opt out at their own discretion?
Compliance is table stakes for all organizations today, and while companies are responsible for training employees on best practices to mitigate potential breaches, technology is playing a much bigger role in facilitating compliant processes around data collection, processing, storage, and deletion.
As new legislation emerges that controls more business operations—from data collection and processing to fair hiring practices, it's likely that the recruiting technologies businesses rely on will need to adapt in order to enable more automated, more compliant, and more holistic hiring practices moving forward.
Global and Flexible
The evolution of digital communication has opened up international markets to businesses, connecting organizations to people around the globe in new and exciting ways. Tools such as conferencing software, shared asset management platforms, and messaging applications moved the traditional workspace into the cloud, enabling global connectivity and further distributed teams. As businesses expand their global footprint, the processes and tools needed to execute successful growth strategies everywhere they operate become critical.
Localization
The modern workforce looks much more globally diverse than years past, meaning businesses need ways to work together and market to talent across cultures, languages, and customs. Within an organization, globally distributed teams need access to technology that operates in accordance with local customs and business practices without compromising performance.
For candidates, localization goes beyond simple language translation on job descriptions and job campaign emails. Rather, we recommend working with local hiring teams to customize the entire hiring strategy, from graphics and references utilized, to communication channels, from interaction frequency to company values to emphasize, all while staying consistent with the core company brand.
KitKat famously made inroads into Japan in 1973 by embracing the translated name of the chocolate bar, Kitto Katto, which sounds similar to the phrase kitto katsu, Japanese for "good luck." The UK-based chocolatier created campaigns at local post offices to encourage people to send "good luck" bars to one another, as well as launched a series of exotic flavors representative of certain regions around the country. By adapting their branding efforts and the product to align with the Japanese market, KitKat's localization campaigns vaulted the brand's popularity throughout Japan—and continues to this day.
Hiring Success in Action

Building a Global System with Local Configuration

Manufacturing

30,000+ Employees

60+ Countries
A global manufacturing company with operations in dozens of countries needed a globally-ready recruiting system that allowed them to localize hiring processes across a wide range of countries. SmartRecruiters, supporting over 30 user – and candidate – facing languages, was exactly what they needed. Moreover, the system also offered a high level of configurability that accommodated local hiring processes.
In order to help local recruiters, hiring managers, and candidates adopt the new talent acquisition tool and drive hiring success, the company deployed a phased roll out approach, releasing the tool to a new set of countries every few months.
Local TA teams partnered with local user experience teams on the product side to understand local user behavior. For example, in China, they conducted in-depth research and interviews with hiring managers and internal candidates and drew detailed candidate personas to understand all user interactions with the recruiting system. The team mapped out all actions within the hiring process and—based on reported user experience—TA was able to customize the hiring workflows and increase hiring manager engagement.
The manufacturer rolled out the new system in 60+ countries within 2 years, while increasing hiring velocity by 300% within the first year.
Self Serve Configuration, Globally
Norms and practices vary across industries. What applies to a manufacturing business may not hold true for an IT company. The nature and size of your business will influence your choice of recruiting software, as well as how you set up hiring workflows. As companies scale and grow, hiring processes also evolve and become more complex, and your technology should be robust enough to handle new, complex hiring flows for unique business needs and differences in labor market regulations.
Consider a large multimedia organization with subsidiary brands that include film and television, publishing houses, internet providers, theme parks, and video game developers with operations across the U.S., Canada, Europe, and Latin America. Understandably, a recruiter working in North America needs certain processes and language requirements in order to hire a TV product assistant in Toronto before pilot season, while another recruiter based in Europe will need far different processes to hire an animator in Krakow for a major video game project.
Globally-ready, enterprise-grade recruiting platforms allow hiring teams to self-configure workflows and processes unique to a particular region, brand, or business division. This extensibility covers customization of job and candidate data fields, individual business units, functions, roles, associated processes, logos, and localized outbound communication templates—all from one dashboard and without the need to burden IT teams with support ticket requests. This translates into greater service delivery by IT teams in other areas. For example, at SmartRecruiters our SLA guarantees a first response within 30 minutes (P0 incidents) while the industry average is 24.2 hrs.
Lastly, it's important that administrators have the capability to set user access permissions in every location via a global and configurable permissions model. Clearly defined hiring team roles improve collaboration between team members and allow for organizations to accommodate reporting protocols, whether for internal hiring team audits or legal reporting.
Reporting and Analytics
It takes a great deal of commitment and investment to build data analytics into talent acquisition's core capability, but it is absolutely necessary. Recruiting analytics are changing the way companies hire, helping to identify unforseen costs and hiring process deficiencies that prevent positive business outcomes.
Moreover, these data points are granting TA leaders more credibility at the executive table.
As you begin investing in more robust recruiting technology, you, too, will be able to leverage the power of data analytics to optimize your talent acquisition function.
Unless data and analytics leaders treat information as the new second language of business…, government, and communities, they will be at a disadvantage. They will not be able to deliver the competitive advantage and agility demanded by their enterprises.
Gartner

Hiring Success in Action

Leveraging Data Analytics to Meet Global Hiring Needs

Media

9,000+ Employees
Tony Le, former Senior Director of Global TA & HR Operations at one of the world's largest digital publishers that owns brands across 100 countries, told us how data analytics helped the company receive 4X more applications and make 10X more hires, at a much lower budget.
Tony was in charge of filling 400 jobs across the world in 2015, spending about $150,000 on job ads across 3 job boards per year. After he sent historical hiring data to SmartRecruiters, we analyzed the data and informed him that he made only 1 hire from the $150,000 spend. He decided to spend his job ads budget somewhere else. As he experimented with different platforms, we continued to track the sourcing performance and informed his decisions. Tony realized, counterintuitively, the job board that cost $75 per ad was outperforming the other which cost $40k per ad. He doubled down on the former and received 4X more applications while spending less.
Incorporating Data into Recruiting
At many organizations, the prevalence of talent metrics and dashboards remains low. Manual ownership of numerous excel sheets is still common, with talent data stored in various locations and owned by different individuals. Without consistency, organizations end up spending more time on calculating metrics and less time on communicating results and making talent investment decisions.
Fortunately, we've outlined a step-by-step process on how you can bring data analytics into your recruiting operating model.
Step 1: Agree on a set of TA metrics that the entire company tracks, give each metric a clear definition, and confirm buy-in from stakeholders.
Efficiency & Resource Utilization Metrics
Effectiveness Metrics
Business Impact Metrics
Value / Time / Cost
Quality of Candidates & Hires
TA Impact on Business Outcomes
Time in new stage
Time in in-review stage
Referrals per job
% of internal applications
Hiring Budget
% of abandoned candidates (uncontacted for 30+ days )
Offer conversion rate
Candidate pool depth
Candidate profile completeness
New hire performance
Retention
Net Hiring Score
% jobs filled on time
Return on hiring
Value of a hire
Business results
Completion of critical role hiring
Hiring Velocity
Pro Tips
Think about which candidate characteristics are most predictive of their success at your company (In this case, success is determined by role-specific performance measures such as time to productivity, time to quota, customer satisfaction scores, etc.).
Relative percentages are more meaningful than absolute values. Compare raw numbers against goals or other secondary numbers.
Instead of "Raw # of applications per job," consider the following: "Of all applications, how many got hired?"
Instead of "Raw # of hires," ask yourself: "Of all hires, how many were hired on time?"
Certain metrics, such as time to fill, are not comparable across roles in the entire company.
Take external benchmarks with a grain of salt.
Finally, make sure your recruiting technology is capable of tracking and analyzing these metrics!
Pro Tips
Enter accurate [target start date] to track the % of job filled on time.
Show the right data at the right stage for each person involved in the hiring process.
Step 2: Standardize workflows and hold people accountable for technology usage and data input.
Inputting incomplete or inaccurate data in the ATS, taking actions outside of the ATS, skipping over steps in the hiring process, and other gaps render the data analytics capabilities of your ATS worthless. TA leaders need to standardize workflows that reflect best practices and regularly optimize based on reality. As with any new processes, it takes time to form habits and everyone involved needs to be held accountable.
Step 3: Set your systems up for success.
Configure your recruiting technology only after you and your organization determine the important metrics to track. Companies sometimes make the mistake of rushing into setting up their ATS without considering what data they want to extract, or they configure their ATS suboptimally in order to extract certain metrics that later turn out unimportant, which takes a lot of effort to change later on.
Your team's engagement with the tool is also dependent on how well the system fits into their natural workflow. Many data sources will need to be combined—TA and HR systems data and business application data reflecting business outcomes, at the individual employee level where possible. Robust integrations that enable two-way syncs between systems are essential.
Hiring Success in Action

Building a Global System with Local Configuration

Manufacturing

100,000+ Employees

50+ Countries
Three years ago, a global manufacturer came to SmartRecruiters with a need for a data-centric talent acquisition culture and strategy. Buying a new ATS created the perfect opportunity to consolidate existing data and transform their process. Their Director of Global Talent led an initiative to overhaul the company's talent data collection, processing, and storage practices. Eight regional leaders and additional key technical leaders from each region formed a committee.
They sent over every single report that was created to SmartRecruiters, after a lengthy internal process of collecting many, many reports created by different individuals in 50+ countries. We reviewed everything with the committee—understood and clarified why certain reports were created, what the metrics meant, etc. Everything was communicated across the organization and everyone's agreement was confirmed unanimously.
With SmartRecruiters' consultation, the team first settled on the important metrics to track, eliminated redundant fields, and established short-term and long-term KPIs. Moreover, the committee created specific definitions for each metric, which were communicated across all departments and offices globally.
Then our implementation team configured the system to extract the designated metrics. Our CSMs and consultants might have spent dozens of hours reviewing reports and presenting our proposed reporting structures, but it helped the company save hundreds of hours in the years to come.
Intelligence
Much like how businesses rely on technology to facilitate their data compliance, so too will technology augment other aspects of the hiring process as artificial intelligence becomes more embedded in recruiting technologies.
For example, the Fair Hiring Resolution is a groundbreaking new motion that could mean U.S. hiring teams are legally required to use AI and algorithm-based technologies to reduce bias and discrimination in hiring and promotion, while also helping employers more effectively identify qualified talent.
The opportunities for intelligent solutions across the entire TA spectrum—from candidate engagement (chatbots) to sourcing and screening (candidate matching) and reporting (analytics)—are many, and hiring teams will soon rely on this technology to shift TA into more of a strategic function.
Forward-thinking employers no longer rely on instinct to make hiring decisions. Gartner projects that global spending on cloud computing, data analytics, artificial intelligence and other IT tools will reach $3.8 trillion this year.
Common uses for intelligent tools in talent acquisition include:
The most effective TA professionals are able to focus on high-value work and not become overburdened by administrative tasks. New technology like chatbots and AI assistants can empower you and your teams to spend more of their time with candidates and less with the time consuming tasks.
Chatbots
Many companies leverage chatbots to ensure an engaging candidate experience without overwhelming recruiters. Chatbots range in sophistication and many offer more than simply a back and forth conversation. We don't think of technologies like Siri and Alexa as chatbots because they provide a level of personalization and assistance in our lives. So, too, can chatbots and other types of assistive technology.
Chatbots, available 24/7, can answer questions about the company, benefits, and the culture in order to engage and educate candidates during the early stages of the recruitment process. They can help guide candidates to the right job locations, company information, and open positions. Paradox, the leading assistive intelligence platform for HR, has an AI assistant, Olivia, that can automate screening, schedule interviews, answer candidate questions and other types of hiring communications. Jacob Kramer, the AVP of Talent and People Solutions, explained that, "Today, our sophisticated recruiting model delivers candidates to a landing page, or directly to Olivia, where she answers any of their questions and connects them with the best location and the right application process—it's seamless."
Self-Scheduling
Another functionality building a strong candidate experience is interview self-scheduling. This eliminates the stress and time spent on back-and-forth emails around scheduling and rescheduling interviews. Rolling out this feature across desktop and mobile devices allows candidates to choose their preferred time slots in at any time. Not surprisingly, chatbots can also incorporate self-scheduling.
Native vs. Non-Native Intelligence
Modern applications are becoming more and more complex. However, current solutions are often singularly focused, forcing organizations to layer solutions and manage integrations. Third-party applications integrated with a core system are often plagued with non-compliant and disparate data, posing a greater risk for data leakages as information moves between systems, not to mention more limited functionality. By contrast, native solutions that operate in a single-platform ecosystem offer greater data fluidity, integrity, and security. This translates into better analytics and more insightful decisions.
Hiring Success in Action

Greater Hiring Velocity Through Embedded Intelligence

At SmartRecruiters, many of our customers purchase add-on products, including our native AI candidate matching tool, SmartAssistant. SmartAssistant uses machine learning algorithms to:
Search top-performing sourcing channels both within and outside of an organization.
Screen, score, and sort the best candidates based on relevant experience.
Engage with various talent pools, allowing for automated recruitment marketing.
Below are snippets from five SmartRecruiters customers who saw key improvements after adopting SmartAssistant:



COMPANY A

San Francisco-based digital experimentation and analytics company

Hiring Velocity increase by +8%




COMPANY B

Global financial services and mobile payment company

Hiring Velocity increase by +15%




COMPANY C

A Global disposable consumer products manufacturer

Candidate time in "New Application" stage dropped by -73%
Candidate time in "In Review" stage dropped by -68%



COMPANY D

Global logistics and freight forwarding company

Candidate time in "New Application" stage dropped by -65%
Candidate time in "In Review" stage dropped by -55%




COMPANY E

Global payments network provider company

Candidate time in "New Application" stage dropped by -47%
Candidate time in "In Review" stage dropped by -50%