chapter four
Change Management
It is important to recognize that technology, on its own, cannot solve all the challenges your organization hopes to address. If your organization has issues such as broken hiring processes or a shortage of required skill sets, a new piece of software is unlikely to make a lasting difference. Instead, you need to evaluate existing processes and skills, and identify where they need to change with the availability of new technology. We call this change management.
Blueprint to Drive Alignment
One of the keys to successful change management is knowing what you have versus what you need. In fact, "change programs that explicitly assess the skills and mindsets required to fulfill their performance and health are upwards of six times more likely to succeed."
The first step involves building out a project and communication plan that informs all stakeholders of the progress that is being made. Implementations rarely deploy without some feedback and last-minute change requests, so building in enough leeway or a project timeline buffer is highly recommended. This will enable you to implement ad-hoc changes while meeting target deadlines.
Finally, change management is not a one-time activity; rather, it is an ongoing process that requires constant engagement with your audience. To ensure commitment to a change of systems, you need to start with acknowledgement of improvement opportunities, which leads to changes in behaviors.
We've outlined a blueprint below of the various steps involved in change management as well as the associated behaviors.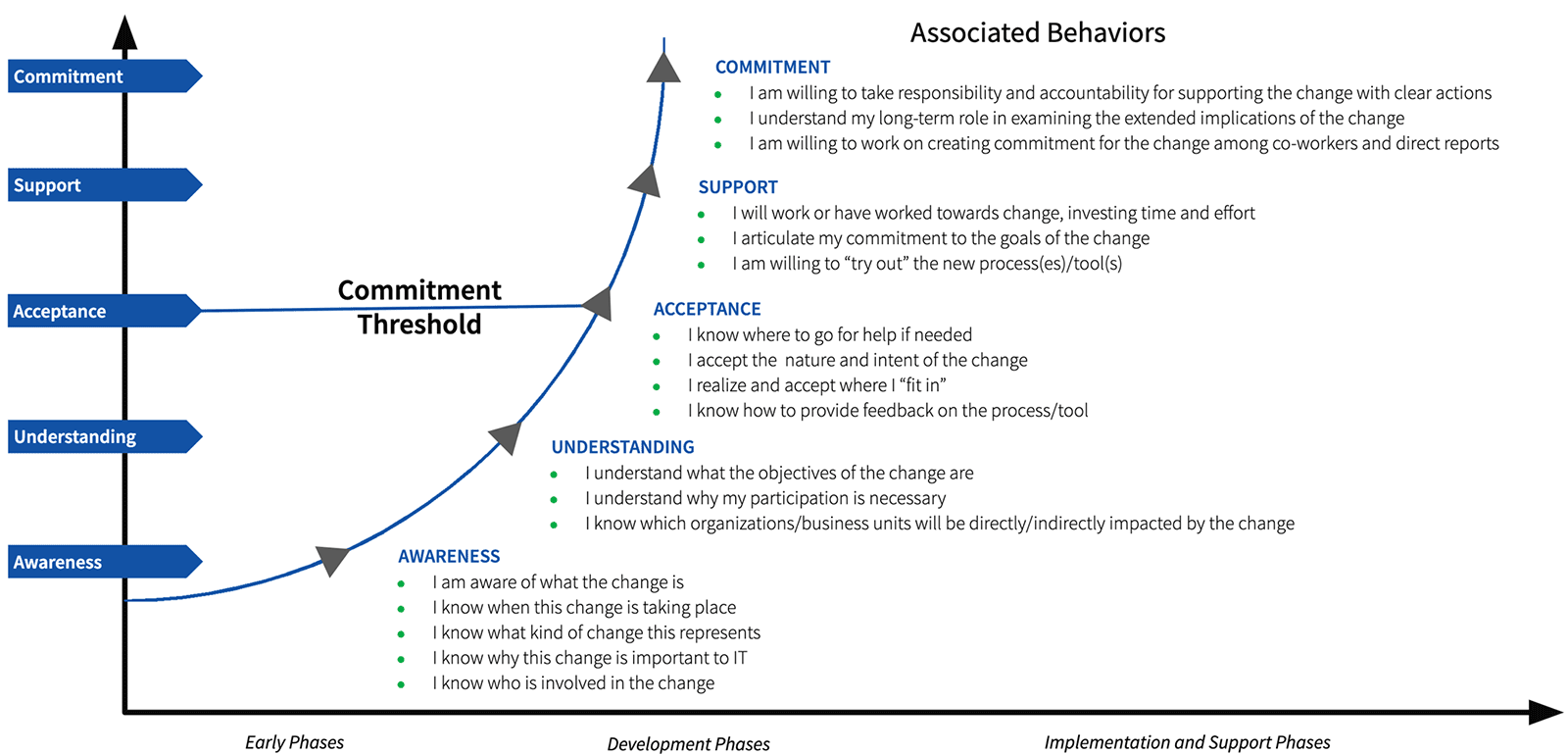 Hiring Success in Action

Change Management Blunders

Consumer Goods

2,300+ Employees
While it's always great to hear of success stories, we also want to share learnings from an implementation project that was challenging. For this example, we'll look at a U.S. outdoor footwear manufacturer that was not adequately prepared to invest in the resources needed for a successful change management, resulting in a setup that was unable to address key requirements at initial launch and took additional time to course-correct.
From the start, the company underestimated the complexity associated with a successful implementation of their new system. They decided that a third of the recommended implementation time and resources were sufficient. Due to poorly executed change management and a lack of resources, the team was unable to build a desired future state that would work for users at the organization. Most users were either unfamiliar or uninterested in using the system, preventing them from achieving their initial goal of being competitive in talent acquisition.
The company saw low engagement with the new system:
Only 30% of people who participated in an interview actually used the system to leave a review for candidates.
The number of reviews conducted on the system precipitously decreased by -75% over the course of 9 months.
Most importantly, their ability to fill jobs on time (Hiring Velocity) dropped -70% over the same 9-month time period.
While it is understandable that budgets are tight, it's also important to realize that compromises should be made within reason, especially when it comes to investing in new technology. Some organizations may even hire external consulting agencies to help validate the provider's suggested price. If there are budget constraints, we recommend to pull back on technology add-ons or certain premium features, if they exist, instead of limiting resources for proper implementation (Remember: As the TA leader, you get one shot to make an impression and drive excitement for ongoing adoption).
Unfortunately, implementation and rollout failures are not uncommon. In fact, large IT projects, on average, run 45% over budget and 7% over time, while delivering 56% less value than predicted.
Only
30%
of people who participated in an interview actually used the system to leave a review for the candidate
Reviews conducted dropped
75%
over the course of 9 months
Hiring Velocity dropped
70%
Their ability to fill jobs on time (Hiring Velocity) dropped 70% over the same 9 month time period!
To help you avoid common pitfalls with implementation, we've provided a summary of the lessons learned from our customers, as well as a detailed step-by-step guide on how to effectively conduct a rollout in the following chapters.

Involve Key Stakeholders
Seek input from multiple functions to align on the needs & requirements of your organization Create A Detailed Project Plan
Outline key milestones, informing stakeholders of upcoming changes

Proactively Communicate
Inform & excite your key users, ensuring strong adoption