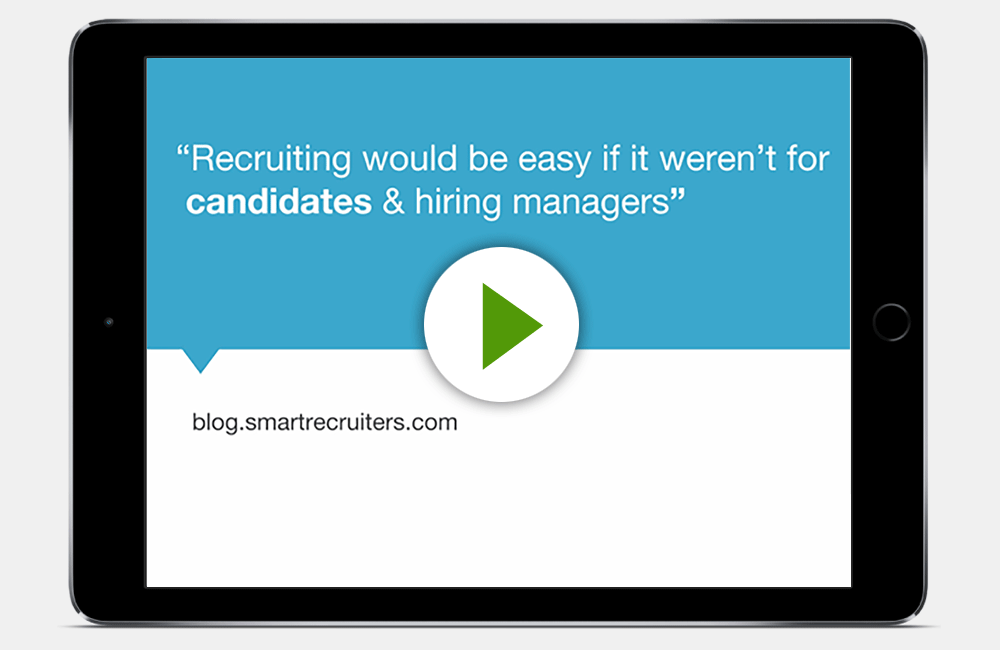 Transcript:
Jim:                 … While we wait, and again, just a few more moments. Thanks for attending. All right, so I think we're going to get started. Thanks everybody, again, for registering for and attending the Webinar today by SmartRecruiters entitled "Can Recruiters Really Have it All?" You guys deserve it all. We want to make sure you have it all.
Seriously, thanks for attending. My name is Jim Milton. I'm here with Mike Johnson, and we're going to just walk through again some housekeeping items, and then the agenda, and then we'll get officially started.
Everybody's on mute. We'd love to take questions, so we'll do that at the end. If you think of great ideas along the way, that you can't wait to share, you're free to share them along the way via chat, but we'll probably kind of address those at the end, in the last few minutes.
I believe the total presentation time is 45 minutes, so we're about 3 minutes into it, so we'll do 30 minutes or so of content, and try to leave some time for questions. The presentation is being recorded, so we'll follow up with you, and you can check back with us to see a copy of it. If you're Tweeting as you listen, you can use #HiringSuccess, and/or mention SmartRecruiters.
Just a quick agenda; we'll do a little bit more official introduction of myself and Mike, and then we will actually go into kind of the purpose of the Webinar, which is to go over some top challenges that … Mike and I have been hearing for the last 8, 9, 10, 17 years, in recruiting, from our friends who are recruiters, and some of the must-have solutions that many of you are shopping for.
We want to kind of show you that finally, in 2015, you can have almost everything you're looking for in one solution, and you can do it through SmartRecruiters, which is … We're excited about.
At the end, we'll go into some Q&A, and then we'll be all set. Actually, there's some other folks rolling in, so we'll give it just one more second. All right, now we've … There were some folks that had some difficulty coming in, so we got them taken care of, and we're good to go.
I'm going to … Since I'm already talking, I'll introduce myself, and then I'll give the mic to Mike Johnson. Jim Milton, VP of product marketing for SmartRecruiters. Formerly, I've been in the industry, as you can see. I worked for Taleo, for a company called SelectMinds, and for LinkedIn. I started off as a recruiter, went into the sourcing side of things with some technology at SelectMinds, and have been inside the ATS at Taleo, so a pretty good perspective on the industry, and exciting to kind of compare what we have to offer, versus what's out there.
I'll just hand it over to Mike, who can introduce himself.
Michael:        Yeah, thanks, Jim. Good morning or afternoon, everybody, depending on where you are. My name's Mike Johnson. I'm the chief sales officer at SmartRecruiters, and started with the company fairly recently, in January. Prior to that, I was with Avature for 8 years, building that business. Previous to that, I had started in the space in 1997 with a small company called HotJobs, which we ultimately took public in 1999, and eventually sold to Yahoo in 2002.
I've spent a lot of time in recruiting technology. I've built my entire career around it. SmartRecruiters really for me represents kind of act 3, with a couple of successes before that. I'm excited to be here, and excited to do this Webinar with you, Jim.
Jim:                 Yeah, it should be fun. We'll make it a conversation, and talk through some ideas here. I think to kick it off, it's actually kind of weird, Mike, because I'm quoting myself. I just kind of realized that, but a shameless plug for a blog post that went live today, and the title of the post is, "Recruiting Would be Easy, if it weren't for Candidates and Hiring Managers", which … The joke kind of comes … I actually don't know where it comes from. In the software industry …
Michael:        It's a bit like, parenting would be easy if you didn't have kids.
Jim:                 Yeah, or management would be easy, except for other people. In the software business it's always been, making software would be easy if it weren't for end users, so the same idea, which actually leads me to sort of what we're talking about.
What's really interesting to me is, having been in the recruitment technology space for 8, 9, it'll be almost 10 years soon, I talked to … Every couple weeks, to make sure that I know that, at least trying to build technology that people want to use. I talk to my friends, who are still recruiters, and I asked them the same question every time. I asked them, "What are your top challenges? What makes your job really hard?"
It probably seems obvious. The hardest parts about recruiting are actually dealing with candidates and hiring managers. I want to go into that a little bit more … A level deeper, though, because technology, sort of as a silver bullet, doesn't exist to solve some of the hardest problems, but technology has absolutely gotten in the way of selling to candidates, and getting the best candidates in the door. It's unfortunate. Technology has actually gotten in the way, unfortunately, in the last 10 to 15 years, from my perspective, of building really strong relationships with hiring managers, which is really, really important.
If you look at the blog post, one of the things that we mention is, my friends again … Every couple months, it's the same answer. Setting expectations with hiring managers is one of the hardest parts of recruiting. Hiring managers love to ask for the perfect candidate, that doesn't exist, and pay them a salary that's half the market rate. We know that.
These things are really hard to do in recruiting, but we want to kind of go and show you today how the technologies that you're shopping for, should ideally help you do a better job of selling to the best candidates, do a better job of building relationships with hiring managers, and we're going to talk through those.
Again, for the title of the Webinar, show you how you can have these technologies in one system, so that's kind of how we're going to organize the conversation today.
I guess, Mike, when I was interviewing some of my friends for the blog post and talking about, what's hardest about recruiting, they said, "The candidates." I said, "OK, sure, but what's hardest about dealing with candidates?" One of the recurring themes is … It comes up almost every time … Everybody says, "Where's your pipeline?" We can't be reactive. We have to be proactive, have a warm pipeline ready to go for the next rec; pipeline, pipeline, pipeline.
Recruiters tell me, "Dude, when do I have time to set ticklers and talk to people in my pipeline? I'm dealing with 20 other recs in real time. It's great theoretically to have a pipeline, but there's no spare time to do it."
Mike, you came from a company that spent a lot of time talking to this. I've got a slide that talks about some of the common problems with maintaining a pipeline, but can you speak to what you've heard, from some of the challenges of actually maintaining a pipeline?
Michael:        Yeah, it's interesting. The conversation you hear a lot is to your point, which is my recs are … My recruiters are working on 20 recs, 30 recs, 40 recs at a time, and not really have that time to engage prospects, even though you know that that's critical to the business, right?
Jim:                 Right.
Michael:        You look at a company, for example, in the gaming industry, like EA or others. That's an interesting environment, because really, if you look at gaming, you look inside of a gaming company, each one of the games that's being developed, is like its own movie. It has a staff of people, that everything from developers to artists to producers, all the way up the top to the executive producer of that game. That's sort of … That game has a start, it has an end, and then of course you have to look at that timeline, and then sort of back into your recruiting process from there.
You look at all the other gaming companies that you're recruiting from. They have production schedules that are happening internally, so it's a little bit difficult sometimes to pull people out and recruit them in your … If they're already working on a game in another organization.
All of a sudden, you've got this whole talent mapping thing going on around, "What are my competitors doing? What do their production schedules look like? When are people going to be coming off of those gaming projects? That gives me an opportunity to recruit them," but it's all around timing into the pipeline around there.
I think there's other industries where that's happening; certainly consulting, certainly, and tech, just because of the scarcity and criticality of the talent.
Jim:                 It's funny, you're talking about having an actual coherent strategy …
Michael:        Yeah.
Jim:                 … Which is awesome. I think some of my friends who are recruiters, they're just like, "Man, I don't even know where to put my notes." No, it makes sense.
Michael:        No, absolutely. Yeah, how do you engage them? How do you keep track of those leads [inaudible 00:09:38] and clearly, LinkedIn is the number one sourcing tool. LinkedIn recruiter is obviously very prevalent for most organizations and recruiters, and there's really no integration there. I think what we're going to see is some of that today, right?
Jim:                 Yeah, and if you look at number 3, there's something missing from number 3 on purpose which is, it says "no integration between the LinkedIn and the ATS". Now, most of the people on the call probably realize that like, "Yeah, of course, LinkedIn's data base is separate. We do sourcing, quote unquote maybe some pipelining on LinkedIn, and there's no place to put LinkedIn prospects in an ATS, because LinkedIn doesn't generally open up access that way."
The other missing thing from the slide, though, is that you wouldn't use the ATS really … The traditional ATS, for pipelining, because the ATS is for mostly approved recs that you're filling against, live.
As we go to the next slide, the missing piece, as some of you will guess, is CRM, which is part of what we want to talk about on the Webinar, and we'll get to that in a second.
I think what we want to offer up today, as you guys think about your strategies, and the tools that you need to buy in support of them, just kind of the 3 keys to sustainable pipelining, right, so that you have this answer to how we keep a warm pipeline, and just so they get practical, because instead of just talking pie-in-the-sky and a [inaudible 00:10:51], here's what we want to do; we want to have more of a hot book.
When I was a recruiter for just a short period of time, we called it a hot book. It was like, who are the hot candidates in every industry, vis-à-vis certain competitors, et cetera? Just to be able to do that quickly, and save time, because you're going to be contacting prospects periodically, and touching base with them. You just want to use messaging templates. You want to re-use messages that work, and not have to start from scratch, especially again, the average recruiter I talk to says they're working on 10 recs at once. They're considering outreach to the pipeline, and keeping prospects warm, as like a spare time thing, even though we know it shouldn't be.
Just to make it practical, just to use messaging templates. Again, that's something that you might find in a CRM, which leads me to the second point, which is leveraging a recruiting CRM, not just an ATS, but something that actually allows you to reach out to prospects who haven't applied yet, message them periodically, maybe send them links to landing pages, and just engage them, keep them warm, this is something that you're going to want to do.
Some of you on this call, maybe are actively shopping for CRM systems, recruiting CRM systems, and for those of you who aren't familiar, CRM in sales means something different than recruiting. We're talking about candidate relationship management, right? The system that might sit in between LinkedIn and your ATS, so either one of these systems could be useful, but what we really implore you to do is make sure, that if you're going to use a CRM to keep track of conversations with prospects, it should be integrated not just with your ATS. When a prospect actually becomes a candidate, you can make that switch over from prospect to candidate, but also with LinkedIn, because you're spending 80 percent of your sourcing time in LinkedIn. You ideally want the conversation that starts in LinkedIn, to move into the CRM, and to seamlessly move into the ATS.
If you don't have those things linked together … Mike, you can probably speak to what might happen, if it's not all kind of flowing.
Michael:        I think it really addresses 2 issues, one of which is user experience and adoption. When you struggle with … Where are people struggling? CRM is really around adoption, first and foremost. One reason is because they don't have time, which you already mentioned, but the other reason is because they're not integrated. It's not a seamless thing. I'm not sitting inside of one application, really working the entire flow, from source to hire. That's certainly a critical piece.
The other reason is, just for measurements and metrics. Really, when everything is in one unified application, you can now measure things all the way through.
Jim:                 I think … Look, here's good news, and we put some things in quotation marks. SmartRecruiters really offers something that's extremely unique on the market, and if we have a few moments at the end, we'll provide a quick demo. We've got a really unique combination of built-in pre-integrations with LinkedIn, some CRM functionality, and applicant tracking functionality, all inside of SmartRecruiters, in one system. We call SmartRecruiters a hiring success platform, and we think of applicant tracking as just one feature.
We think of CRM as just one feature. We call it our talent pool, and we integrate both with LinkedIn, which is amazing, and hopefully we'll have time for a little bit of a demo. If we don't, you guys can contact us to get one-on-one demos. What it means is, literally, your sources can start a conversation in LinkedIn, have a thread going back and forth with a prospect over 6 months, and that entire conversation will automatically sync into SmartRecruiters.
You have one data base, one source of truth, with all of your notes on a candidate, their complete LinkedIn profile, and all the e-mail you sent to them, in the same system in which you do applicant tracking. It's completely seamless, and then Mike, to your point, it's like a reporting dream, because all of your data is in one place, and you can see exactly your whole pipeline, so pretty exciting.
Mike:              Yeah, it's really exciting. I think ultimately, what I see in the market in talking to lots of customers and prospects over the last, to your point, 7 or 8 years around it is, this really does represent what the next generation of systems are. It just … The idea that you have this old, clunky APS, that you've had for years, it's old architecture and I need to patch these things around that, thankfully, we're now finally at a point in the market where we just don't have to do that anymore.
Jim:                 In short, the world's most important sourcing network, one of the more important new tools in recruiting candidate relationship management and applicant tracking, you just need to do your job, be compliant and watch things, we think it's a huge win. We hope you follow up with us about our solution here.
I guess moving on though, back to kind of the story again, talking to my recruiting friends about the challenges that haven't gone away for the last 10, 15, maybe 50 years in recruiting, it's an interesting challenge, selling a candidate on a hard-to-sell job. Forget about features that SmartRecruiters has, this is just a hard thing to do. You can't …
Michael:        Yeah, I try to do it every day. I feel the pain of recruiters.
Jim:                 Right, it's like … Another way I've heard it put is, my recruiting friends will say, "We only have so much control. We own … As a recruiter, we own the outcome. We own the [inaudible 00:16:12], the time to fill, the cost per hire, et cetera. We get tied to attrition metrics, and if we hire the wrong people who aren't a fit … But we have to work with the job that we're given, and we only have so much control, and we have almost no control over the salary, and the comp, et cetera."
This is just a huge challenge. Mike, I think one of my friends was almost daring me like, "How do you solve that, SmartRecruiters?" It's like, "Well …" Anyway, it is a huge challenge. The first part of tackling the challenge is, stop making your jobs look like this. Again, and in fairness to recruiters, if you're using a traditional ATS, it's kind of actually hard to do. This is kind of what your jobs look like. If you work at a company that's not in the top 5 brands in the world, and if you may not be paying the top salary in your market, and you don't have that reputation, and there's a really good candidate and this is what they see, maybe they don't really click further.
I guess what we're getting at is, there is more within your control, or within whomever runs your recruiting team and buys software, to make jobs look better than this.
Michael:        I think that, just to speak to that for a second, think about what the world does in technology now, every single day, with things like Facebook and LinkedIn. Their standards of usability are high. You couldn't say that 10 years ago. You couldn't say that 15 years ago. Now, everybody's interfacing with technology, on your phone, at work, on your desktop. Again, in the public domain, the standards are really high. I think that's where the bar is set.
Anything that you're doing, certainly if you're a B to C company, for example, where you actually care about your brand, you care about your customers, and now that's the experience that you show them, as a job description, you're dead in the water.
Jim:                 Yeah, it's like, do yourself a favor. Given what you're saying, Mike, everything else is almost cartoonishly easy these days to use, because it has to be, because of the small screens, because of social media. You show people this; it's like, "Come on." Do yourself a favor.
I think one of the problems that recruiters have as individual contributors is like, "Who do you complain to?" You can't make this excuse to the hiring manager, "Our jobs look like this." They don't want to hear it. Does your boss, who runs the recruiting team, want to hear it? Probably … Maybe or maybe not. It's kind of actually hard. Sometimes you don't have the data to prove the damage that it's doing, but at one level, you have to look at the world around you and say, "OK, this is not the way things work anymore."
I think as you look at some of the challenges in selling a job, everybody on the call knows … Has encountered these. It's interesting, as to the third bullet, I think some companies end up over-engineering as well. You kind of go to the extreme of, "We have to hire an agency, to build us the most custom, elaborate, fancy career site." I've actually seen some of those get over-designed, and then they actually take long to load in the browser. It actually goes in the wrong direction.
It doesn't have to be that way, either. I think just a couple tips, and then we'll show you solutions with our product. One simple thing is, use a video on the job. If there's a way for you to do that … Unfortunately, again, with most applicant tracking systems, it's a little bit difficult to embed custom code or video in a job that will show you a solution.
Video is worth 10,000 words, right, if a picture's worth 1,000 words. There's got to be some moment that you've captured in your company, that an employee has captured, that's probably … By the way, your marketing team probably made a video that's already on YouTube, that's usable, that you can piggyback. HR doesn't necessarily have to grab an HD cam and start making videos. There's probably something hanging around, that shows people some part of life in the company, that tells you more than that job description that we just showed you. Use the video, and obviously go mobile. At this point, it's just kind of crazy not to.
Michael:        Yeah, I think for the video thing, just quickly on that, if you do one thing, figure out what your employer value proposition is, and make a video about it. It doesn't have to be a high-cost production video, but just make a video about it. It goes an incredibly long way.
Just a quick story on that. I did a video micro-site for Novartis, and it was for their … It was with their CIO, because they were trying to recruit software developers, because now all of a sudden you've got all these big data projects around the human genome project, trying to sort of solve, as he put it, cure cancer through software development.
That's a big proposition. It was highly successful, and I think the video is really going to relay that message. If you just do one, get your value proposition down, and get that in the video. Partner with the business to deliver it.
Jim:                 Yeah, that's a good point. Don't take on all the work. Outline the proposition, get people to … Even in the meantime, though, there's probably a video you can use, that somebody else already created. I agree, Mike, if you're going to make the investment, do that.
As you create the video, there should be a way, without a whole lot of time, effort and money, you can build a little micro-site. If you're doing campus recruiting, if you're doing recruiting for a certain type of engineer, that's building a really kind of cool technology, you can build a Web site with a few pages that speak in depth about what that experience is going to be like. You don't actually have to, as we're going to see, hire an agency, get IT's help to do that. You shouldn't have to.
As you'll see, SmartRecruiters has almost a couple solutions on this front, and one, we've got mobile friendly … If you can see the screen here, really clean, nicely laid out, looks a little different than that other job I showed you, right? Mobile friendly jobs that are also, by the way, SEO friendly. You've got great-looking jobs, that now people are going to find, as they search through search engines, which some of you may have used other vendors in the past, just to make your jobs SEO friendly. With SmartRecruiters, they're automatically indexed and back-linked, so that you'll get a lot of traffic to them from search engines.
In these jobs, you can embed video with just a point and a click. You have almost, what amounts to … What you might need … In the past, needed to go to 3 vendors to accomplish, what you see on the screen, with 1 solution in SmartRecruiters, which we're pretty excited about.
That kind of … We've gone through, we've talked about mobile, we've talked about SEO, we've talked about video. We talked earlier about CRM. There's a lot going on here in one system, which is pretty cool. I think just to sum it up, you actually can have it all. You can have CRM, which SmartRecruiters calls talent pool, with LinkedIn integration, which is extremely unique. You can have mobile friendly jobs, and career page builder, and we don't have time to go through everything we do, because we do a lot here at SmartRecruiters. We've got a lot of other stuff, too; job distribution, social referrals, Facebook app.
A huge one, which shouldn't be the last bullet … It should be the first, in my humble opinion … Source analytics, which tells you the effectiveness of all this stuff. Did you … How's it all working? How do you tweak it? How do we spend our money differently? It's just … I don't know, Mike. You've been in the business a long time. It's kind of rare to see this amount of power under the hood in one system.
Michael:        Yeah, absolutely, and that's why I'm here. I fell in love with the product right away. The company has to have a great product, I think, to even consider working there. When I saw it, I was blow away. What's interesting is that we're now starting to show that to large enterprise prospects, and at the end of those conversations it's like, "What's the catch? This seems too good to be true."
It's an interesting reaction, but it's also a marketplace that's been underserved technically, and they've had to suffer for over a decade with, quite frankly, bad technology, and certainly not technology that's keeping up with the pace of innovation and technology today.
I think what we're starting to see how is that companies like ours, that have an agile development methodology, which means that we're iterating quickly, we're releasing a lot of new software very quickly, customers are able to consume that, and we're doing it in a way that has a great interface and user experience, everything is mobile optimized, so you can use it on any device, whether it's the back end application, the candidates. All these things that are now happening in the software world, it does now exist in one solution, and that's incredible.
Jim:                 It should. [Bill Cudick 00:24:43] talks about edge apps moving to the center, being part of a new, next generation core, and we couldn't agree more. Next generation recruiting software, as you replace your system with the next one, it should include all this. If it doesn't, you're getting in your own way. You can have it all.
This is just … We just talked about challenges that recruiters have with candidates, with selling them on jobs, with keeping them warm. We tied that back to all this functionality, which we're saying you can get all in SmartRecruiters, which we're really proud of. The next part of that quote … Again, I'm quoting myself here … From the blog, recruiting would be easier if it weren't for candidates and hiring managers. I feel like a lot of my friends in recruiting just kind of gave up on the broken relationship with hiring managers. They just assumed …
Michael:        I think hiring managers gave up, too. It's an interesting dynamic, because it does come down to some level of service delivery, and that's important. When you fail in service delivery, you lose credibility really quickly, and it's hard to get that back, but you can. I think it's … We look at a lot of RFPs in the space, and they seem to be pretty feature-rich, but even interestingly when we do demos of the product, nobody's bringing in the hiring managers. Nobody's bringing in their customer to say, "What does my customer think of this product?"
Jim:                 It's just weird, because the people … We love us some recruiters. We named the company SmartRecruiters for a reason, but the really key people in the process, when you think about delivering and hiring success to a company, they are the people getting hired, and the people they're going to go work for.
The hiring manager, if they're not actively involved … Our CEO Jerome would say, "They should be involved as a partner." The idea that the hiring manager is your customer, as a recruiter, we think is a bit of an outdated idea. The idea should be, the hiring manager has a role to play. They've got to close the candidates, and get the best ones to come into the door.
They also have to kind of pull the trigger and make the bet and select the candidate. Just to kind of speak to some of the challenges that we hear from recruiters all the time around, as you see on the screen, building a real partnership with a hiring manager, these are some of the 3 that we hear.
We hear, hiring managers don't always understand the market. They just don't get that somebody would … You're in New Jersey, and you need somebody with a skill, Ruby on Rails, and it's … You have to pay a lot for that person. That person's going to be creative, and motivated by different things, and so you're going to have to just take a different approach to recruiting.
It's going to take a different marketing mix to get that person on board. Hiring managers don't know those details, and in fairness to the hiring manager, it's not their job to know the market, per se. It would be nice if they would have some empathy, some understanding for the reality, so that you as a recruiter are working within realistic parameters on the search, but it's just about a level set there more than … The hiring manager's not kind of on another planet with the expectations. The fact is, they don't always understand.
The second thing is, I think hiring managers, they get impatient really quickly. Why wouldn't they? It's important to fill critical jobs. If they're not seeing the level of talent that they need being submitted, they probably don't have an appreciation for how hard you're actually working as a recruiter, as their partner.
They're just thinking, "I'm not seeing the … My recruiter's not giving me anything. I don't know what they're doing." Then, what we're really talking about here is an issue with the relationship. It kind of spirals from there because then, as you'll see in the blog post, then it becomes, even as you are submitting candidates, now the hiring manager is expecting the worst. They're not looking at their inbox, and they're not giving you feedback. It's a bad place to get to.
Michael:        I think you provide some level of transparency into what the pipeline looks like, and now they've off your back. You're not sending e-mails, you're not trying to schedule meetings. You walk in there with a spreadsheet, you're not … A lot of that's sort of a waste of time, which is huge. Obviously, that's … Didn't know I was seguing into another slide.
Jim:                 You must have read the next slide. It's key. One of the things … We use, at SmartRecruiters, we use a technique called V2MOM, which was pioneered by Marc Benioff at SalesForce. Brett Queener, our COO, brought that in here. We adopted that, and one of the things, if you Google V2MOM, you can see what it is. It's a tool for organizational alignment, among other things. It's also a tool for teams to have visibility into what each other … What one another are doing.
Just by virtue of seeing what your colleagues are doing, you develop a certain almost empathy for, "Wow, they have a lot on their place, and actually I can see that there's some thought put into how they're doing their work. OK, I can appreciate that."
That comes from, in recruiting, I think, giving hiring managers the visibility into your sourcing strategy. Give them visibility into your pipeline. That doesn't mean making excuses. That doesn't mean defending yourself, and getting defensive. It just means, just let them see what you're doing. That's half the battle, we've heard from recruiters.
The last thing is, if you want their help, because if you have their empathy, right now they're kind of open. If you want their help, make it easy. Make it easy for them. Don't make them go through some gauntlet in an ATS to have to give feedback. Make it really easy for them to give quick feedback early in the process, on the candidates that you're sourcing, and then help them help you. Make it easy for them to make referrals.
They're connected so well on social networks, it should just be a click for the hiring manager to help you out, and source people through referrals. As you'll see, if you go to SmartRecruiters.com, you can look at our products section. We have an incredible mobile app for hiring managers. What this app does, and it works on Android or iOS, and there's a mobile responsive version of the site, so hiring managers don't even need to install an app if they don't want to. For hiring managers, this is their tool. It's your gift, as a recruiter, to the hiring manager.
Selfishly, you're helping the hiring manager help you. You're doing it by giving something that's so easy to use. The hiring manager can quickly see the pipeline and what you're working on, all the hard work you did to source candidates. They can see your whole sourcing strategy, where the candidates are coming from, and they can see the top candidates that are in the queue.
If nothing else, what this does is, it helps hiring managers answer a lot of their own questions, so they're not constantly coming back to you with an e-mail, "Where are we at? Where are we at?" It's been hugely helpful, and I think just kind of in summary, because we want to save some time here, maybe for a little bit of a demo of some of this stuff, but in summary, you might not have been asking for this, but we're going to give it to you. You can have it all. You can have one platform that not only does all that recruitment and marketing stuff that we talked about, but you can actually move the needle on one of the other hardest problems in recruiting, which is getting a partnership and buying from hiring managers.
You do it by giving the gift of the mobile hiring manager app, which hiring managers are telling us they love. Then, hiring managers can see in real time …
Michael:        We had a customer who was a chief marketing officer, came to us and described SmartRecruiters as a godsend. How many applicant tracking systems do you think are out there, that a CMO would say, "This is a godsend"?
Jim:                 Ever, in the history of the world.
Michael:        Ever, in the history of the world, ever.
Jim:                 Yeah, it doesn't happen, so one of the themes here … It speaks to a bigger theme, and we won't go so much into it now, but as you look at SmartRecruiters, and we hope you do, and you come back to the site and look at our demos, and stay on the line now for a few minutes for a demo, you'll see a bigger theme at work which is, we didn't design … We didn't take recruiting software so literally.
What I mean by that is, we didn't just design it for a recruiter. We designed it for every single important stakeholder in the process, so they feel like it was actually made for them. It's not my doing. I think our founder and our R&D teams are brilliant, in my humble opinion, and I think they realize that if we build something for everybody else, the recruiter will shine, and the recruiter will be able to, with a lot of confidence and control, orchestrate a symphony of other people helping them.
There's a bigger theme there, and we're going to talk about it actually, in the next month or 2. It's exciting, and again, just on a feature level, if you are shopping around, or considering your next generation, your recruiting platform, it's got to be built for the hiring manager, and it's got to give them visibility. Otherwise, you're kind of where you've always been.
Having said that, we actually are doing pretty well on time. I want to take 5 minutes to give a little bit of a live peek into SmartRecruiters. You'll see some of the features today. Again, you can come back and get a one-on-one demo with a success advisor, or see a recording of this on line.
When we think about all this stuff, having it all on one system, we think about 3 big sets of capabilities that you really need to master, to do recruiting well in a modern kind of era.
You need recruitment marketing. Recruitment marketing just means all that stuff that we talked about; CRM, candidate relationship management, mobile jobs, landing pages. It's about the experience that you're delivering to the candidate, and a thoughtful approach to that, and it's about spending the right money in the right places, to drive traffic through that experience.
That means smart job distribution. That means smart usage of LinkedIn, et cetera. That's recruitment marketing, and we have got that all built in to one system. Collaborative hiring, really, is our replacement term for applicant tracking. At the core of hiring, hiring is a team work flow. It always has been. Now we've actually built a product that takes account of that, and just makes hiring a truly collaborative process, the way it should be.
Instead of saying reporting, we actually speak to embedded insights, which includes reporting, but it takes a step in a different direction which is, as everybody in the company is using the hiring success platform, as an interviewer, as a hiring manager, as a recruiter, et cetera, on every screen of the product, they see the data and metrics they need in real time, to do their job better, or to do what they're doing more effectively, without having to go generate some new report. We call it embedded insights.
That's the hiring success platform, all in one. A quick demo, we're going to try to do, so I'm going to pause for just a moment, and then we're going to get the demo on the screen. Background music … Here we go.
With the demo on the screen, you will see basically what looks like an iPad, and we do this to show you that SmartRecruiters looks awesome on every device. What we'll illustrate here is, we spoke earlier about having not only [inaudible 00:36:04] jobs, but being able to build landing pages, and do it with a few clicks.
What you see here is an example of almost a micro-site, that you can build with SmartRecruiters, and it allows you to … If your job descriptions … If your jobs aren't the best jobs in the world, and we can't all have crazy … We're not all Google, where every job is like, you have some secret project that you're doing, like Black Ops for the government, and it's crazy, and it's insane. Not every job is so exciting, so you've got to kind of add some appeal to it. You can talk about your jobs, and really go deep into the culture of the company around the jobs, and using a micro-site or a landing page is a good way to do that.
We've got really beautifully laid out landing page templates. There's a video, as you can see in this example, embedded. To add that video takes 3 seconds. You copy and paste a URL from YouTube, or Vimeo. Anybody in HR, anybody in the company, zero technical skills required, can build a page like this in about 2 minutes. It's extremely simple.
Beyond just building a page or micro-site, the jobs themselves … If I look at actually, if I go back here to my phone view, you can see here's that same micro-site or landing page on a phone. If I click into a job, you can see here is a job listed, the job itself is optimized for mobile.
With SmartRecruiters, every single job that you publish … As we've said, SEO friendly. You can embed video, but also automatically works beautifully on any phone. You get it right out of the box, it's all in one, you can have it all, as the title said, so really excited about that.
Another thing that we wanted to show you, we talked about the hiring manager. The hiring manager, on their phone, can also see everything. Let's say I'm a hiring manager for a marketing manager position. I want to see, where are the metrics? What's going on with this position? I have questions for my recruiter. What are they doing? Are they doing any work over there?
The hiring manager can just see it herself. She can go in, take a look, "Wow, looks like they're kind of doing something over there, because they've spent $8,000 advertising the job. They're using job boards, they've got a couple referrals. It looks like actually there's a lot of work going on. I can see the activity. There's an entire activity feed, with everything happening. Wow."
I'm the hiring manager, I scroll up, I see, "Wow, here's my pipeline. Wait a minute, I've got 3 candidates in the interview process. Shoot, I forgot to get back to the recruiter about scheduling the interview. That's my bad."
Actually, all of a sudden I went from, "What's my recruiter doing?" to "Wow, my recruiter's doing a lot, and it looks like they're being thoughtful, and actually, yikes, there's only 3 referrals. Maybe I'd better help make some, because actually that's part of my job as a manager."
Lastly, I'll show one of the coolest features is, the hiring manager can see, who are my top candidates? Remind me again, who are my top candidates? Who do I have to select from? This tool right here, has really helped recruiters, because one of the hardest parts of recruiting is that indecision on the hiring manager who doesn't pull the trigger. With this comparison tool, you can help the hiring manager make that objective choice, and just move quickly.
Delivering this mobile experience for a hiring manager, who's not going to sit in front of a desk all day on recruiting software, could make the difference between a marriage made in heaven with your hiring manager, and status quo, so really excited about that.
The last thing that we'll show you, a little out of sequence here, but we spoke earlier about CRM and being integrated with LinkedIn. One of the things, just to set this up in 2 minutes, we've got about 4 minutes left, really quickly, as we've said, you probably have recruiters or sourcers using LinkedIn, perhaps the LinkedIn recruiter tool. They're out there running searches. They're finding prospective candidates.
Here's a prospective candidate that I might want to talk to. Before I go and send him an in-mail, because of this amazing integration SmartRecruiters has with LinkedIn, you'll see in the right-hand corner of the screen, there's a SmartRecruiters button. That button will signify, as I'm doing my sourcing, that oops, actually, somebody else on the recruiting team must have talked to Alex. I don't want to embarrass myself.
Before I go and send him an in-mail, I can click here and see, actually Alex is already in the interview phase, in the quote unquote ATS. You actually have that visibility. We call it cross-systems awareness, between systems.
The other thing that you have here, as you do send in-mails to all these folks on LinkedIn, there's a whole in-mail history that lives within LinkedIn; all the messages, as you can see. Now what we've done, as I click, all the in-mail that has ever been sent back and forth to Alex on LinkedIn, get automatically synced over into your SmartRecruiters hiring success platform. All these messages, if I scroll down, these are actually … These are messages that were sent on LinkedIn, and they get auto-synced into one data base.
What you end up with is, one talent pool; others will call it a CRM, we'll call it a talent pool. One talent pool, with all of your prospects and candidates. You'll see this is from LinkedIn, in one system, that you can filter and search through. It's your ATS, because you'll have people that applied. It's your CRM, because you've got leads from different places. It's also linked to LinkedIn, so it all flows seamlessly together. We're really proud of it. That's just a quick preview, but please come back to us, if you'd like a deeper dive demo into that.
With that, we may have just 1 or 2 minutes left for a question. Let me go back to my slides, and we'll just have these on the screen and take questions.
I think there's a couple coming through, so I'll answer just some of them now. Again, apologies if we don't get to your question. One question is, do my recruiters have to do some manual sync to get the candidates to go from LinkedIn to the CRM, or is there any extra integration? There's not. If you're using SmartRecruiters as your all-in-one system for ATS, for quote unquote CRM, the conversations that your recruiters have on LinkedIn, automatically just sync back to SmartRecruiters. There's no button to even push.
What's cool is, there's actually no training to do. The recruiters use their LinkedIn recruiter screens as usual, and as they have conversations with candidates, they just come back into SmartRecruiters. It's actually a beautiful thing, so you'll see high adoption from that.
The second part of the question, actually as I'm reading it, is now in your analytics, in SmartRecruiters, can we now see the hires that we're making from LinkedIn recruiter conversations? That's actually an awesome question.
Michael:        That's a great question.
Jim:                 Yeah, because as you post a job on LinkedIn, you can see, "OK, some ATS' at least have some source tracking." You can see, "OK, we've got a candidate from a LinkedIn job post." Now, you can see candidates that came from an in-mail conversation, and see how many hires you made from those, which is amazing, so we're really proud of that. That's a good question. We may have … I think we may be out of time.
Thank you so much for all your questions. If you have more, we'll follow up directly outside of e-mail, but Mike, it was fun. We should do it again.
Michael:        Yeah, absolutely. Thanks, Jim. I appreciate it. Thanks, everybody, for attending.
Jim:                 Thanks.
Today's recruiting process requires a slew of tools for sourcing, posting, CRM, applicant tracking, and a mobile candidate experience - just to name a few. Mike Johnson, former head of sales at Avature and Chief Sales Officer at SmartRecruiters and Jim Milton, VP of Product Marketing walk through an important presentation where you will discover how to save time, energy, and money while achieving new levels of hiring success on a single recruiting platform.
A few highlights from this webinar:
Review all of the must-have capabilities you need from a recruiting system to be successful.
Discuss how to eliminate or avoid a complex web of integrated modules.
Demonstrate how SmartRecruiters can help you go-live with modern capabilities step-by-step, or all at once.