chapter five
Identify Cost Savings
Map out your data gathering by focusing on three key areas: technology, sourcing, and people.
Technology Consolidate technology, reduce integration and maintenance costs.

Sourcing Allocate ad spend efficiently, reduce direct sourcing and agency expenses.

People Drive efficiency through productivity improvements.
Technology Savings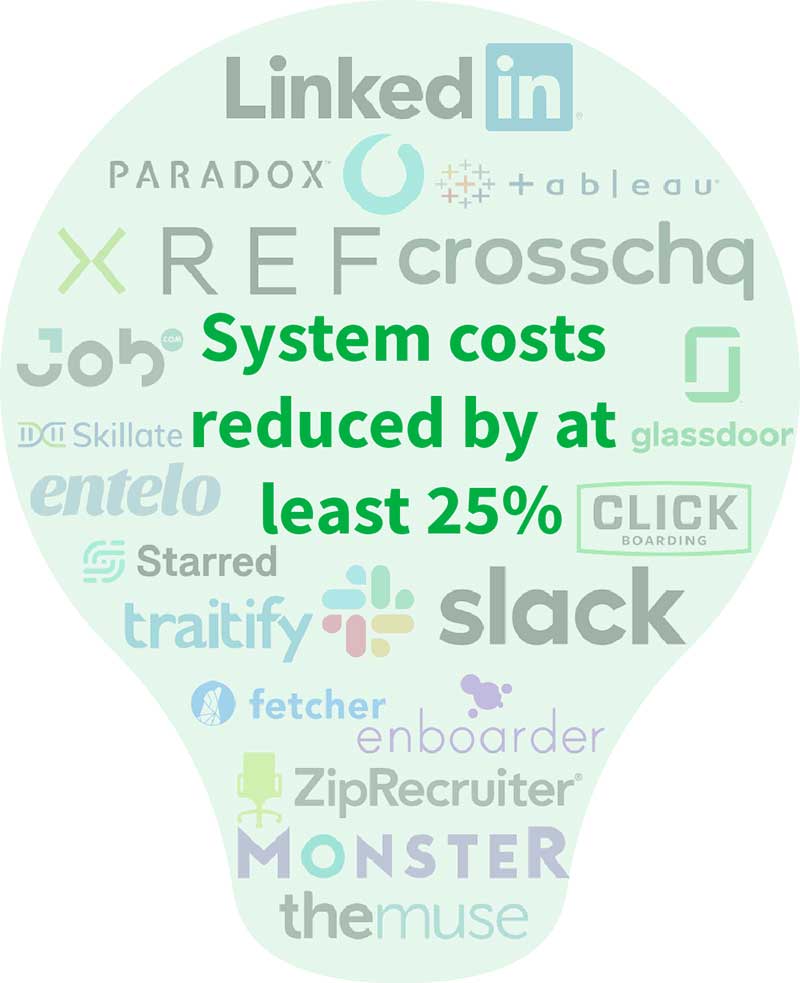 Fragmented and non-native tech is not just bad for the user experience, it costs your business money. Here's where you will see savings with an end-to-end TAS.
Consolidation: When all your tools (including Applicant Tracking System (ATS), Candidate Relationship Management (CRM), Artificial Intelligence (AI), Job distribution, Recruitment Marketing, Texting, Mobile Apps) are consolidated under one comprehensive TAS, your system costs are reduced by at least 25% based on bundled savings with one vendor rather than multiple.
Integrations: Integrations are a rich area for savings. With a legacy ATS, every additional tool is likely another expense to maintain — whether it comes out of the TA budget or Tech budget. A next-generation TAS will have a pre-integrated marketplace with hundreds of plug and play tools — from reference checks to onboarding — not to mention productized integrations with all major ERP/HRIS vendors like Oracle, SAP, and Workday — built on robust RESTful APIs.
Nine configured efficient processes with SmartRecruiters' pre-integrated marketplace so that hiring managers could quickly engage & review candidates leading to a 35% faster hiring. Integrations included:
Maintenance: Ad hoc technology from multiple vendors means larger administrative and support expenses. You need a system that can set up and change processes without hidden costs. Your maintenance costs could be minimized to a 10% annual subscription with one vendor.
Sourcing Savings
Sourcing is one of the recruiting budget's biggest pains. It is a large spend, but the spotty analytics offering of your legacy ATS makes it hard to pinpoint where the money actually goes. So the process tends to yield quantity over quality. With a data-driven process, you can start to optimize your budget, making each dollar count.
Advertising: The average ATS customer gets less than a 5% click-to-apply-rate, while a next-generation TAS yields 20%. The lesson here: even the best ad cannot make up for a clunky application; you will weed out the top candidates before the process even begins. With higher returns on ad spend, you can reduce your budget by 75% and get the same results.
In addition, programmatic advertising like SmartRecruiters' SmartJobs module, built as part of the TAS, allows recruiters to target their reach to deliver, not just any candidates, but qualified candidates.
4X the return on advertising spend with higher click-to-apply ratios.
Agencies: Outside recruiting agencies can be a good tool in your belt, but they are not a strategy. If you have departments like Sales or Tech that often use headhunters, consider what it would mean to consolidate that function. It could be a bonus proof of value for your team. A next-generation TAS provides easy sourcing and advertising capabilities in one system, so you can reduce your agency costs by up to 100%.
Colliers reduced their dependency on external agencies from 80% to 5% of hires in the first year.
Direct Sourcing: Direct sourcing can be an effective surgical approach for a single role, but does not work at scale. Costs may include sourcer salaries, cost of LinkedIn Recruiter System Connect (RSC) seats, and other CV databases. And although sourcers have traded their phone books for LinkedIn, it's still a cold-call process. A truly innovative approach requires a native CRM so your people can build scalable talent pools and source even those hard-to-fill reqs with ease. SmartRecruiters customers have seen on average a 75% reduction of direct sourcing costs, salaries, and services.
People Savings
When your technology fails to meet your process needs, TA loses in soft dollars i.e. waisted recruiter hours. Think of what your team could accomplish if they could get out of the admin hamster wheel.
Resume Screening: The right AI can help you succeed on three fronts: surface top talent, screen resumes at scale, and decrease bias in the hiring process. The average SmartRecruiters customer reduced the time spent screening resumes by 90%. Consider a common scenario where 1,000 applicants need to be screened and multiply that by the 30 seconds saved per application with AI, that's more than a full eight-hour workday of a recruiter's time saved.
SmartRecruiters' AI tool, SmartAssistant, scores and surfaces resumes based on objective job match criteria. Recruiters and hiring managers still make the final call, but with better information and less unconscious bias.
90% reduction in resume screening time.
Recruiter productivity: When clunky technology forces hiring managers and recruiters to work outside the system, your team loses productivity. Recruiters become coordinators, emailing resumes, scheduling interviews, and chasing feedback. With a next-generation TAS hiring managers and recruiters work together on the same system for more accurate exchanges of information, easier resume sharing, more insightful and timely feedback, and streamlined communications.
The average Smartrecruiters customer sees team productivity improve by 50%. A conservative projection would be 10%. Review your current process including time coordinating between candidates and hiring managers to find a number that makes sense to you.
Home Instead Senior Care's recruiters experienced 5X the productivity thanks to TA Transformation.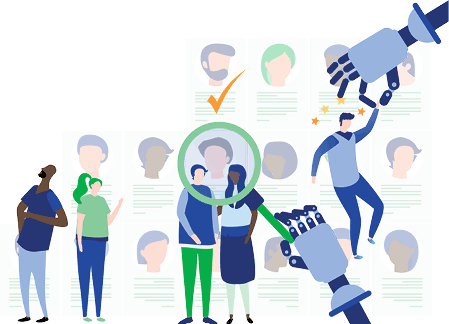 Process automation: Recruiters and coordinators at more mature organizations reportedly spend up to 67% of their time scheduling interviews. All of that time and cost are saved via mass candidate self-scheduling. And that's just one example, task notifications and offer management can also be automated for higher productivity. It is also important to think beyond your team, process automation means less work for other stakeholders such as hiring managers. This can win you cross-function buy-in for a stronger business case.