chapter four
Prioritize Investments based on Value / Time to Full Benefit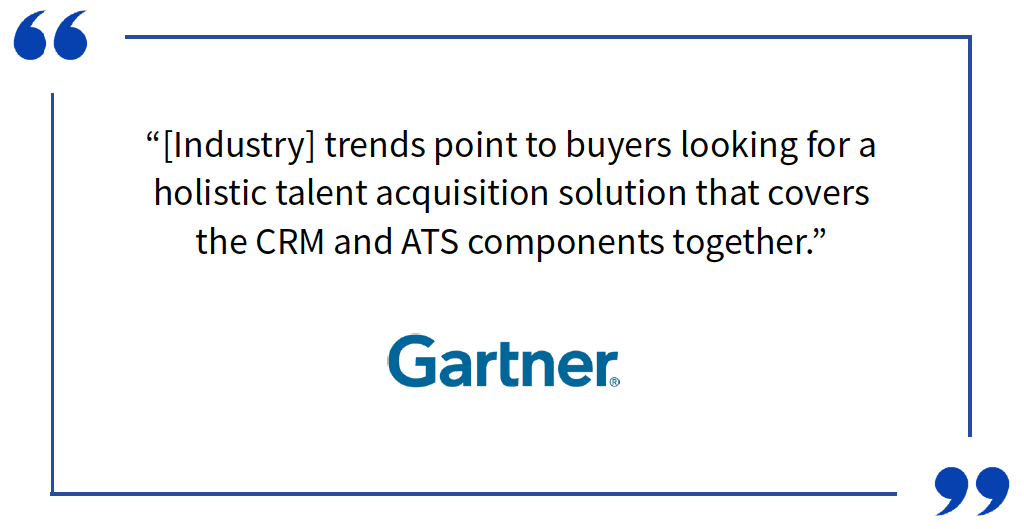 Evaluating emerging recruiting tech innovations can be exciting and confusing at the same time. The space is flooded with new solutions – and they each claim to be revolutionary. What investments should be made now to set yourself apart from your competitors? Knowing which technology trend delivers the highest ROI and having the ability to take full advantage of them are essential to success.
We extrapolated a Time-to-Value matrix (based on research by Gartner) to help you understand the different levels of potential value of emerging recruiting technologies and the relative effort required to realize their full potential. Innovations at the upper left of the matrix should be prioritized, while ones at the upper right are worth exploring since these innovations can potentially give you significant competitive advantage over a longer period of time.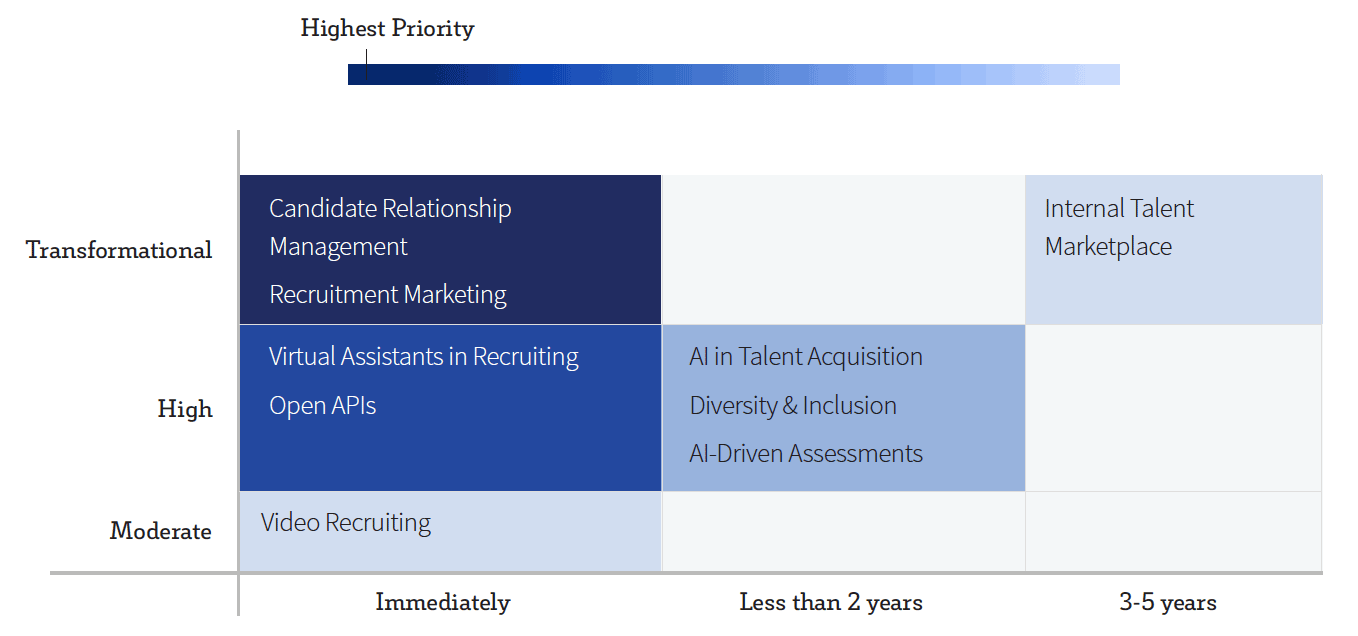 CRM and Recruitment Marketing
Businesses can stay ahead by proactively sourcing and nurturing talent to ensure an ongoing flow of
prospective candidates through candidate relationship management systems.
In a job seekers' market, CRM is no longer a nice-to-have. It's a must-have that provides a definitive edge to
employers in a competitive and crowded talent market.
With SmartCRM, businesses achieve better sourcing ROI by hiring faster while spending less on job ads.
Artificial Intelligence
AI can be instrumental every step of the way in your hiring process – effectively improving the cost of hire, time to hire, and quality of hire. However, current AI solutions are often singularly focused. Buyers often have to layer solutions and manage integrations as they incorporate AI.
Automation-focused AI tools are ready for adoption and will soon become table stakes. When it comes to AIpowered candidate experience management tools such as chatbots, legal implications are worth considering. Talent sourcing and matching tools take some time to work because the algorithms need a lot of data and user feedback to reach accuracy.
SmartAssistant, the first-of-its-kind, AI-powered recruiting solution is natively built-into the SmartRecruiters platform and support the entire talent acquisition workflow from start to finish.
Open APIs
Open APIs are the windows to a new ecosystem of powerful integrations that can empower your hiring strategy. Most organizations rely on third-party recruiting services to augment their hiring process.
However, building custom integrations for each service can be complicated. Often, the addition of third-party services results in manual workarounds outside of recruiting systems, creating unnecessary workflows and inhibiting access to data.
SmartRecruiters offers the world's largest ecosystem of pre-integrated 3rd party recruiting solutions, with an open platform and APIS that offer a plug-and-play experience and simplifies your tech stack.
Internal Talent Marketplace
Internal Talent Marketplaces improve employee engagement retention. More importantly, they enable organizations to be more agile and adaptive by creating an environment for internal mobility and innovation knowledge transfer.
Vendors only recently started to offer internal talent marketplaces due to the newly rising market demand. However, organizations need to be structurally ready before they can fully benefit from such platforms.
SmartMobility drives employee engagement through integrated internal profiles and job search. Employees can access internal job postings from a private portal. Recruiters can manage all applications from one portal with embedded differentiated workflows for internal and external applicants.
Recruiting Technologies to Prioritize
We recommend prioritizing investments in technologies that have shown clear potential for impacting hiring in the next 18 to 24 months to keep pace with your peers. For example, technologies like CRM systems, Recruitment Marketing tools, Virtual Assistants, and platforms with open APIs. To gain competitive advantage in the longer term, buyers can also explore investments today in Internal Talent Marketplace and AI in Talent Acquisition. These technologies can potentially transform recruiting but will take 3-5 years to realize their full potential.