The shift to remote hiring creates an additional layer of complexity in a recruiter's already complex life – driving a need for collaboration and efficiency like never before. That's why we're introducing Tasks – a better way for remote teams to collaborate, stay on top of their recruiting action items, and ensure they meet their hiring goals.
Imagine a recruiting command center that allows you to:
identify high priority tasks for yourself and hiring managers

add priority flags based on urgency

manage team workflows and

assign due dates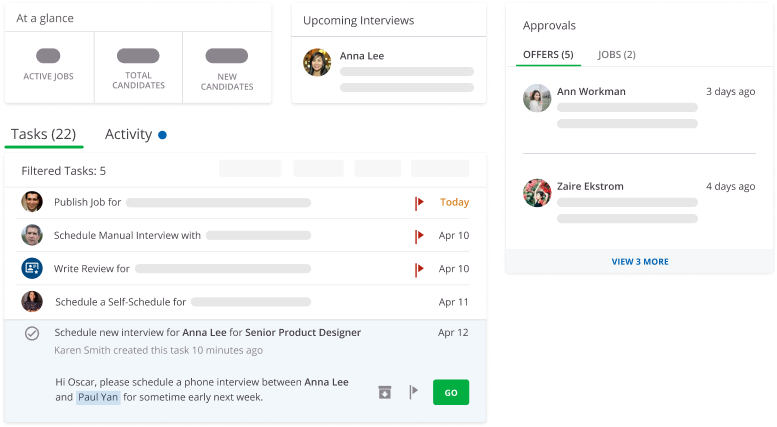 All of the important tasks are visible in a dashboard that empowers busy hiring teams to better organize their work day. It also highlights potential risks to the hiring process before they arise so team members can hire the talent they need on time. 
Other system benefits include:
It is made for you.

The system builds a task dashboard specific to each user's role. Users can also customize the Dashboard, by setting preferences for notifications and reminders and pinning high priority jobs and candidates.  

It gets smarter over time.

The system intelligently surfaces tasks and suggests priority and urgency. When users perform the same action series multiple times, their preferences are automatically saved as a smart default. Users can also configure the system to automate candidate follow-up actions. Users can save time by selecting pre-configured workflows from an extensive library of templates to fit your hiring needs. 

It assigns ownership & sets SLAs.

Users can easily build a hiring team notification center that allows users to set SLAs against hiring team activities. 
Effective task management accelerates Hiring Velocity, one of three pillars of Hiring Success, which measures the percentage of jobs filled on time. With Hiring Velocity, CEOs and their executive team can accurately plan and forecast their ability to meet company growth targets. 
The addition of Tasks is widely celebrated among SmartRecruiters users and will be available as part of the Q2 product release for remote hiring on July 30th. We've tagged it as high priority on our calendars!