2018 Fall: Product Release
PROACTIVE SOURCING → STRATEGIC RECRUITING
Reactive recruiting practices are not delivering results in today's fierce war for talent. The top 10 corporations on the Dow Jones index, alone, lost $75 million on unfilled positions open for more than 30 days.1
Proactive sourcing, on the other hand, allows hiring teams to reduce time-to-hire, by staying ahead of demand with quality candidates always at your fingertips.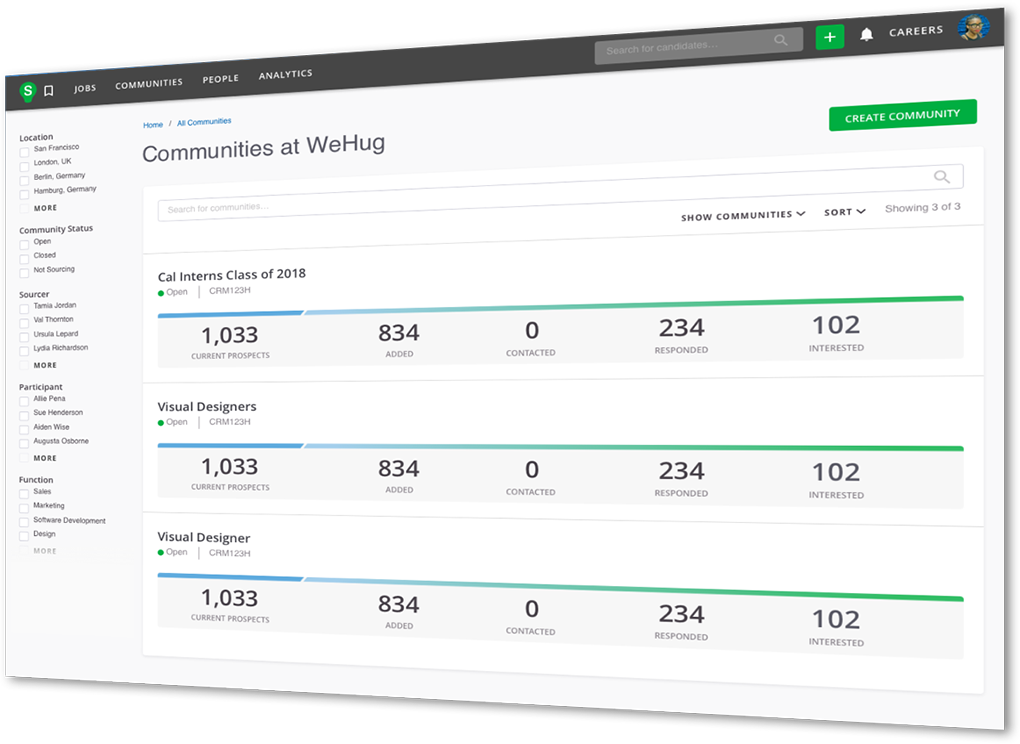 SmartRecruiters is proud to unveil SmartCRM, a native candidate relationship management technology, along with numerous other enhancements to our talent acquisition suite.
SmartCRM
Talent pool development is one of the most influential drivers of hiring performance.2 Sourcing and recruitment marketing teams use CRM to hire faster while spending less, tapping into an existing network of passive quality talent immediately when relevant roles need to be filled.
SmartCRM is available as an Add-On product to our core ATS.
Key functionalities include:
Communities – Organize your prospective candidate pipeline into configurable talent pools
Email Campaigns – Nurture prospective applicants using dynamic rich messaging features
Lead Capture Forms – Elevate your recruitment marketing with engaging landing pages for prospects
Advanced Search & Filters – Discover and organize relevant talent from one universal search interface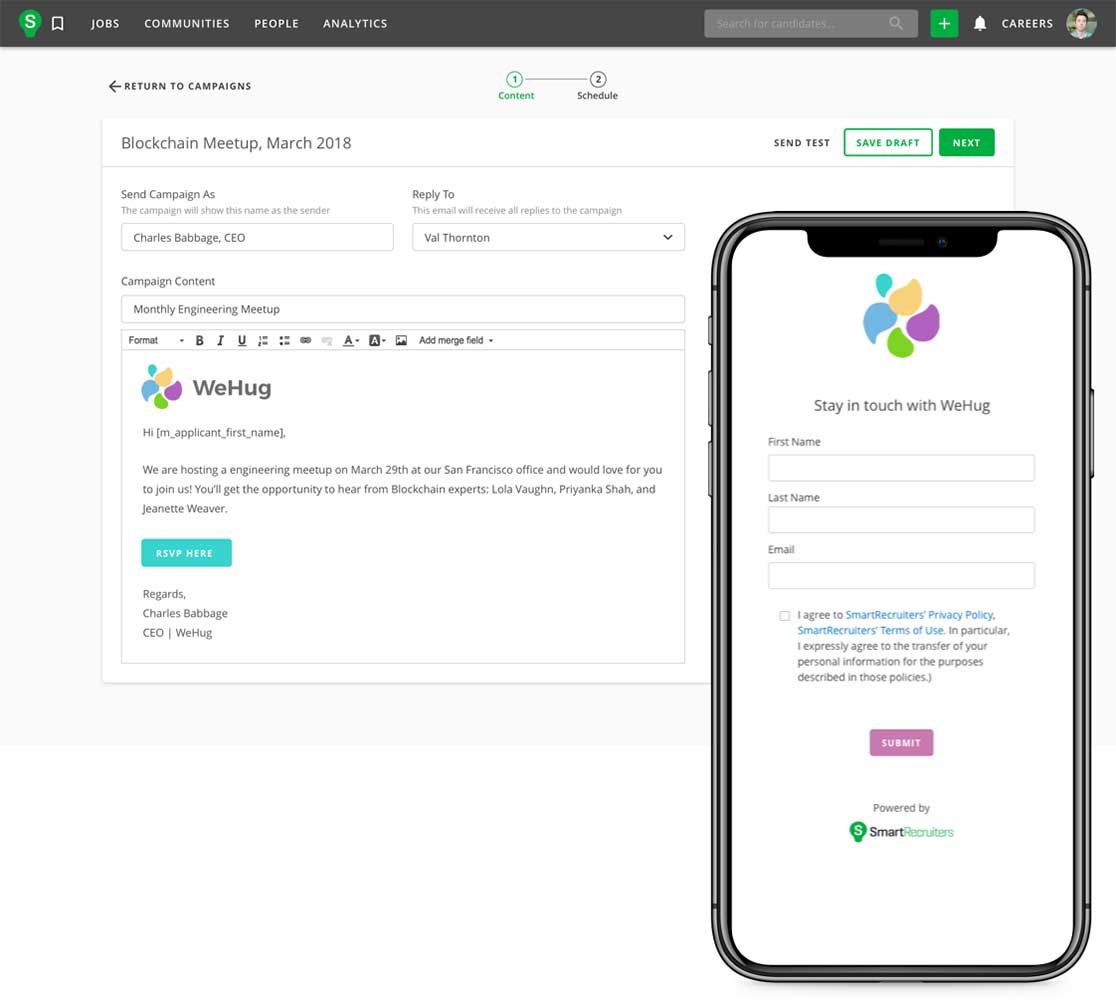 DELIGHTFUL ENHANCEMENTS
Committed to ongoing innovation, SmartRecruiters regularly delivers useful updates to our product at no additional cost to our customers. These Delightful Enhancements aim to provide you with a platform that stays at the forefront of high performing talent acquisition needs.
INTERNAL SCREENING QUESTIONS
Streamline engagement and increase sourcing of internal talent (SmartMobility required)
Differentiate screening processes for external and internal applicants
Create and display a particular set of screening questions for internal candidates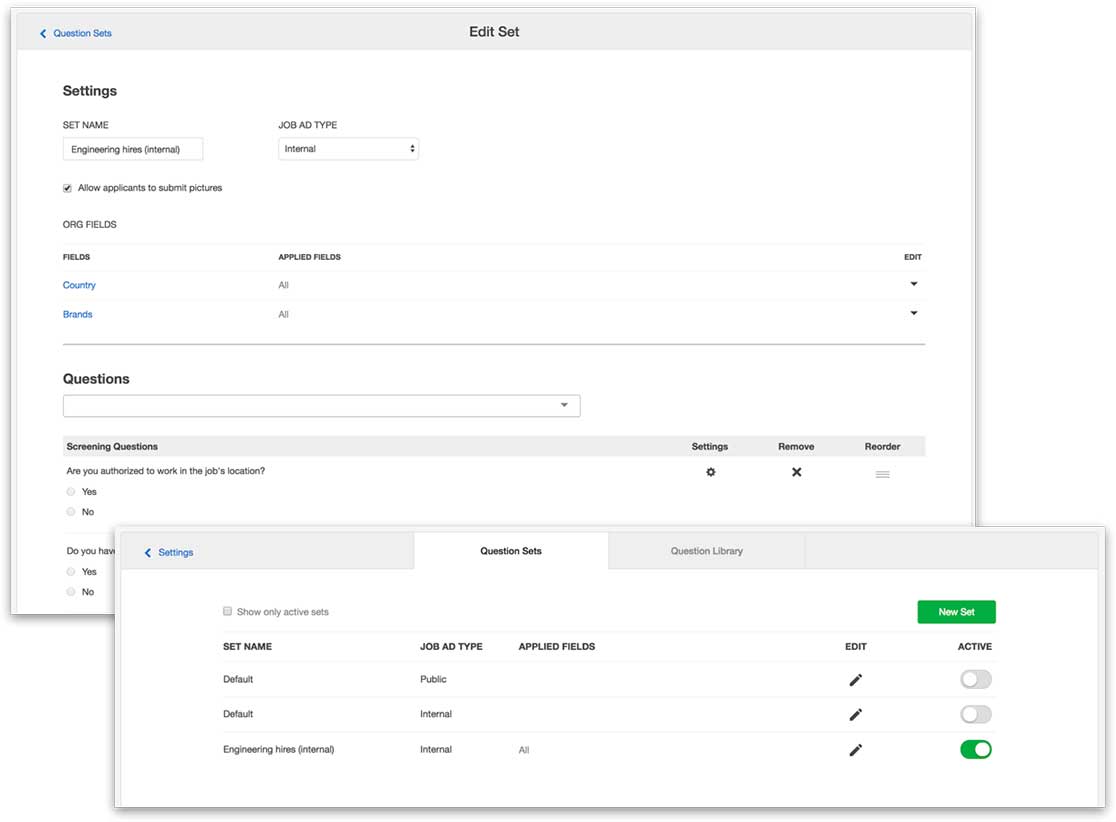 MASS REQUEST CONSENT
Manage consent within your candidate pool more effectively
Filter the People list and Applicant to identify candidates who haven't provided consent
Request consent from up to 2,500 candidates in one action
Set a candidate's consent status and trigger consent request via the Candidate API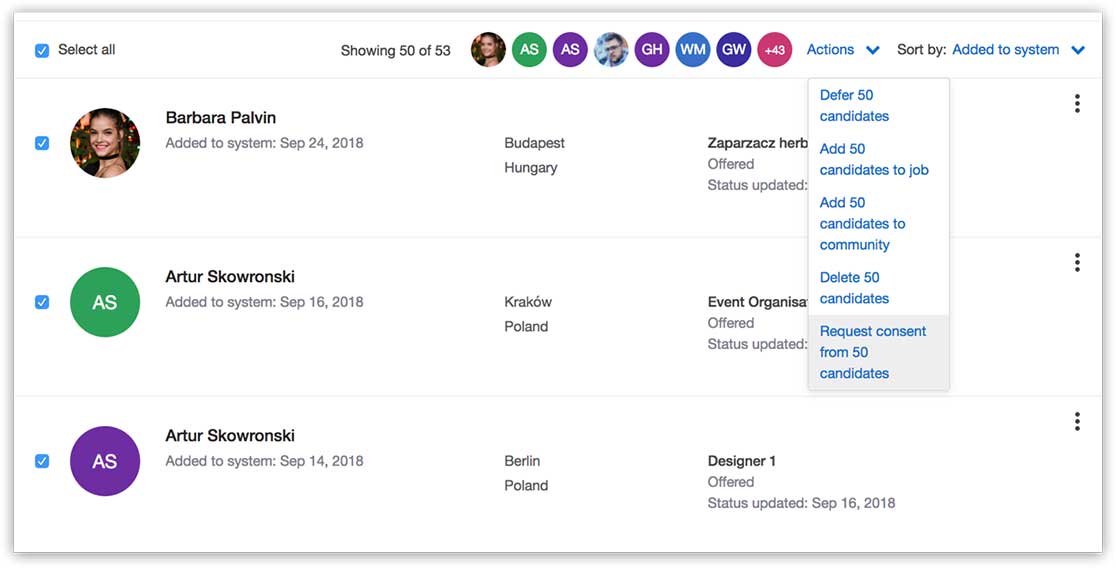 FLEXIBLE REPORTING
Build custom reports quickly via expanded capabilities
Select, duplicate, and modify report content easily
Give extended users the ability to create, edit, and share reports
Give report creators the ability to share reports with users who have View Only access
Expanded report filters to include all of a company's Job/Org Fields
Added Application Fields and Candidate Consent status as available data points
NEW CANDIDATE EXPERIENCE
Lay the groundwork for a revamped candidate portal
Show candidates the full view of their portal, with ability to set a password immediately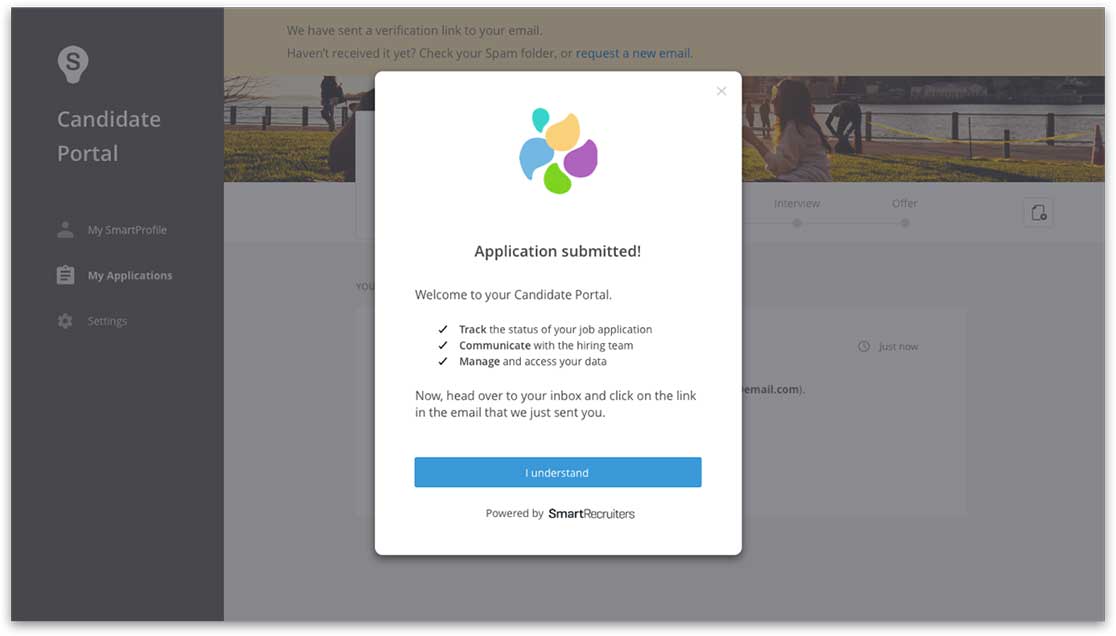 Other Fall 2018 improvements include:
Rich text emails – Add inline images, rich text, and spell checker in multiple languages
Public fields on job ad – Display any public job field on the job's ad
Audit API events – New events in 1) API key used to access company information, and
2) New API key generated
Job location in interview wizard – Use the job's location as the default location in the where field for new interviews vs. company HQ
Hired candidates deletion prevention – Block of ability for candidates in Hired status from withdrawing application or deleting profile
Ad-hoc reporting via Reporting API – Endpoint that will allow companies to run ad-hoc reports via API calls
User interface updates – Aspects of the platform refreshed to improve ease of use
New password requirements – User passwords must be validated against new rules to maintain security standards
View our Product Notes for more information on each of these features and enhancements,
or connect with your dedicated Customer Success Manager to learn more!
1Indeed
2Deloitte