What is a career switcher?
Sometimes, a complete change — a total pivot — is necessary. At mid-career, many people want to reinvent their work-life (and themselves!) entirely. For a strong, successful transition, a worker needs to identify what is currently making them unhappy — and what will make them happy in the future.
Transitioning to a new career and industry, however, does not mean beginning from the bottom of the career ladder. Even if it is not in the same field, a worker's experience still counts and can help them skip over entry-level positions.
A worker considering a change to their career path should start by evaluating what they want to be doing, and what job would make them happy. They need to know if they should switch jobs — or switch careers. Changing jobs is not the same as changing careers; while it can be simultaneous, that is not necessarily the case.
Switching careers can be exciting, but it can also be completely overwhelming. Devising a plan and utilizing the myriad of resources available online can make a significant, positive difference when a worker actually decides to make the change.
Jobs and careers are like a pair of shoes; they must be a good fit! A poor fit will not be returnable — so a worker should choose wisely.
How to recruit career switchers
To recruit career switchers, a company should follow these guidelines:
Look for transferable skills
Technical skills are certainly important, but they do not tell the whole story when it comes to potential hires. Focusing on soft skills, such as communication, flexibility, and dependability is a great way to identify talented candidates who may have a skill set that can easily transfer to a new field.

Focus on emotional intelligence
Soft skills and emotional intelligence are two sides of the same coin; finding a candidate who has both is a winning combination. Emotional intelligence is associated with increased self-awareness, empathy for others, and the ability to successfully lead a team — attributes that are more difficult to find than industry knowledge or technical skills.

Hire with passion in mind
Few things are more important than passion when it comes to finding great employees —and this is just as true for career switchers as it is for other candidates. Combined with enthusiasm for learning, passion can be one of the most powerful predictors of employee success. To ensure inclusivity in its recruiting, a company should make passion a critical priority of both the job description and the interview by asking behavioral interview questions, such as "What motivates you?" and "What are you passionate about?"

Target a larger pool of candidates
Begin by evaluating the company's current hiring process and considering ways it can reach more candidates in general. One easy and effective strategy is to post job descriptions on more high-traffic job boards, industry-specific job boards, and college and university job boards. Casting a wider net than in the past may be necessary. Attend a wider range of recruiting events, post job descriptions on the company's social media channels, and ask connections if they know of qualified candidates the company should consider. Incentivize employees to share the job postings with their networks by offering an employee referral bonus.

To attract a diverse workforce, it is important to write inclusive job descriptions, use blind applications, standardize the interview process, and have diverse interview panels. Diverse workplaces are more likely to attract candidates entering a new field.

Attract career switchers by removing obstacles
Reconsider degree and experience requirements that may be preventing workers who intend to switch careers from applying. A candidate with a growth mindset, a strong work ethic, and the necessary soft skills could quickly outperform someone with years of experience.

Improve the compensation package
Workers starting new careers should expect a dip in pay, but below-par wages could discourage professionals used to making much more in their prior careers. A salary tool can help to determine the market rate for the company's location.

If a company cannot afford to pay at the top of the range, often the case for small businesses and startups, it should think of ways it can improve its benefits package, including payment of health insurance premiums for employees and their dependents, offering 401(k) matching. student loan assistance, paid parental leave, family stipends, performance bonuses, equity compensation, sabbaticals, and a liberal paid time off policy.

Establish Flexible Work Arrangements
A company can make itself more attractive to busy candidates by implementing flexible work policies, which will also help it increase employee morale and recruit and retain working parents. Such policies include:



Flextime
Employees set work schedules that are best for themselves and their families instead of working the typical nine-to-five schedule.

Compressed workweek
Employees work more than eight hours a day a few days a week to hit 40 hours in fewer than five days.

Job-sharing
Two or more employees work part time on different days or shifts to complete the responsibilities of one position.

Shift work
Any job shifts that fall outside of the more-common 7 a.m. to 6 p.m. time frame.

Telecommuting or remote work. Employees work from home or some other suitable, non-office location.


Another option that may be attractive to career switchers is to create a hybrid workplace that incorporates elements of telecommuting, flextime, or other flexible arrangements.
Create a Strong Professional Development Program
A strong professional development program will help a company attract top talent and improve employee engagement, performance, and retention. These types of programs focus on continuous training and education, which can help a company hire career switchers who are likely to need these kinds of resources as they adjust to a brand new role.

A company should also consider creating orientation, upskilling, leadership development, and mentorship programs, as well as offering professional development stipends that can be used for classes, certification programs, and conferences.
How career switchers can help your company
While some higher-level positions in a company require years of experience to master, career switchers can be a great fit for most entry-level positions. First, although many career switchers are leaving their current professions out of necessity, many others are taking advantage of the opportunity COVID-19 has provided to change to a field about which they are truly passionate. Career switchers — those who take a risk on a new profession, are generally enthusiastic and eager to prove themselves. They are bold, motivated to learn new skills, and willing to take chances.
Career switchers are also dynamic; their divergent resumes reveal transferable skills from past jobs that would make them well-suited for the position a company is hiring for. Further, a history of working for a variety of managers in different industries or settings can make a career switcher a major asset to a company; such applicants are often more adaptable than those who have always worked under the same manager or in the same profession.
Many of the skills a company seeks out the most are transferable. If a career switcher has worked in television production, for example, but wants to move to human resources, their interpersonal skills, problem-solving capabilities, and the ability to juggle tasks and manage personalities, can be extremely helpful.
Finally, career switchers can be a welcome addition to a company because of their fresh perspective. Employees who have never worked in a role can see "outside the boxes" ; those who have had only one profession might be trapped in.
A company would do well to take a chance on career switchers. They are eager, passionate, and versatile, and can bring a new point of view to a company willing to give them that opportunity.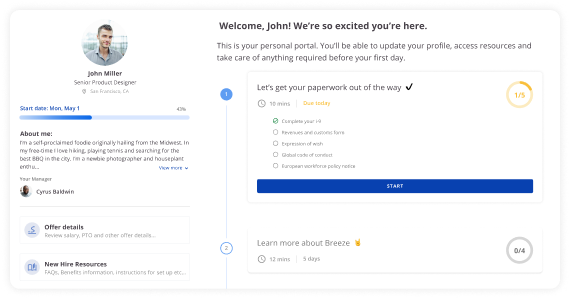 Request a demo
SmartOnboard:
a faster start for new hires
SmartOnboard is a native solution delivering seamless experiences for both new hires and HR teams. New joiners can easily find and complete their to-dos, be introduced to their team, and familiarize themselves with their employer brand & culture, all through a slick new hire portal. At the same time, HR teams can standardize the onboarding process by region and role, keep their teams on track, and easily control all their data on one system.
With SmartOnboard, SmartRecruiters accelerates your new hires' journey to a productive and engaged contribution.