Hiring Tools
Hiring Process
Employee Generated Content
Why Employee Generated Content is Still Valuable in 2022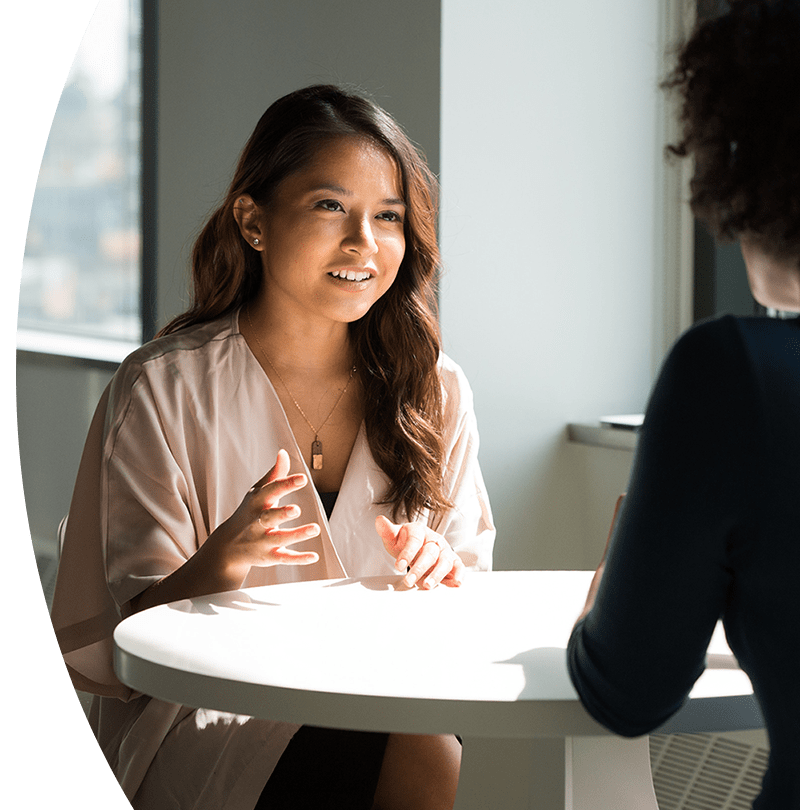 What is employee generated content?
Today, building authenticity is a major focus for marketing. Customers' expectations are constantly expanding and they want to engage with people — not a brand; studies show people trust people more than they trust a "faceless" brand. Shrewd marketers are, therefore, leveraging user-generated content (UGC) as a crucial part of their marketing strategy.
"Users," however, are not the only group of influential content creators; employees also have the potential to be a brand's best advocates. A spin-off of UGC is employee generated content (EGC): content that has been entirely created and posted across social media platforms by a company's employees. It can be in the form of videos, images/photos, or social media/blog posts, which may relate to the company's mission, values, and/or overall benefits of the product or services.
Employee generated content produces far more engagement than content created by the company. EGC acts as an authentic form of influencer marketing that speaks for a brand, creates awareness/exposure, and builds faith in potential users of a brand; it lends a trusted face to a brand.
Whether it is expert knowledge about a company's product, service, industry or customers, each employee has valuable insights to share. A company can even use EGC to boost its brand during the current economic climate — authentic and transparent content that showcases how employees are adapting to the circumstances around them.
The recruitment marketing value of employee generated content
The strongest employer brands create and maintain continuity across all communication channels, from corporate websites to social media platforms, job descriptions to word of mouth conversations. According to LinkedIn, more than half of job seekers consult a company's social media pages and website to acquire more information about their prospective employers. Strong, consistent messaging will ensure that a company makes an attractive initial impression.
Employee Generated Content, in particular, can improve employer branding in the following ways:
Fresh Perspective
Marketing may be missing out on projects, events, and a different perspective that other departments can provide. Allowing employees throughout a company to be at the forefront of the brand via employee generated content can provide a unique and engaging voice.
Employee Engagement
When employees feel the company is invested in them, they are more likely to participate and remain loyal to the company. When employees are disengaged, companies experience 37% higher absenteeism, 18% lower productivity and 15% lower profitability, according to Forbes.
Creates Credibility & Trust
Customers and potential candidates researching a company's brand trust their peers more than a company. According to LinkedIn, candidates trust employees three times more than the company itself. The thoughts and insights shared by an employee create more trust than advertisements or a message directly from the brand. People sell people — not marketing, not slick slogans.

According to the same LinkedIn study referenced above, the number one obstacle to applying is to learn what it is like to work at a company. Candidates want to know the skills they will acquire, how to prepare for interviews, their day-to-day, and where a job will take them in the future. Employee generated content gives viewers a transparent look into what goes behind the scenes of the organization. A company can even use EGC to boost its brand during the current economic climate — authentic and transparent content that showcases how employees are adapting to the circumstances around them.

Employees are the trusted insiders; a company's employees have the best insights into the organization, specific departments, and beyond. Audiences trust their thoughts and insights more than C-Suite, ads, or other generic forms of marketing.
Extended Potential Reach/Exponential Grow Brand Visibility
On average, an employee has roughly 350 LinkedIn connections or Twitter followers. That means a company's brand has an opportunity to get in front of those connections through its employees. If a company has 2,000 employees and only 10% are involved with employee generated content, that is still 200 additional people writing, posting, and sharing on behalf of the company to their networks. That means a company message can be seen by different social connections and exponentially help brand visibility grow. The collective reach of a company's employees will often surpass that of its brand.
Talent Attraction
People want to work for companies where they will be treated well and produce meaningful work. If a person sees others in their network sharing how much they love a company, its value, and its culture, they will be more enticed to apply for an open position.
What are the best marketing channels for employee generated content
These are the best marketing channels for employee generated content:
Company blog
An employee's voice lets a company's brand communicate like a human — person to person, heart to heart, instead of like an advertisement or a paid endorsement. It humanizes a company — it makes a company's brand more believable, likable, and memorable. Employees with expert knowledge who write can guest post on a company blog. Guest blogging, they can talk about industry trends, personal experiences at the company, why they work there, their skills, and how they build customer relationships.
Company social media profiles
A company can empower employees to tell their story by giving them access to their social media accounts for the day, in a "social media takeover": the employee has free reign of the company's social media accounts for a set amount of time. This approach conveys considerable trust between the employer and its employees and shows the human side of a company's brand to the customer.

A company can also have its social media team collaborate with one of its employees to create a "day in the life" TikTok, Reel, or another video format that lets target audiences sit in on the company's brand culture, showcasing employees' personal lives in a way that feels natural.

Finally, a company can create a hashtag to leverage user generated content just for its employees and encourage them to share images of themselves that capture the brand. A company can create hashtags that focus on brand culture or even create hashtag mini-campaigns, thereby building a wall of images telling the company's brand story as seen through its employees.
Employee LinkedIn profiles
LinkedIn is the "online living room" of the professional community. A company can invite job candidates to learn more about the company culture from their future peers with employee generated content, including "expert" and "how-to" employee-generated videos that talk about the company/company brand and/or its product(s). Employees with expert knowledge can write posts for LinkedIn relevant to a company's industry; they can talk about industry trends, personal experiences at the company, why they work there, their skills, how they build customer relationships.
Glassdoor review profiles
Having a Free Employer Account gives a company the ability to respond to any of the company's reviews as an official employer representative. It also provides access to update the following:



OpenCompany
Company Description & Mission Statement
Basic Details
Logo
Employer Verified Benefits
Photos & Awards
Company Updates


A company can use employee generated content (posts, photos/images, and videos) for several of the above content categories. Glassdoor users can read reviews, research salary information, and consult company ratings before applying to a position.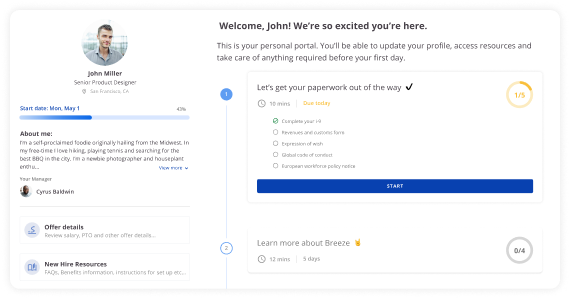 Request a demo
SmartOnboard:
a faster start for new hires
SmartOnboard is a native solution delivering seamless experiences for both new hires and HR teams. New joiners can easily find and complete their to-dos, be introduced to their team, and familiarize themselves with their employer brand & culture, all through a slick new hire portal. At the same time, HR teams can standardize the onboarding process by region and role, keep their teams on track, and easily control all their data on one system.
With SmartOnboard, SmartRecruiters accelerates your new hires' journey to a productive and engaged contribution.
Take the first step towards Hiring Success