Hiring Tools
Hiring Process
Employer Brand Checklist
How to create the essential employer brand checklist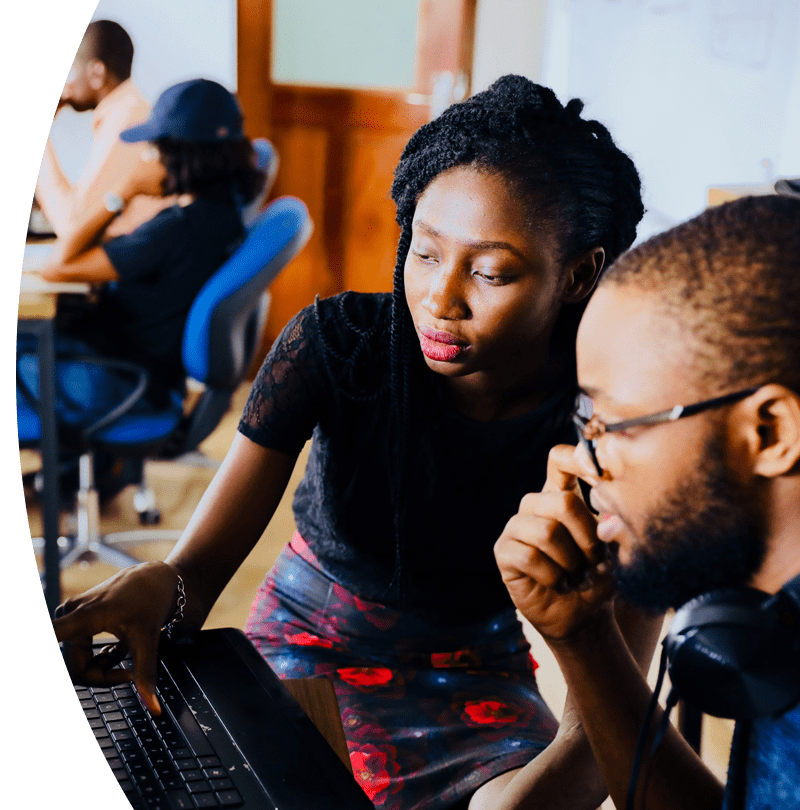 How to create the essential employer brand checklist
To attract the best talent, you need to have a strong employer brand that makes applicants excited about the potential to work for your company. In this blog post, we will define employer branding and give you a checklist to start developing a strategy for your company.
What Is Employer Branding?
Employer branding is the process of creating a positive reputation for your company as an employer. An employer brand generally comprises the company's mission, values, and culture.
Why is employer branding important? There are a few reasons why employer branding is so important. Firstly, it can help you attract top talent. Candidates are generally more likely to apply for a job at a company with a strong employer brand.
Secondly, employer branding can help you retain your best employees. Employees who feel proud to work for their company are less likely to leave. Finally, employer branding can help you save on recruitment costs. A strong employer brand means that you won't have to spend as much on advertising and recruitment fees.
The key to employer branding is to focus on your company's unique selling points (USPs). What makes your company a great place to work? Are you offering employees flexible working hours? Do you have a great training and development program?
Employer Branding Checklist
So, how do you go about developing a strong employer brand? Here's a checklist to get you started.
Collect input within the company
The first step is to get your employees on board. After all, they are your best advocates. Encourage them to do things like share positive reviews and answer survey questions about their experience working at your company.
You'll also want to do an internal audit to find your company's USPs. Go through company data to find information on things like employee satisfaction rates, turnover rates, and training success rates.
Promote consistently
Now that you have a good understanding of what your company has to offer, it's time to start promoting your employer brand. But beware, consistency is key. You don't want to send out mixed messages about what it's like to work at your company.
Your website, social media profiles, and other forms of external communication should consistently reflect your employer brand. According to LinkedIn, 52% of job seekers check a company's social media pages and website for information about the company.
Develop a talent framework
Developing an employer brand should not feel forced. Use the culture of your company to guide your efforts. In other words, integrate the newly developed aspects of your brand with your company culture.
For best results, you'll want to include a talent framework in your employer branding strategy. Here's a three-step process to do exactly that:
Develop personas. Start by identifying the types of roles you need to fill and what each role entails. Then, create personas for each role that outline the key attributes of the ideal person in each role.
Get feedback from the talent acquisition team. Work with your talent acquisition team to get their feedback on the personas. They likely have a wealth of experience and knowledge about what does and doesn't work when attracting top talent. Make adjustments based on feedback.
Use the framework throughout the company. Once the talent framework is finalized, promote it throughout the company. All employees should know what attributes you're looking for in new hires and be able to identify those attributes when they see them.
Focus on employee experience
As you develop your employer brand, keep the employee experience top of mind. After all, your employer brand is only as strong as the experiences your employees have.
Make sure you are regularly collecting feedback from your employees and using that feedback to make improvements to the employee experience. You can do this through regular surveys, focus groups, or even one-on-one conversations with employees.
For example, your company should be aware of how well it's doing at supporting employees through difficult times. If you're not already doing so, start collecting data on how employees are feeling and what kind of support they need.
Practice empathy
Your company's tone should show empathy and concern for the well-being of its employees. Your tone is reflected in how you communicate with employees, both in person and online.
For example, if an employee is going through a tough time, reach out to them and see how you can help. This act of kindness will not only improve morale, but it will also make your company more attractive to potential employees.
Develop a strategic vision for the candidate experience
Your employer brand should be more than just a slogan or a list of benefits. It should be a strategic vision that encompasses the entire candidate experience, from the moment they learn about your company to the day they become an employee.
Be clear about what your company stands for, the ideal candidate for each role, and the key benefits of working at your company over another.
Be transparent throughout the recruiting process
Recruiters should build the company's relationship with applicants by being transparent. For example, even a simple "thank you for applying" or "we'll notify you of next steps in two weeks" can go a long way in making applicants feel good about the hiring process.
Nurture the company's talent pool during difficult times
You should also be transparent and empathetic during difficult times. For example, if there's a sudden, unexpected hiring freeze, be honest about it. If you've had to furlough employees, stay in touch to let them know what's going on and when things might improve.
Understand where the company's audience is consuming content
Stay up to date on the latest social media trends by reading things like the PEW's State of Social Report. This will help ensure that the company reaches its target audience where they spend the most time.
Use platforms like LinkedIn, Twitter, and Instagram to post content about the company culture, job openings, and company news. Make sure to monitor what is being said about the company online. This can be done by setting up Google Alerts or using tools like Mention or Hootsuite Insights.
Leverage current talent
Your current employees know your company's brand, values, and mission. Bring them on board when developing your employer brand. You can use the insights from your current pool of talent to create more content that resonates with potential new talent.
Start an employee referral program
Employer branding and employee referral programs go hand-in-hand. By incentivizing employees to refer candidates that they think would be a good fit for the company, you are not only building your employer brand but also attracting top talent.
Plus, if your employees are regularly referring their network to apply for open positions, it means they're also engaged and happy with their current role.
Here are some quick tips to run an effective employee referral program:
Act quickly. Don't delay acknowledging the referrer for their effort in helping you find qualified candidates. Send an email thanking them for the referral and keep them updated on whether their referral leads to a new hire.
Send personalized emails. Take some time to write a personalized message to each referrer. This personal touch helps to create a connection with the referrer and also makes them feel appreciated.
Reward referrals. Offering a monetary or non-monetary reward is a great way to show your appreciation for referrals.
Extend the program to former employees. You can also consider extending your referral program to former employees or retired employees. They likely have a solid connection to your company and may be willing to refer qualified candidates.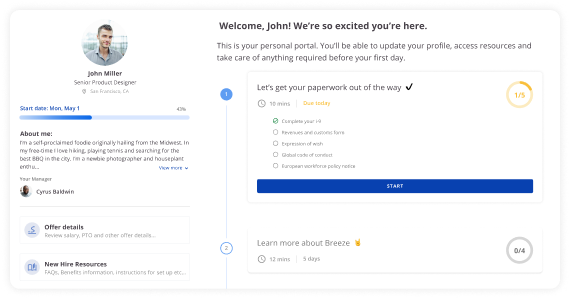 Request a demo
SmartOnboard:
a faster start for new hires
SmartOnboard is a native solution delivering seamless experiences for both new hires and HR teams. New joiners can easily find and complete their to-dos, be introduced to their team, and familiarize themselves with their employer brand & culture, all through a slick new hire portal. At the same time, HR teams can standardize the onboarding process by region and role, keep their teams on track, and easily control all their data on one system.
With SmartOnboard, SmartRecruiters accelerates your new hires' journey to a productive and engaged contribution.