Hiring Tools
Hiring Process
New Hire Paperwork Checklist
Organize all your new hire paperwork with our essential checklist
What is new hire paperwork?
New hire paperwork is a collection of forms and documents that new employees must complete before they can begin working. This paperwork includes things like the employee application form, a W-4 form, and an I-9 form.
While the exact list of new hire paperwork will vary from company to company, there are some essential forms and documents that all companies should include as part of the employee onboarding process.
What are the essential forms and paperwork for new hires?
The following forms and paperwork for new employees should be reviewed and signed by the end of the onboarding process.
Identification for Employment
The employee will need to provide some form of identification for employment. Viable forms include a passport, a driver's license, a state ID card, birth certificate, or residence card. The employer will also need to see the new hire's social security card.
Proof of Employment Eligibility
The employee needs to prove that they are eligible to work in the United States. This document could be a birth certificate, green card, Proof of Naturalization, or proof of permanent residence.
W-4 Form
All new employees must fill out a W-4 form, also known as the Employee's Withholding Certificate, to have the correct amount of taxes withheld from their paycheck. The employee will need to provide their Social Security number, filing status, and the number of allowances on the form. In certain states, employees will also need to fill out an additional W-4. The employee needs to complete the W-4 form before receiving their first paycheck.
I-9 Form
The new employee will need to fill out an I-9 form to establish their identity and employment eligibility. They will also need to present original documents that prove both their identity and eligibility to work in the United States.
Employee Application Form
The new employee needs to fill out an application form that includes their contact information, employment history, education, and references. This needs to be done even if they have already submitted similar information when applying for the job. This paperwork should also include a place for the employee to sign a statement that the information listed on the form is correct.
Employment Contract
If the new hire is going to be employed under a contract, they will need to sign the employment contract. The contract should outline the duties of the employee, the length of employment, and any other relevant details.
Employment Offer Letter
The employee offer letter is a summary of the employee's compensation and benefits package. This should include information on salary, vacation days, sick days, health insurance, and any other benefits offered by the employer. The employee needs to review and sign this letter for the employer's records.
Emergency Contact Information Form
New hires will need to provide emergency contact information in case of an accident or other emergency.
Acknowledgment of Employee Handbook
Each new employee should receive and review a copy of the employee handbook or manual. After doing so, the employee should sign a document to acknowledge that they understand the policies, terms, and conditions discussed in the handbook.
Noncompete Agreement
In some cases, you may require new hires to sign a non-compete agreement. This type of agreement will prevent the new hire from working for a competitor or starting their own competing business.
Nondisclosure Agreement
A nondisclosure agreement (NDA) is a document that new hires must sign to prevent them from sharing confidential or proprietary information about your company.
Summary of Employee Benefits
New employees should review all of the benefits awarded to employees and sign an acknowledgment form. This will ensure that new hires are aware of the benefits available to them and prevent any misunderstandings about what is offered.
What are the essential forms and paperwork for the employer?
The following paperwork required by employers should also be provided and/or signed by the end of the onboarding process.
Equal Opportunity Data (EEO) Form
The Equal Opportunity Data (EEO) form is used to collect information about new hires to track the company's compliance with equal opportunity laws.<
New Hire Reporting Forms
A business must report new hires to the state government within at least 20 days as per federal regulations. Some states may have a shorter reporting period.
New Hire Notification System
The new hire notification system notifies the appropriate state agencies about newly hired or rehired employees. The state uses this system to do new hire matching to locate parents who owe child support.
State Employer Registration
For states that collect income tax, businesses must register with the state so that they can withhold and remit taxes on behalf of their employees.
State Unemployment Tax Forms
State unemployment taxes are paid by employers and used to fund unemployment benefits. Your company may need to register with the state's labor department to pay these taxes.
Workers' Compensation
Most states require employers to have workers' compensation insurance, which covers employees who are injured or become sick on the job.
Federal Workplace Posters
As required by the federal government, employers must post certain notices in the workplace. These posters provide employees with information about their rights under the law.
Copy of Employee Background Check
If you plan to run a background check on new hires, you will need to get their consent first. Once you have that, you can request a copy of their background check from the agency you use.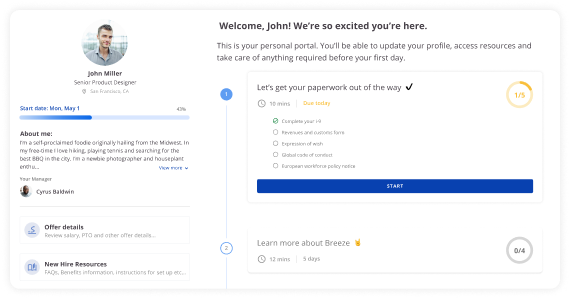 Request a demo
SmartOnboard:
a faster start for new hires
SmartOnboard is a native solution delivering seamless experiences for both new hires and HR teams. New joiners can easily find and complete their to-dos, be introduced to their team, and familiarize themselves with their employer brand & culture, all through a slick new hire portal. At the same time, HR teams can standardize the onboarding process by region and role, keep their teams on track, and easily control all their data on one system.
With SmartOnboard, SmartRecruiters accelerates your new hires' journey to a productive and engaged contribution.