Hiring Tools
Onboarding Process
Remote Onboarding Checklist
Prepare an onboarding checklist for your new remote hires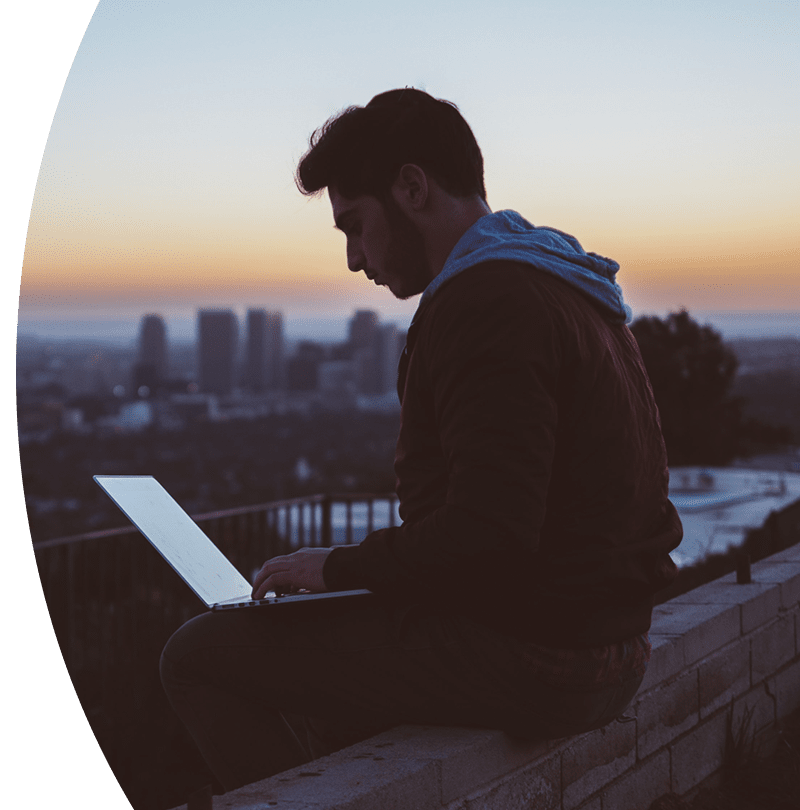 What is remote onboarding?
Onboarding is the process of integrating a new employee into the company culture, values, and expectations. It is critical for setting up new hires for success in their role and helps them feel like they are part of the team from day one.
Remote onboarding is when this process takes place to welcome new employees who will not work from a central office. Remote onboarding relies on technology since in-person interactions are not possible. This reliance can make remote onboarding more challenging than in-person onboarding. But with careful planning and the right tools, it can be just as effective!
A good onboarding experience is critical for the long-term success and productivity of new employees. And, for remote employees, it's particularly important because they may not have the same opportunities to build relationships and integrate into the company culture.
Remote workers also have different needs than onsite office workers. For example, remote employees need home access to the right technology, tools, and resources to perform their jobs effectively.
Remote onboarding checklist
The following remote onboarding checklist will help make sure your remote employees have everything they need to hit the ground running.
Virtual Orientation
Schedule a virtual orientation with HR so new remote workers can review and sign important forms, contracts, and documents. For example, you can use this meeting to go over tax forms, insurance forms, pending contracts, and forms needed to gain access to any employee accounts. Since the meeting will be virtual, make sure remote employees can use an E-signature to sign each document.
Tech and Office Supplies
Ensure that each remote worker has the technology and office supplies they need to perform their job. This may include a laptop, monitor, mouse, printer, software, specific work-related apps, and anything else they need to do their job from home.
You can ship these items to their home, have them pick them up from the office, or allocate a budget to each remote employee to buy their own work-from-home tech. If your company allows employees to use their own devices, be sure to also include a document outlining security protocols, approved devices, approved uses, and your monitoring protocol.
Once the remote employee has acquired all of the necessary tech, set up a virtual orientation with someone in the IT department. The goal of this meeting will be to familiarize the new employee with the company's virtual workspace and assist in the setup of technology or software.
Employee Email
Be sure to set up a company email address for your new remote employee prior to their first day. This will ensure that they have immediate access to all of the company's internal communication. For efficiency, you may want to provide detailed instructions on logging in for the first time. You should also make sure the employee has been invited to pre-scheduled meetings, included on relevant email chains, etc.
Employee Messaging Apps and Platforms
In addition to email, make sure remote employees have instructions on how to log in and use employee messaging apps and platforms, such as Slack or Microsoft Teams.
Company Welcome Gift
Sending a welcome gift is a great way to show your appreciation for your new remote employees. To start, you can send a personalized note expressing your excitement to have them on board. You can also send them a gift bag with branded company gifts, such as customized stationary, a mug, or a T-shirt.
New Hire Announcement
Be sure to announce your new remote employees to the rest of the team. You can do this via email or through an announcement on your company's internal messaging platform. Include a brief bio and photo for each new employee. You can also encourage other team members to send a quick welcome note.
Virtual Onboarding Sessions
Schedule several times for additional onboarding sessions on the new employee's calendar. These sessions will be used for a wide range of onboarding tasks, including introductions to coworkers, one-on-one meetings between the new employee and their manager, and virtual team-building activities.
Onboarding Survey
Give your new hires a survey after they've finished the remote onboarding process. This will help you to identify what's working well and what needs to be improved for future remote hires. It will also help new hires feel like their opinions are valued by the company.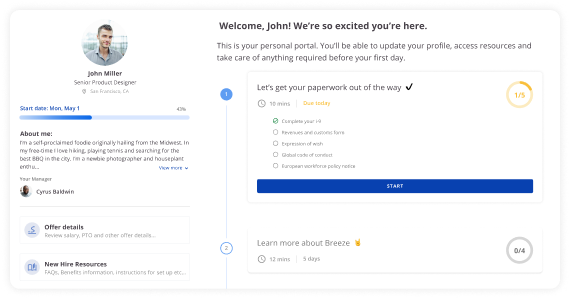 Request a demo
SmartOnboard:
a faster start for new hires
SmartOnboard is a native solution delivering seamless experiences for both new hires and HR teams. New joiners can easily find and complete their to-dos, be introduced to their team, and familiarize themselves with their employer brand & culture, all through a slick new hire portal. At the same time, HR teams can standardize the onboarding process by region and role, keep their teams on track, and easily control all their data on one system.
With SmartOnboard, SmartRecruiters accelerates your new hires' journey to a productive and engaged contribution.