Leading European analyst firm recognizes SmartRecruiters for its ability to meet needs of global enterprises
SAN FRANCISCO – May 1, 2020: SmartRecruiters, the Hiring Success company, announced today that it has been recognized as a Core Leader again, in the 2020 Fosway 9-Grid™ for Talent Acquisition. 
The Fosway 9-Grid™, EMEA's only market analysis model for Next Generation HR, Talent and Learning, is based on 20 years of independent research and rates providers on five dimensions: Performance, Potential, Market Presence, Total Cost of Ownership and Future Trajectories across the market.
SmartRecruiters, assessed in the 9-Grid™ for Talent Acquisition, earned Fosway's rating of Core Leader for the second year in a row. By definition, Core Leaders provide a strong suite of capability and highlight a very good track record of enterprise win rate, customer delivery and advocacy. The following factors influenced the ranking: consistently high levels of customer satisfaction, a platform with a robust set of core features, and a proven track record of winning global enterprise deals. SmartRecruiters has achieved a 9.4/10 CSAT score, +29 in-product NPS, and 60% year-over-year business growth.
"We are honored and pleased to be included in the Fosway 9-Grid™ for Talent Acquisition," said Jerome Ternynck, Founder & CEO of SmartRecruiters. "We know that many TA leaders are taking this time as an opportunity to uplevel their people, processes and technology to future-proof their strategies. We've worked hard to deliver hiring success to our customers since going to market in 2015 and validation by reputable analysts certainly helps  when we're having those conversations."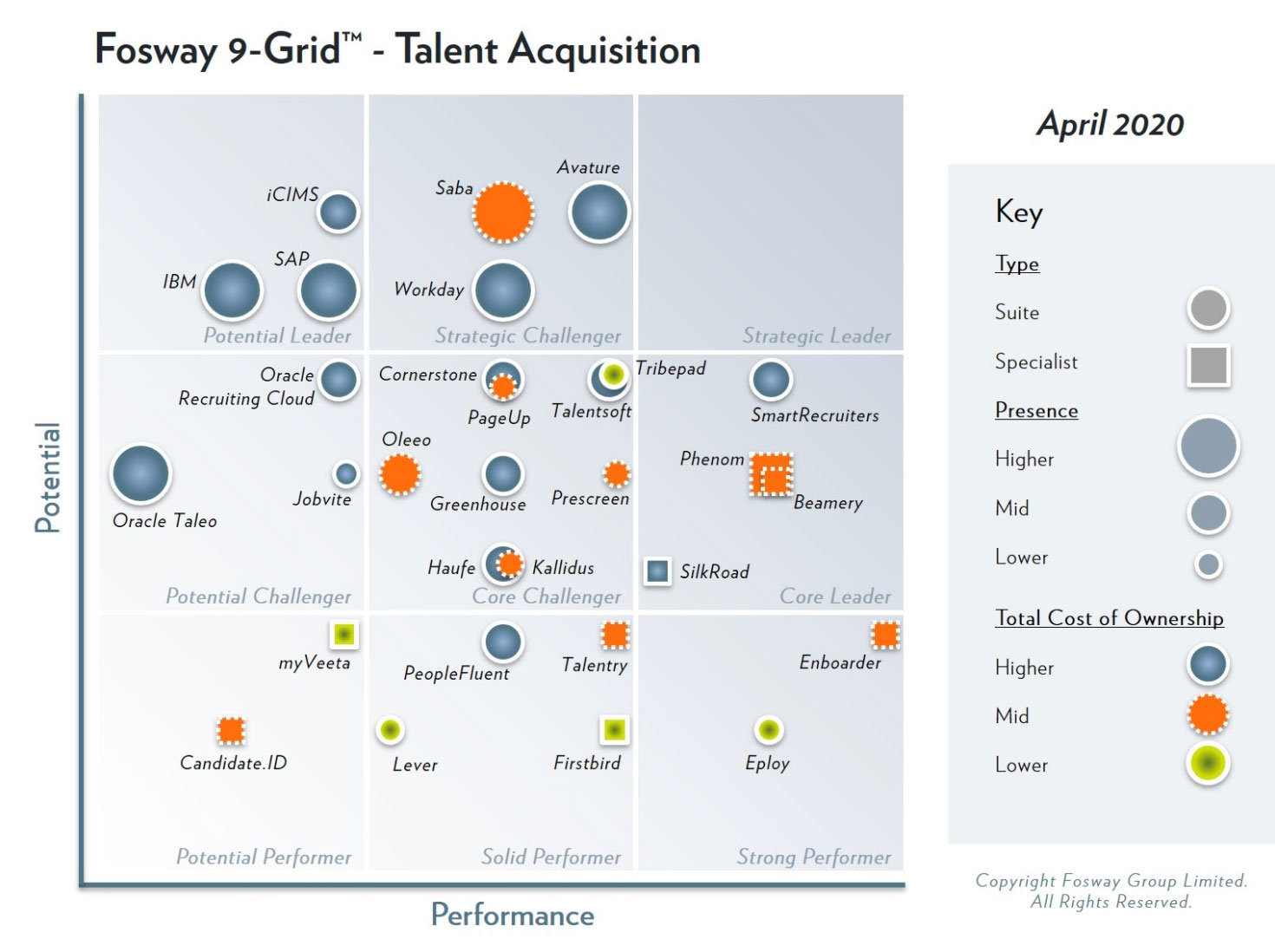 SmartRecruiters launched its enterprise recruiting platform five years ago, making it a relative newcomer to the Talent Acquisition space that has innovated at a rapid pace. With a 60% increase in enterprise growth in 2019, SmartRecruiters added new customers in North America and EMEA like Deloitte, Etsy, Fannie Mae, Illinois Tool Works, Northwestern Memorial Healthcare, Pilot, SGS, Sonic Automotive, and Wish. Used by 4,000+ brands globally to attract, select, and hire top talent, SmartRecruiters offers a modern enterprise-grade talent acquisition platform with comprehensive recruitment marketing & candidate engagement capabilities, meeting the needs of recruiting and HR operation professionals from source to hire.
In 2019 SmartRecruiters added 4 user languages (40 total) for global scalability, 40 more API endpoints (250 total) for the most connected platform in the industry, and multilingual AI talent matching and programmatic advertising to bring machine learning-supported recruiting capabilities into 5 new geographical markets.
The latest Fosway report is available for download here:  http://www.fosway.com/9-grid
About Fosway 9-Grid™
Fosway Group is Europe's #1 HR Industry Analyst. The Fosway 9-Grid™ provides a unique assessment of the principal learning and talent supply options available to organisations in EMEA. Now in its sixth year, the analysis is based on extensive independent research and insights from Fosway's Corporate Research Network of over 150 customer organisations, including BP, HSBC, PwC, RBS, Sanofi, Shell and Vodafone.  Visit the Fosway website at www.fosway.com for more information on Fosway Group's research and services.