This new feature allows TA teams to engage individuals or entire talent pools with dynamic email sequences that run on behavior-driven, automated logic. This translates into productivity gains for recruiters and sourcers and improved candidate conversions.  
SAN FRANCISCO – January 21, 2020, 8:00 AM PDT:
SmartRecruiters, the Hiring Success Company, announces today the release of rule-based Drip Campaigns, a much anticipated  feature as part of SmartCRM, its candidate relationship management tool used to nurture talent communities. Rule-based Drip Campaigns further  expand the marketing capabilities of recruiting teams, helping them engage talent with tailored messaging sequences based on recipient behavior. 
Market research shows that open rates for drip emails are 80% greater than single-send campaigns and average click-through rates are 3X higher. Rule-based automation will further increase conversion rates. Whether the goal is to build brand awareness, improve candidate conversion rates, or maintain warm relationships with talent communities, drip campaigns offer targeted, behavior-driven communication within the SmartCRM platform.
"SmartCRM drip campaigns are so easy to use," says Maggie Hennessey, a recruiter at SmartRecruiters. "They allow me to effectively deliver targeted messages that help nurture our candidate pool while saving time so I can focus on my active recruiting efforts."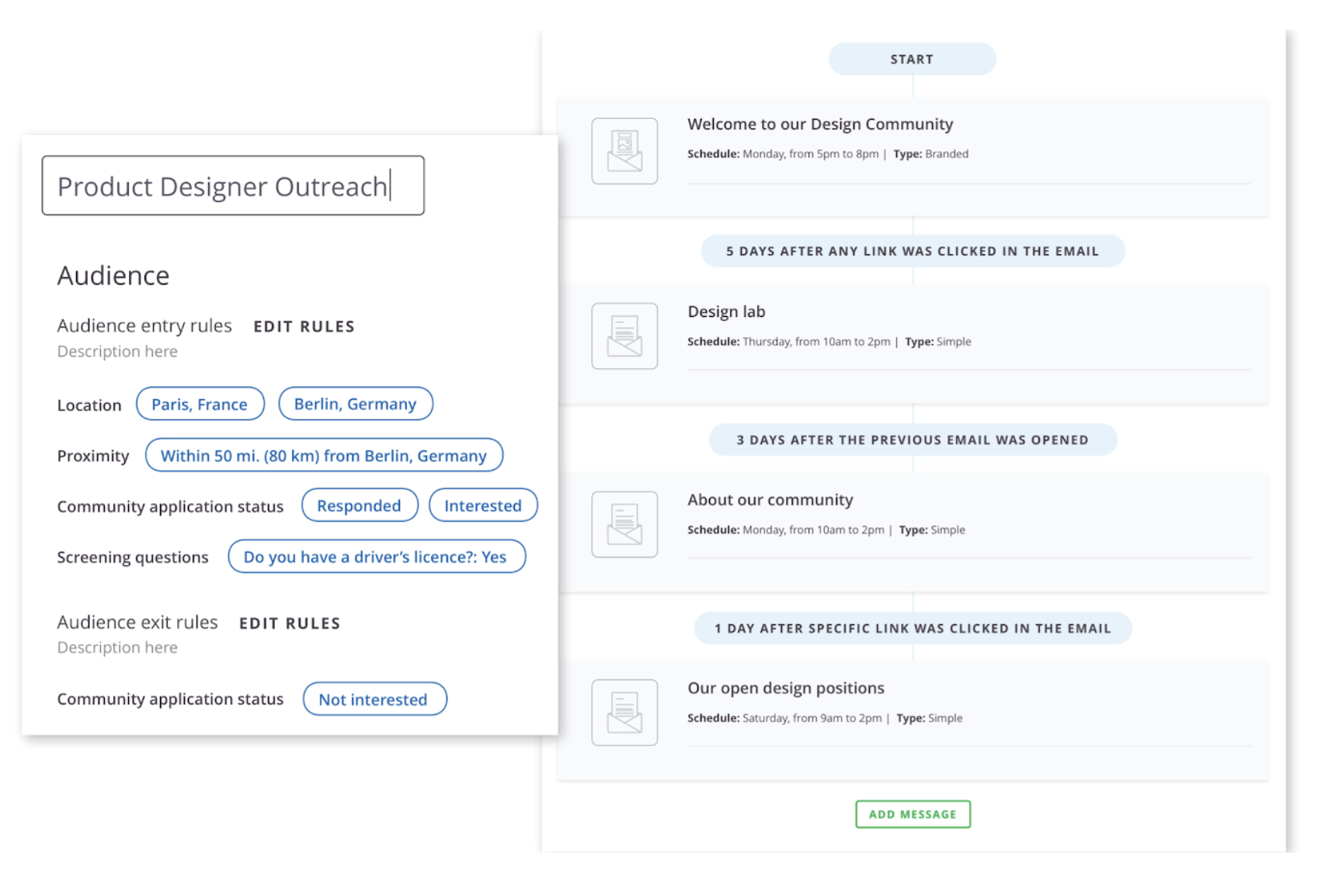 Using SmartCRM's drip campaigns, talent acquisition teams can create rich messaging sequences that look and feel on-brand in a few simple clicks. Campaigns can be used to promote open job opportunities, re-engage with former candidates, follow up with event attendees, or onboard prospects into new talent communities. Additionally, the intuitive design of the campaign message editor means recruiters or sourcers can easily build, customize, and schedule campaigns without any prior marketing experience. 
Hiring teams can also see productivity gains with drip campaigns by scheduling sequential messages that run on automated, conditional logic. Depending on specific timelines or prospect behavior (e.g. open or unopened status, specific link activity), the next message in the sequence is automatically triggered for delivery, or the prospect exits and no longer receives further messages. This logic eliminates unnecessary campaign maintenance by TA teams while driving engagement.
SmartCRM's dynamic drip campaigns now place a powerful recruitment marketing tool into the hands of TA teams so they can attract, engage, and nurture talent more proactively, ensuring their outreach efforts are targeting the right people with the right message at the right time.