2019 was yet another stellar year of growth for SmartRecruiters, solidifying its position as the modern, enterprise vendor of choice for enterprise recruiting and delivering measurable impact on Hiring Success for all its customers.
SAN FRANCISCO – March 10, 2020, 8:00 AM PDT – SmartRecruiters, the leader in next-generation recruiting platforms, announces a great leap forward into 2020, reporting a 60% increase in enterprise growth adding new customers like Deloitte, Etsy, Fannie Mae, Illinois Tool Works, Northwestern Memorial Healthcare, Pilot, SGS, Sonic Automotive, and Wish.
While North America remains a strong region, SmartRecruiters' geographic expansion has seen monumental growth, staking claims in Asia by expanding the team and bringing on customers and partners like McDonald's and Seek. Europe is seeing rapid growth with large scale new customers. Robert Symons (former regional VP of UK and Northern Europe) was promoted to SVP of EMEA and is focused on extending the leadership team in the region to scale operations and for continued growth across Europe.
"We are 'all systems go' for 2020. We have doubled our sales capacity and have aggressive growth plans coming off the back of another stellar year," says Dave Carter, President of SmartRecruiters. "We're strengthening partnerships on the alliance front and our pipeline growth continues to accelerate globally."
2019 was a rock solid year with 200+ product updates spanning the entire talent acquisition suite. Highlights include investments in:
Talent attraction & engagement — Building the industry's only campaign template editor for drag-and-drop employer branding, behavior-based drip campaigns for tailored relationship nurturing, and automated rule-based job distribution for effortless control.
Hiring team collaboration & candidate selection — Launching mass interview self scheduling and slot management for efficiency, auto-triggered inline assessments for a seamless experience, and mobile app action centers for unparalleled manager adoption.
Global Enterprise Platform— Adding 4 user languages (40 total) for global scalability, 40 more API endpoints ( 250 total) for the most connected platform in the industry, and multilingual AI matching and programmatic advertising to bring machine learning-supported recruiting capabilities into 5 new geographical markets.
An even bigger year is promised in 2020 with the hire of Alesia Braga, SmartRecruiters' first Chief Technology Officer, based out of Berlin. "This is a great time to be at SmartRecruiters and I am excited for the projected growth in R&D, in addition to sales." says Alesia Braga. "Our 2020 plans will bring more investment in machine learning while scaling the product & platform for global enterprises." Formerly the CTO of Quandoo, Alesia is an engineer at heart and also brings years of experience at Google and SugarCRM to SmartRecruiters.
SmartRecruiters continues to be the leader amongst all talent acquisition industry reports from analysts like IDC and the Fosway group. SmartRecruiters is the only modern vendor rated in both reports as the strongest provider on strategy and performance, respectively, and pacing for #1 in capabilities.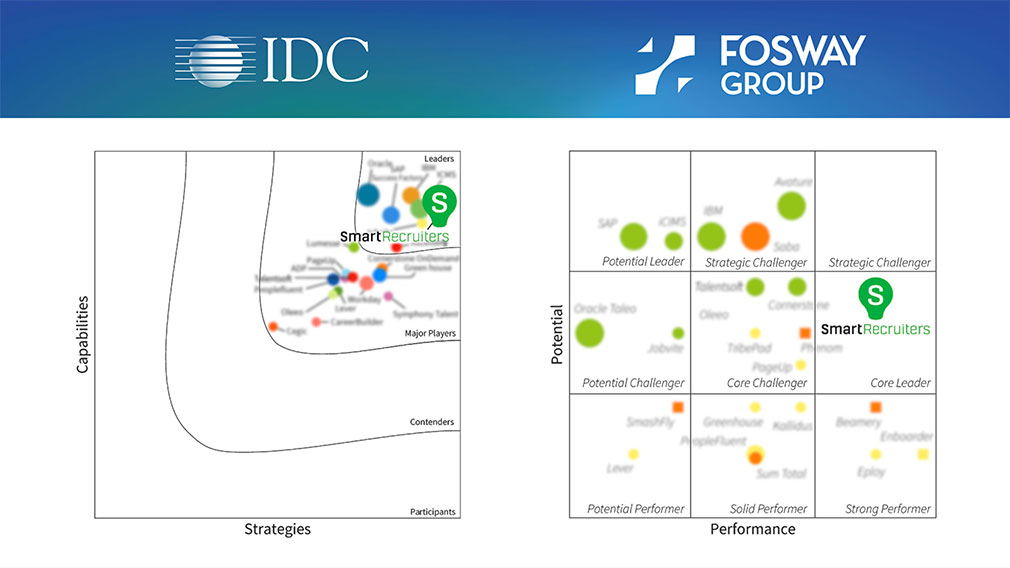 In a recent survey of more than 4,000 current customers, respondents reported an average of 50% more efficient budget allocation, an 86% increase in roles filled on time, and a 56% increase in new hire and job fit, since implementing SmartRecruiters.
"I am so proud of the SmartRecruiters team for outperforming on multiple fronts. We are delivering on the commitment we made when we raised our Series D earlier this year; to deliver the best enterprise recruiting software, to expand rapidly globally and to double down on Hiring Success." says Jerome Ternynck, Founder & CEO of SmartRecruiters. "We're another step closer to our mission of connecting people to jobs at scale, now impacting 60M candidates through SmartRecruiters."
The key priorities for 2020 are:
Help customers achieve Hiring Success outcomes: Making hiring a C-level priority while offering a strategic playbook for Talent Acquisition leaders, and finally making the trifecta of people, process, and technology work perfectly for organizations. Leslie Kelley, newly appointed VP of Customer Success, will lead the charge of delivering Hiring Success outcomes for our customers.
Deliver the next generation SmartRecruiters product: Tailoring role-based experiences for everyone on the hiring team with personalized views and dashboards, optimally distributing workloads among hiring team members through collaboration, connecting to candidates instantly through texting & whatsapp through a unified messaging hub, and predicting outcomes with relevant insights against system benchmarks. SmartX, the future of recruiting experiences, was first announced at the Hiring Success 20 Conference in San Francisco.
Continue Enterprise momentum: SmartRecruiters expects 2020 to be no different than the past – Rapid growth in sales on all fronts and in all regions.