Hiring teams can now move away from faster, cheaper measures to strategic metrics that matter. The Net Hiring Score measures the success of recruiting teams in hiring the "right fit" candidates for each job.
SAN FRANCISCO – October 31, 2019, 8:00 AM PDT: SmartRecruiters, the Hiring Success Company, announces today a new product release that brings to market a strategic metric for measuring new hire fit into the platform. This feature comes alongside multiple process automation and platform extensibility updates that enable hiring teams to scale their efforts.
Most organizations attempt to measure quality of hire, but find it difficult to capture. Quality is often measured during year-end performance reviews, which come far after the hiring process is completed. To measure hiring success and strategize sooner, SmartRecruiters now enables organizations to automatically track their Net Hiring Score (NHS) in-product. Similar to a Net Promoter Score, which is the standard for measuring customer experience, the NHS measures the fit between new hires and jobs immediately after their ramp-up period.
SmartRecruiters customers can now automatically survey hiring managers and new hires 90 days after start date to capture the hiring manager's assessment of a new hire's aptitude, attitude, and potential, as well as the new hire's assessment of job responsibilities, management, and company culture. Responses are collected and presented in a real-time dashboard to track an organization's NHS over time.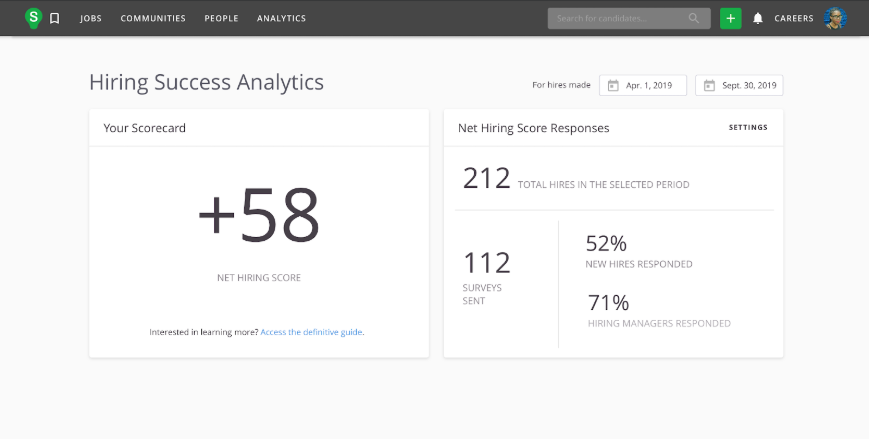 "Historically, recruiting has been measured by cheaper & faster metrics like cost per hire and time to hire," says Jerome Ternynck, Founder & CEO of SmartRecuiters. "But hiring is vital to business success and needs to be treated as an investment. Introducing the Net Hiring Score directly inside the product gives businesses the immediate ability to measure the impact of their recruiting efforts and drive hiring strategy."
SmartRecruiters is also enhancing its programmatic advertising product, SmartJobs. According to BCG, programmatic advertising is over 50% more successful than manual approaches. SmartRecruiters is removing the guesswork from job posting with a solution that automatically optimizes job advertising budgets and helps source quality candidates for hard-to-fill roles. Now, admins can access SmartJobs right from the dashboard, giving them a faster and easier way to specify roles to hire and associated budgets.
SmartRecruiters is also rolling out candidate pipeline building and nurturing enhancements through its SmartCRM product. Hiring teams can now segment candidates at a deeper level and exercise full control over branded communications, with customizable drag-and-drop campaign templates. These enhancements help TA teams better organize talent pools and target groups of prospects with consistency, delivering a cohesive employer brand.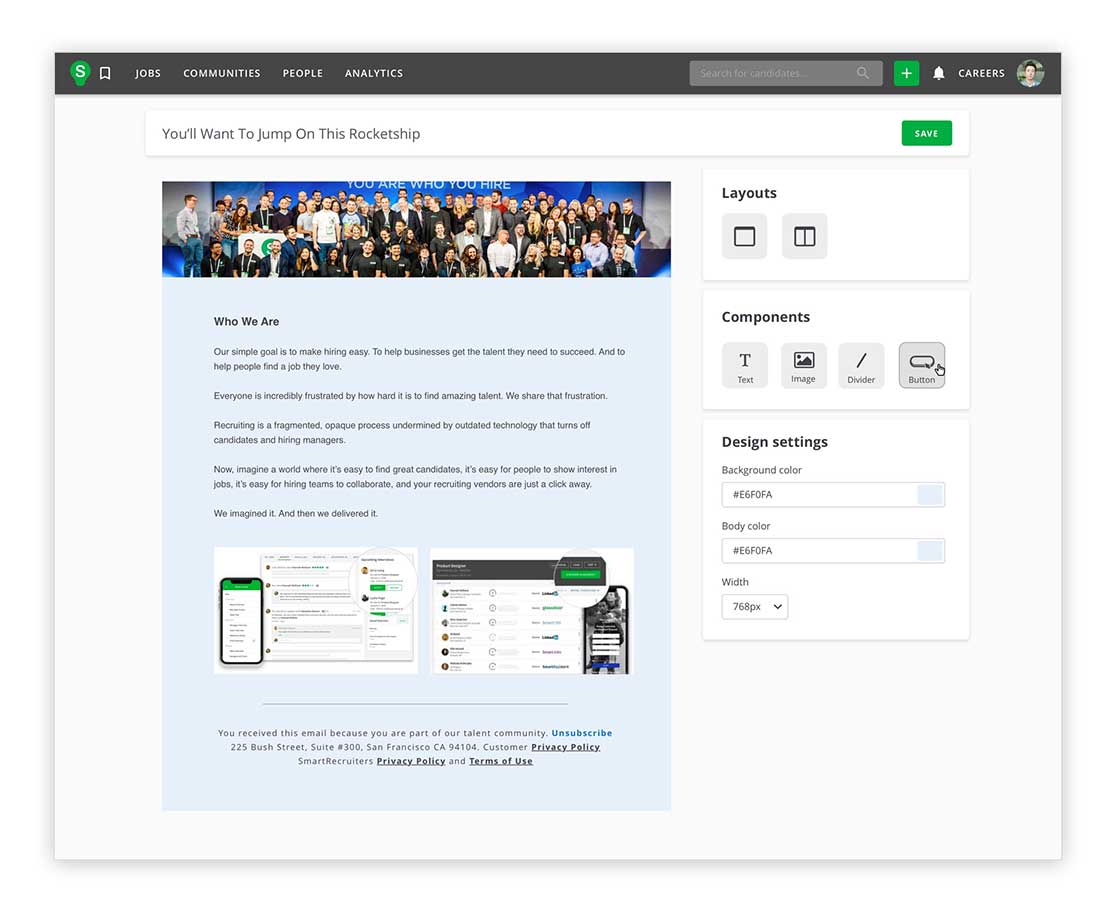 "We will continue to offer functionality that prioritizes employer brand across all sourcing channels and features that engage talent with a compelling experience from the very first touch," says Natalia Baryshnikova, Head of Product Management at SmartRecruiters.
By launching over 70 of the highest-requested features that reflect 1,500 customer votes, SmartRecruiters' October 2019 product release empowers hiring teams to scale recruiting efforts globally, and continues its mission of connecting people to jobs at scale to deliver hiring success.