Enables Recruiting Leaders to Own Internal Mobility
San Francisco – December 2, 2020 – SmartRecruiters announces the launch of its Internal Mobility solution. In today's economic climate,  internal mobility is top of mind — especially for companies facing restructuring or downsizing.  According to SHRM, redeployment is an effective alternative to downsizing, which can cost 1.5 to 2.5 times the annual salary paid for each job. CEOs acknowledge the need to increase internal mobility, and talent acquisition (TA) teams have the opportunity to deliver. With SmartRecruiters' solution, TA leaders can own and facilitate internal mobility and collaboration across hiring teams to save time, money—and most importantly—jobs within their current talent pool.
In today's fluid marketplace, internal mobility represents only about a third of all hires. Companies need to break down these barriers and put technology and process in place to promote internal mobility. But many lack the dedicated space for employees to search, locate and apply for internal jobs. The beauty of SmartRecruiters' Internal Mobility solution is that it is the exclusive destination for employees and sits within the Talent Acquisition Suite, providing the same seamless, compliant and efficient application experience for both candidate and hiring teams. It also leverages data science within the system to map skills and match them automatically to open jobs or internal projects. 
The solution also helps companies facing redeployment or hiring surges alike. The solution allows companies to post jobs and help redeploy talent to other business areas with open roles.  For those with hiring surges, the Internal Mobility Platform helps retain top-talent. These high performers can find new opportunities within the organization with a sleek internal application experience and skills matching. 
"The Internal Mobility solution empowers TA teams to redeploy talent into their next dream job and avoid layoffs, as you will learn in Shelby's story," says Founder and CEO of SmartRecruiters, Jerome Ternynck. "It is the ultimate destination for employees to find jobs and simultaneously keep your best employees and help you scale more efficiently. Not to mention it ensures fair and transparent internal hiring processes that are paramount for diversity. " 
Internal Mobility in Action: Shelby's Story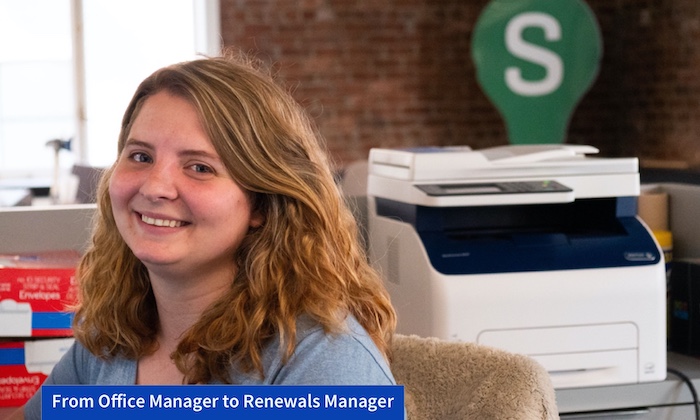 Meet Shelby, our former San Francisco office manager. When SmartRecruiters went remote in April 2020, Shelby's position was made obsolete. She searched the SmartRecruiters Internal Career Page for job postings and built an Employee Profile to showcase her skills and get notified about relevant job postings.
The Jobs Match feature suggested Shelby apply to the position of renewal manager, while the Talent Discovery dashboard helped surface her profile to our TA team. Throughout the process Shelby was able to track her application status from her phone.
Fast forward to her hire and internal transition, Shelby is already one of our top mid-market reps in the company, exceeding quotas and receiving rave customer reviews every day. Moral of the story: Don't lose the valuable skills and brand knowledge of your employees. Each person in  your company represents an investment.  When high performing talent leaves,  you lose the time, training and the valuable brand knowledge they brought to the table.
Learn more about the internal mobility solution and other collaborative hiring features from the latest product release.