Advances the new way of hiring by delivering the social, mobile, and collaborative experience that hiring managers and recruiters demand
San Francisco – July 15, 2014 – SmartRecruiters, the company that empowers the new way of hiring, today unveiled the second generation of its cloud hiring platform to find and hire great people. The platform, where more than 70,000 organizations have created over 450,000 jobs in the last two years, is the only collaborative one-stop shop with everything hiring teams need to source and engage the right talent while delighting candidates throughout the entire process. This next generation of SmartRecruiters delivers built-in social referrals, a people and mobile-centric user interface, candidate pipeline and sourcing analytics and a robust open API – all imagined for a world where employees love to use their company's hiring solution and candidates enjoy applying for jobs. In addition, SmartRecruiters announced the general availability of its new SmartRecruiters Pro Plan which offers the customization, compliance, analytics, and integration that HR and recruiting professionals have requested to better manage hiring across their business.
"Spreadsheets, applicant tracking systems and other traditional recruiting tools are failing everyone: hiring managers, VPs of HR, recruiters and ultimately candidates," said Jerome Ternynck, CEO of SmartRecruiters. "Companies are spending billions of dollars on siloed solutions that people hate or refuse to use, provide little visibility into their talent pipelines, complicate their hiring processes and give candidates a horrible experience. It's time we return recruiting and hiring to their roots as social activities by empowering businesses to combine the reach of social with the ease of mobile to close the gap between great candidates and open positions."
"While other areas of the business are rapidly adopting modern, high-performance technology, talent acquisition still lags behind," said Kyle Lagunas, Talent Acquisition Analyst at Brandon Hall Group. "The greatest value of any technology isn't simply in automating and streamlining processes, but in optimizing and innovating key functions for improved business performance. Through its candidate-friendly, unified cloud platform, SmartRecruiters is helping companies achieve both of these goals by modernizing the way companies attract, engage and hire top talent."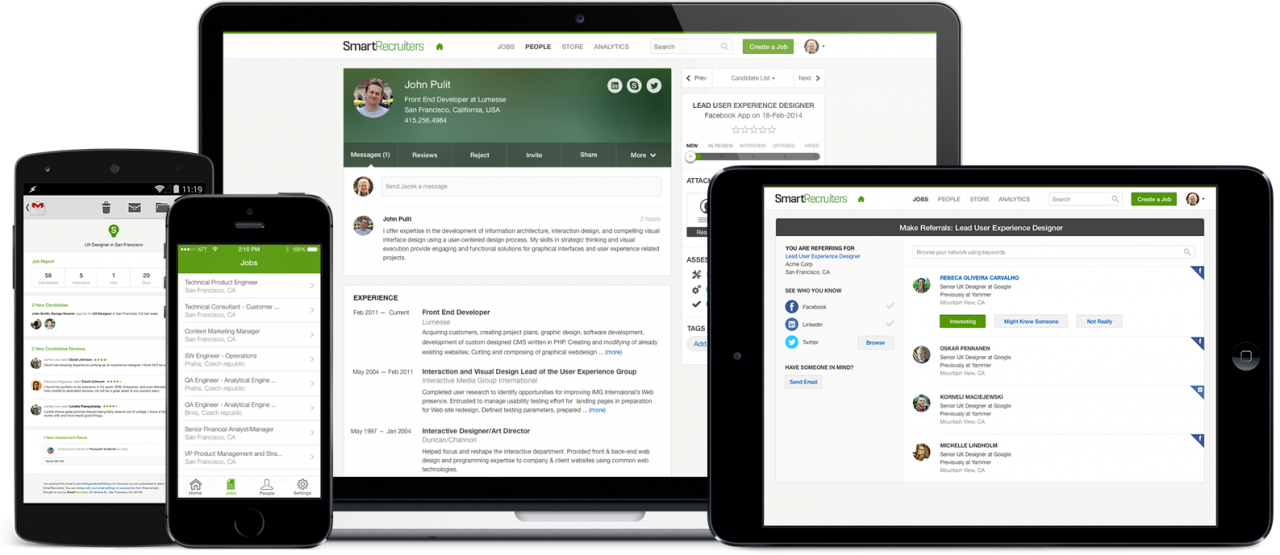 The New SmartRecruiters provides these key capabilities:
Powerful, integrated social referrals: turn every employee into a recruiter
The best recruiters know that the number one source of quality hires is internal referrals from employees' trusted network. However, most organizations' referral efforts are manual, siloed, and ineffective. SmartRecruiters social referrals enables every employee to easily surface the best potential candidates from their social networks rather than manually distributing impersonal invitations across them.  All referral activity and leads automatically flow into the platform so an organization's best referrals aren't ignored and they can easily track referral performance.
Prosumer, people-centric user interface: engage your teams, naturally
Collaboration between recruiters and hiring teams is the key to success. When recruiters attempt to engage hiring teams using outdated technology with painful user experiences, they struggle to partner effectively with them. SmartRecruiters' sleek new interface brings hiring teams together because it has been designed to allow them to work the way they want to naturally. It dramatically improves hiring teams' productivity as they can quickly and easily compare, screen, and directly communicate with candidates. They not only get a complete and holistic view of their candidates but can also easily search for and refer for all jobs in their organization.
Mobile hiring app and email notifications: never leave a great candidate waiting
The best candidates don't just apply during the hours of 9 to 5. Hiring teams need to be able to easily stay on top of all hiring activity as it happens. The SmartRecruiters mobile hiring app for iPhone and Android devices enables recruiters and hiring managers to successfully hire on the go: view job postings, make referrals, collaborate, review and communicate with candidates. In addition, with email notifications, key hiring events such as new candidates and reviews are automatically sent to hiring teams to ensure they never leave a great candidate waiting.
Smart insights: gain visibility into your hiring spend, top candidates and sources
The most productive hiring managers and recruiters manage their candidate pool like a sales and marketing pipeline, sourcing passive contacts and converting them into active applicants and new hires. SmartRecruiters provides helpful insights within the context of where hiring teams review candidates and make decisions. The new release provides at-a-glance candidate pipeline dashboard for every job and new sourcing analytics to further understand overall hiring spend, top candidates and breakdown of candidate sources by job boards and employee referrals.
Open REST API: connect your recruiting and hiring process to the platform
SmartRecruiters offers an open RESTful API for customers and partners to easily connect their hiring process to the platform. Using the API, customers can integrate their existing recruiting suppliers and tools into the SmartRecruiters platform. Partners can also integrate their services into the SmartRecruiters marketplace through the API. Currently, the SmartRecruiters' marketplace includes 300 partners across job board vendors, recruiter agencies and candidate assessments giving hiring managers instant access to the complete set of tools they need to make the right hire.
The SmartRecruiters Pro Plan: Take your recruiting to the next level
The SmartRecruiters Pro Plan empowers the new way of hiring for your entire business. Extend candidate sourcing across key company channels like your careers site and Facebook page, customize your hiring process, integrate with suppliers and systems and get company-wide insights, analytics and compliance reporting. The Pro offering results in better candidates, streamlined processes and full control of hiring across the company.
SmartRecruiters' Customers and Partners Applaud the Next Generation of Hiring:
"SmartRecruiters' social referrals is one of the biggest game changers for our recruiting and hiring efforts in 2014," said Oliver Horvath, HR Generalist of the GFGB (Gourmet Food and Gift Brands) Division of 1-800-FLOWERS. "Our HR team is now finding one-third of our high-quality candidates using social referrals powered by SmartRecruiters. The platform automatically identifies relevant candidates as soon as employees log in and connect their social networks, pinpointing great people that we might not have known about otherwise. We're planning to roll out the platform company-wide so all our employees can turn their networks into better recruiting and hiring engines."
"SmartRecruiters has enabled us to implement a well-defined, all-inclusive workflow for our recruiting process," said Katie Pontius, Director of HR and Recruiting at The Onion. "The straightforward system allows for seamless collaboration with hiring managers, and makes managing a high volume of candidates easy and efficient."
"SmartRecruiters proved to be a homerun for our independent NAPA store owners," said Janet Thomas, HR Director at Genuine Parts Company. "It is a one-stop shop recruiting platform that allows them to post positions and collect and share candidates with their teams in a streamlined, user-friendly fashion."
"SmartRecruiters new mobile interface is easy to use and very intuitive," said Natalie Heim, Technical Recruiter at NewsCred. "I love how it enables me to manage my recruiting activity while on the go!"
"We are very excited to be an integral part of the SmartRecruiters' experience," said SimplyHired's Heath Allen, Manager of Strategic Alliances. "People are a company's greatest asset. While we help match the best people in the world to your jobs, SmartRecruiters' collaborative workspace empowers businesses to close the right talent for their teams."
Pricing and Availability:
SmartRecruiters is free to start. For hiring for your entire business, SmartRecruiters offers the Pro Plan at $10 per employee per month. Pricing is based on total employee count. For more details, please visit: https://www.smartrecruiters.com/pricing/